Hello Readers! Here's what's up this week!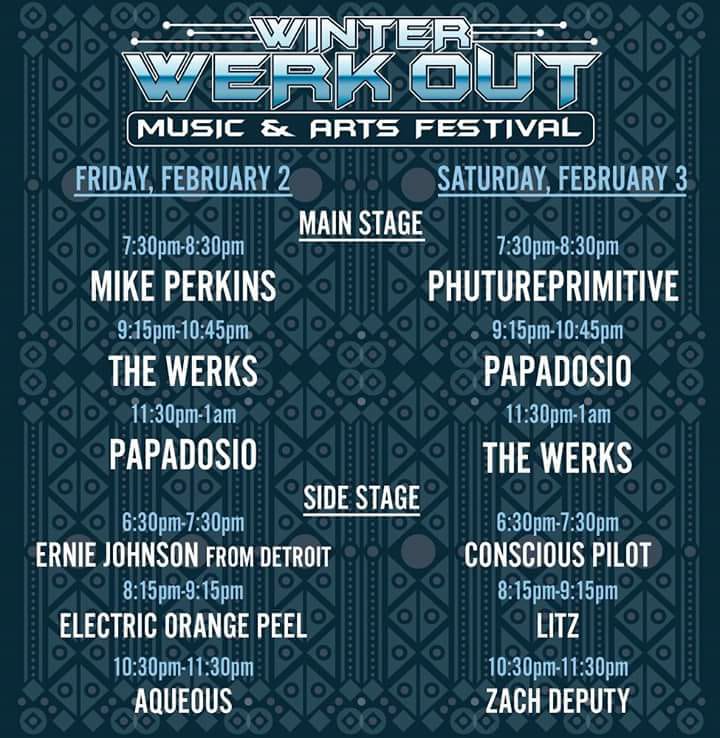 The Jamwich family is certainly most excited about Winter Werk Out in Columbus, OH.  This festival is completely indoors at The Bluestone, a unique venue with lots of room to roam including a second stage upstairs.  The lineup includes headliners Papadosio and The Werks, and I think we're not the only ones with our fingers crossed for a couple of Werkadosio sit-ins and collaborations.  If you have your heart set on seeing some band members jam together, we strongly suggest you show up for the pre-party Thursday night at Woodlands Tavern, which is also The Werks tour manager (and Mad Tea Party Jam festival manager) Kenny Holmes' Birthday Bash!  Tickets are in danger of selling out for the WWO and Pre-party so get your tickets now.
The band moe. will be playing in the region this week.  If you are not familiar with moe, they are an American jam band that formed in 1989 at the University of Buffalo.  The band released their first studio album, Fatboy, in 1992, which created the initial push that would eventually lead them to become one of the favorite jam/improvisational rock acts of the 90's.  The band consists of Rob Derhak (bass, vocals), Al Schnier (guitar, vocals, keyboard), Chuck Garvey (guitar, vocals), Vinnie Amico (drums), and Jim Loughlin (percussion).  Many of today's jam bands draw influence from moe., and this is a great opportunity to gain some perspective in regards to how the jam band scene came to be what it is today.
Pigeons Playing Ping Pong will be playing this Thursday, Friday, and Saturday at 123 Pleasant Street in Morgantown, West Virginia. Tickets for all three nights are currently sold out, so if you'd like to go to one of these awesome shows, start asking your friends and looking for third parties selling tickets online.
Residents of Florida please give a warm welcome to the band Spafford, who will be touring through your state this week.  If you've been wanting to go to a Spafford show, now is your chance to catch them before the band takes a one month break from touring.  The band will be in Ft. Lauderdale on Wednesday, Tampa on Thursday, Orlando on Friday, and Jacksonville on Saturday. Get your tickets while there is still time!
Also in the area this week is the American folk band, The Wood Brothers. Oliver and Chris Wood have been playing music all their lives, albeit on slightly different paths. As of late the two brothers, alongside multi-instrumentalist Jan Rix, have been recording wonderful music and putting on exquisite live performances.  Chris Wood if most well-known for his jazz work in the group Medeski, Martin and Wood, one of the most influential jazz bands over the past twenty years. Oliver had the pleasure of touring with Tinsley Ellis, and eventually founded his own band, King Johnston. The Wood Brothers will be performing in both Albany and New York City, however, the show this Tuesday and The Egg in Albany is already sold out.  If you'd like to attend either of the following shows, please buy your tickets now.
Other notable performance this week include Umphrey's McGee at Express Live! in Columbus, Ohio (02/01), and Keller Williams at the Lincoln Theatre in Raleigh, North Carolina (02/02) and The NorVa in Norfolk, Virginia (02/03).
01/30 – The Wood Brothers – The Egg – Albany, NY
01/31 – Turkuaz – Cohoes Music Hall – Cohoes, NY
01/31 – Greensky Bluegrass – Carnegie of Homestead Music Hall – Pittsburgh, PA
01/31 – Spafford – Culture Room – Ft. Lauderdale, FL
01/31 – The Wood Brothers – Irving Plaza – New York, NY
01/31 – The Devil Makes Three – Jefferson Theater – Charlottesville, VA
01/31 – Boombox – The Rex Theater – Pittsburgh, PA
02/01 – Jerry Joseph and The Jackmormoms – The 8×10 – Baltimore, MD
02/01 – Grass is Dead – The Hollow – Albany, NY
02/01 – Greensky Bluegrass w/Billy Strings – The Fillmore Philadelphia – Philadelphia, PA
02/01 – Steal Your Peach – The Ardmore Music Hall – Philadelphia, PA
02/01 – Pigeons Playing Ping Pong – 123 Pleasant Street – Morgantown, WV
02/01 – Umphrey's McGee – Express Live! – Columbus, OH
02/01 – Spafford – Crowbar – Tampa, FL
02/01 – The Wood Brothers – Irving Plaza – New York, NY
02/01 – Kenny's Birthday Bash with members of Papadosio and The Werks  – Woodlands Tavern – Columbus, OH
02/01 – Consider The Source – Asheville Music Hall – Asheville, NC
02/02 – moe. – The Capital Theatre – Port Chester, NY
02/02 – Runaway Gin – Shaka's Live – Virginia Beach, VA
02/02 – Greensky Bluegrass – 9:30 Club – Washington, DC
02/02 – Pigeons Playing Ping Pong – 123 Pleasant Street – Morgantown, WV
02/02 – Keller Williams – Lincoln Theatre – Raleigh, NC
02/02 – Spafford – The Social – Orlando, FL
02/02 – Winter Werk Out – The Bluestone – Columbus, OH
02/03 – Runaway Gin – The 8×10 – Baltimore, MD
02/03 – moe. – The Capitol Theatre – Port Chester, NY
02/03 – Greensky Bluegrass – The Anthem – Washington, DC
02/03 – Pigeons Playing Ping Pong – 123 Pleasant Street – Morgantown, WV
02/03 – Spafford – Jack Rabbits – Jacksonville, FL
02/03 – Keller Williams – The NorVa – Norfolk, VA
02/03 – Get the Led Out – Palace Theatre – Albany, NY
02/03 – Winter Werk Out – The Bluestone – Columbus, OH
02/03 – Rumpke Mountain Boys – Dante's Bar – Frostburg, MD