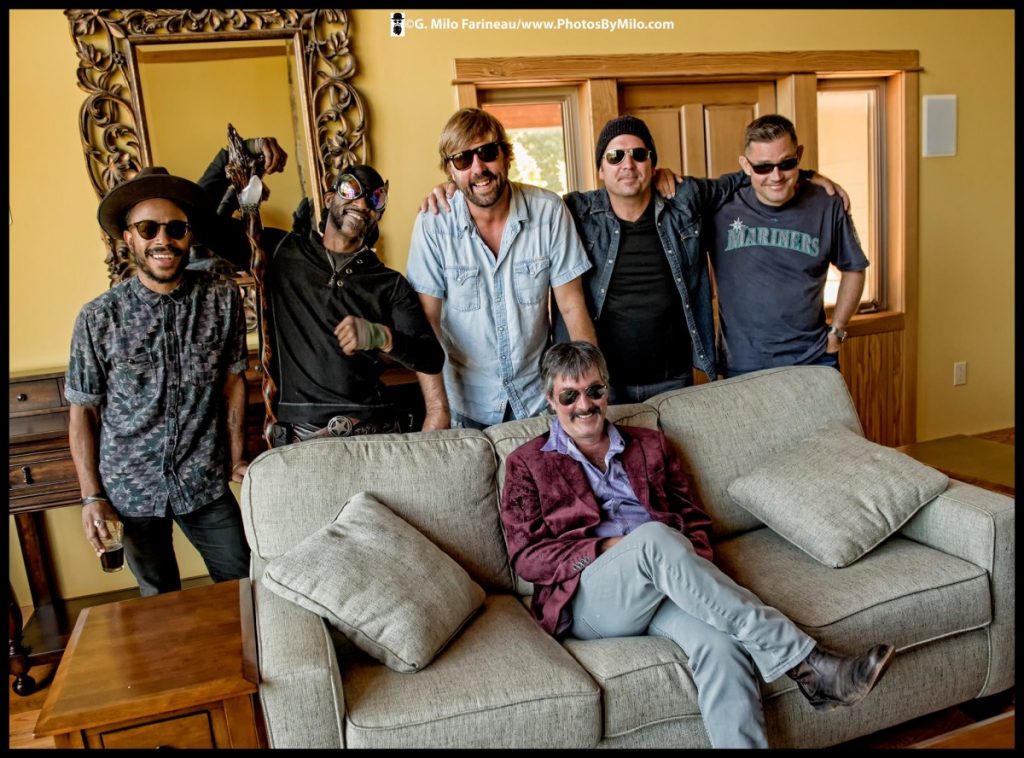 Article Kirby Farineau
Photos Milo Farineau
Audiences of the second annual Devils Backbone Hoopla were treated to some unique experiences this weekend. A slew of bands, a fantastic selection of beers, and a beautiful location all made for a festival that rose beyond what people have come to expect from the venue. Definitely one of the most unique shows was the Larry Keel Explosion on Saturday, an experimental and more electronic setup than usual for the famous flatpicker.
Larry Keel is no stranger to collaboration or experimentation. One of the defining aspects of Keel's musicianship is his white-hot enthusiasm to play great music with other musicians, and the Explosion exemplified that. Consisting of Gibb Droll (The Gibb Droll Band) on electric guitar, Al Al Ingram (formerly Yo Mama's Big Fat Booty Band) on bass, Jay Starling (Love Canon) on piano, Jeremy Saunders (Snake Oil Medicine Show) on horns, and Alwyn Robinson (Leftover Salmon) on drums, the group was an All Star Lineup of stellar musicians hand-picked by Keel himself.
As if that weren't enough for Keel fans, Devils Backbone Brewery concocted a featured beer in Larry's honor, "The Keeler." With the success of both the beer and the band, we had some questions for Keel after his set.
How do you feel about The Explosion show now that you've had some time to think about it?
Keel: It was definitely one of the most special musical experiences I've ever had in my life. To be able to play a lot of my music and hear all these amazing musicians' interpretation of everything is….I'll never forget it.
How did The Explosion come together? Where did it start?
Keel: Justin Billcheck, who is the promoter responsible for having us here at Devil's backbone, wanted to have my band [The Larry Keel Experience] here. We have a lot of fans around here and it suits the environment well, but he also wanted something that's one of a kind that never happened. He wanted an electric band.
My music crosses borders with electric and rock and roll and everything and I'm still a bluegrass guy here and there, but I cross a lot of boundaries. I'm thinking to myself 'I'm not gonna play electric guitar because that's not what I do.' so I'm thinking 'I want to get Gibb Droll on electric guitar.' He's my favorite and just a badass, and a great guy on top of that, friend and hero and everything. It was sort of designed where I had to think about the grooves that we were gonna hit.
My long time friend Jeremy Saunders on the horn who plays in the Marine Band. I've known him all my life. Getting Al Al Ingram on the bass in just dropping the bomb. If you're gonna have an explosion someone's gotta drop the bomb and he knows how.
Alwyn Robinson was my first pick on drums, we've gotten to play and bounce a lot of stuff off of eachother. He's just a crazy way out there drummer, and he's my favorite. Of course Jay Starling, who a lot of people know for his dobro playing, but if there's a piano he'll always sit down and play for two or three hours.
A lot of these musicians come from very different musical backgrounds than you. What was it like working all these different backgrounds into one sound.
Keel: When we put this thing together, everyone knew we would hardly have any time to rehearse, so that was the main thing. We had maybe an hour and a half when it's all said and done. I sent out the music to everyone about 2 months ago and just said "Let this marinate in your brain."  So we got in yesterday and did our soundcheck, and then we just started a jam and we were all like "Ok, this is what this is gonna be."
Everyone fell together flawlessly. I mean if I made a mistake up there we were having too much fun to notice.
I know logistically it's difficult, but do you see yourself getting back together with this group of musicians?
Keel: I very much would like to do more of it. It's what music should be, fun and exciting. We really all just respect the music a whole lot.
You have your own beer here at the festival, called the Keeler. How did that come to be?
Keel:That goes back to Justin Billcheck again. You know, Devil's Backbone having the beer gardens makes it more than just a music festival. Good vibes, good beer and everything. All due to Justin they've got good music, too.
So he said "I want to make a beer for the event." which I thought sounded great. Then he said he wanted to make one for me, which was a dream come true, you know
How much say did you get in the creation of that beer?
Keel:I don't know anything about making beer but I know what I like. I wanted something really light that has taste to it, that you can drink all day and its nice and cold. He started talking about all these hops which went over my head.
And what do you think of it now that you got a chance to try it?
Keel:I love it, I really wish they'd make more. As I understand they sold out of it during our set yesterday. I'm excited, hopefully they will.