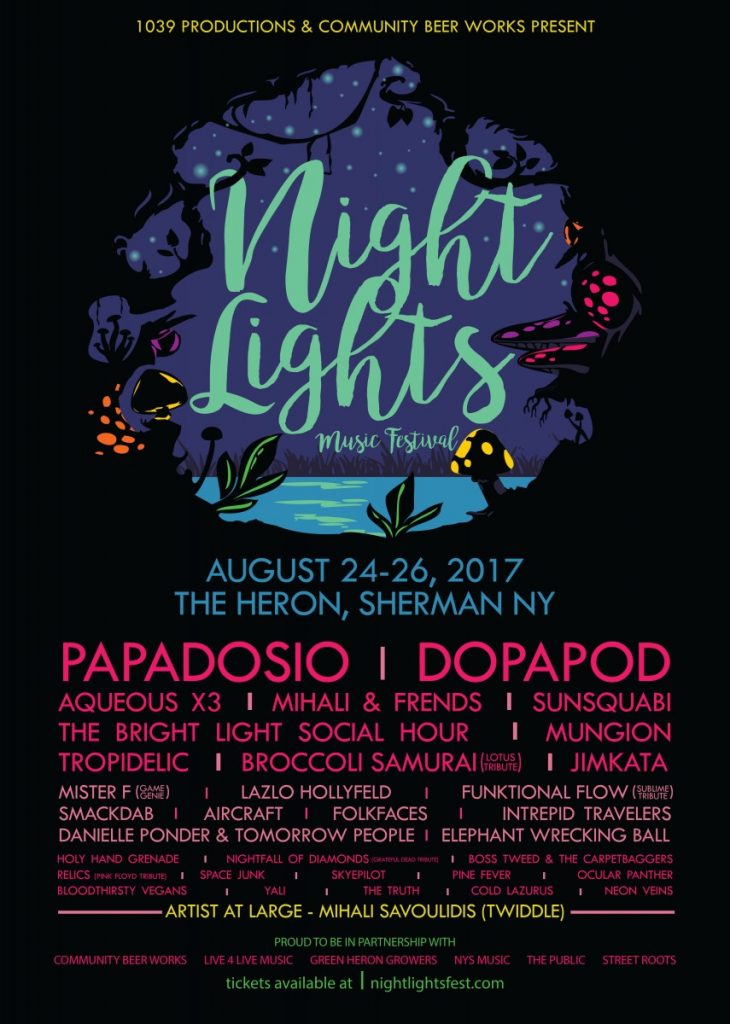 Written by Matthew Thompson
Thursday August 24th-27th, Sherman, NY's community building farm, The Heron, will once again become a kaleidoscopic playground of lights and crafts to keep your eyes fixated while your ears get caught in the tangential waves of some of the most fun(ky) jam bands on the road and in the area. The Night Lights Festival returns to bring three days and three nights of pure love to the community building efforts of The Heron's lush 200+ acres to you and your friends.
We will be getting down with 30+ acts includig Night Lights staples like Lazlo Hollyfield, Smackdab, Aricraft, and THREE sets from Aqueous who will be rockin' the crowd with Papadosio, Sunsquabi, and more that will keep your feet moving ALL weekend long. They have also scoured the land to snatch up other local greats like Ocular Panther, Pine Fever, and Yali, whose tunes are greatly anticipated.  A special performance you won't want to miss is Jimkata, who recently decided to take a hiatus. There will be vibes from all over the spectrum, just be ready for your jam straight from the jar with no added BS.
If you can drag yourself away from the stage, this beautiful farm will have a new journey hiding around almost every corner. Hiking and biking trails full of lights and crafts ready for your exploration, blow off some steam in the lake, settle in for some yoga to reset your dome, grab a bite to eat or bring your own food to stay fueled – what else could you ask for?!
There is so much to be done this weekend that you will be happy to have camping to fall back on at the end of each night to top it all off. A 20×20 plot for camping is included with ticket price, and quieter family campgrounds are also available. Larger spaces are available to rent for campers and RV's over 20 feet, but you will want to reserve your space in advance or show up early as they fill up fast!
Gates open at noon on Thursday for everyone to get set up, and tear down is by 11am on Sunday. There will be breakfast, lunch, and dinner available from the main kitchen and from the café in the woods, but Night Lights welcomes you to bring your own food and drink as long as you leave the glass at the gates. Alcohol will be provided, but due to regulations it will not be permitted past the gate. Free water will be available to keep you cool and hydrated.
I am super excited for a jam packed adventure! Great music, food, art, hiking, biking, swimming, yoga, and fun people! Follow the lights, I'll see you there!