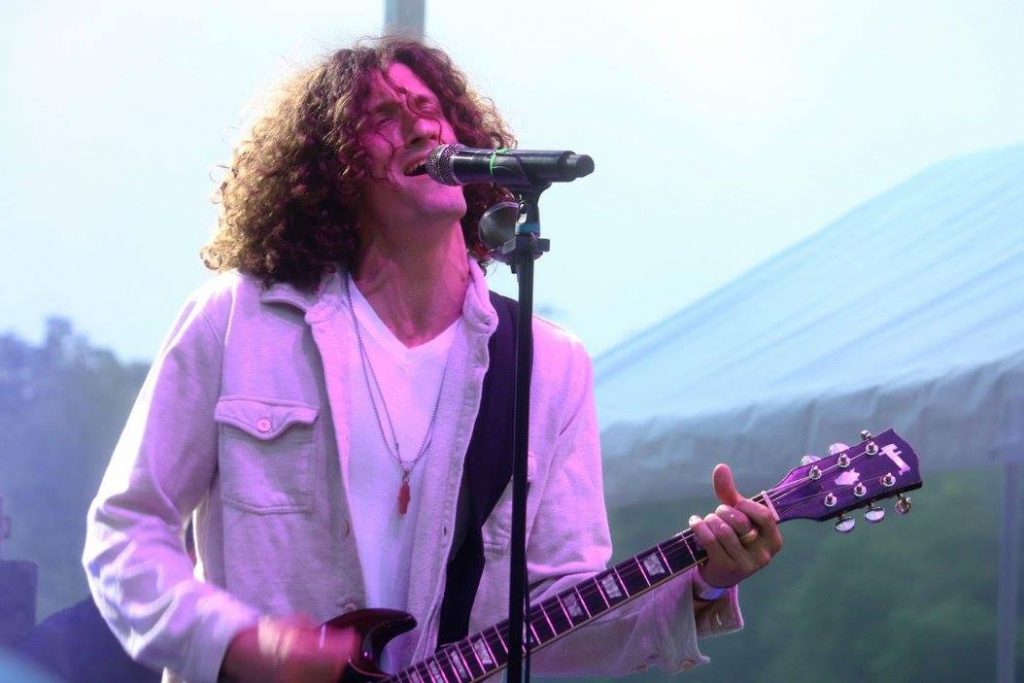 by Tom Wickstrom
David Shaw's Big River Getdown returns to River's Edge Amphitheater in Hamilton on September 9th for its third year. David Shaw will be bringing his band, the Revivalists once again to his hometown of Hamilton, Oh. Joining them this year will be The Record Company, Rev Peyton's Big Damn Band, Marcus King Band, Atlas Road Crew, Smooth Hound Smith & Naughty Professor. David will also be doing an acoustic performance(sold out) on September 8 and there will be an after party following the getdown featuring Space and Harmony & Rumplesteelskin, side projects for the other Revivalsits band members.
I had a chance to talk to Adam Helms, who works for the city of Hamilton about how the festival came about and what it's meant for the city. Below is a brief description of the festival origins and my interview with Adam.
Hamilton is a small town along the Great Miami River. It is located approximately halfway between Dayton & Cincinnati but up until a few years ago it didn't have much of a live music scene. That changed when Adam Helms took a job with the city of Hamilton and moved there from Milwaukee, Wisconsin back in 2011. Milwaukee had a vibrant and growing culture downtown that drew people from all over for food, drink & live music. That did not exist in Hamilton, so since Adam was a 26 year old single male at the time, he took it upon himself to initiate a concert in the park series to draw people downtown. He was able to scrape some budget money and a few local sponsors for support. The first year they put together 6 shows on an old movable show wagon including a performance by the Revivalists. They have performed there every year and since David was from Hamilton, they also drew the biggest crowds. Rivers Edge opened the following year. Adam was approached by David about creating a bigger festival type of show and cited Warren Hayne's Christmas Jam as an example. He wanted to do something that would give back and hlp his hometown. The 1st Big River Getdown was in 2015 and featured The Revivalists, The Main Squeeze, David Shaw, Maggie Koerner & ElementreeLivity Project.
Tom Wickstrom: How has David Shaw's Big River Getdown benefited Hamilton?
Adam Helms: It's benefitted the city in a couple ways. Half the proceeds go to Hamilton's 4th of July Fireworks show. We've been able to donate $6000 the last 2 years each for the fireworks. Secondly, because of the increasing popularity of the Revivalists, people are coming from all over the country to the show which is giving the city great exposure.
TW: What is your involvement with the festival?
AH: I also produce the Rivers Edge Concert Series which will put on 14 free admission shows at the amphitheater throughout the summer. I work closely with David & his management team in sort of a committee format to figure out all the details.
TW: I see you've added an acoustic performance Friday night and an after party following the Getdown. Can you give me some specifics?
AH: After last years show, David expressed an interest in spending a little more time in Hamilton, since it was his hometown with friends & family. In the previous 2 years, David performed acoustically during the festival but it was always reduced due to weather or time constraints. He decided to do his acoustic performance on Friday in the Performance Center, which has sold out. There will also be an after party in the Ballroom featuring Space and Harmony & Rumplesteelskin. By moving the acoustic set to Friday night another slow was made available on the festival lineup for another band. The after party came about as a way his other bandmates side projects and to give them exposure for all the hard work they do in the band.
TW: Is there anything else specific you want to talk about?
AH: Yes. What we're doing here, we're not doing this for profit. We wanted to create more activities to draw more people to downtown Hamilton. Half of the proceeds go to the annual fireworks show and the other half funds the Rivers Edge Concert Series. All the workers are volunteers and everything is reinvested back into the venue, which allows us to keep the music going. David Shaw is very hands on with the festival as well. He procured the artist who did the festival poster as well as covering the costs for the posters & the printing & the festival t-shirts. He's right there to make sure everything runs smoothly.
Since the Rivers Edge Amphitheater was built, businesses related to music & art have started popping up in the city. Third Street Music opened. They sell vintage musical instruments & operate a recording studioupstairs that many bands are utilizing. Just last week we had a new vinyl record open up on Main St. We are starting to see an art renaissance in the city because of the growing art culture. We also have an arts space project that provides loft space apartments exclusively for artists. Having artists live downtown has added even more vibrance to the city.
TW: Thank you for your time.
David Shaws Big River Getdown takes place on September 9, 2017 at Rivers Edge Amphitheater in Hamilton, Ohio. Tickets are $20-$35. Go to www.bigrivergetdown.com