Greetings, readers! This week the leprechauns are on the loose!  Time to dig through your closet for all that awkward bright-green clothing in anticipation for one of the most fun holidays of the year, St.Patricks Day!  May this week bring you many good vibes, and pots filled to the brim with gold! No plans? No problem! Here's what's up this week.
Woodlands Tavern in Columbus, OH is hosting St. Fatty's Daze this Friday, Saturday and Sunday with killer line-ups each day, and tons of frothy golden beer that will turn any mere mortal into a true Irishman/woman.  Each evening will feature different musicians, but expect to get your face melted by the likes of Turkuaz, Andy Frasco, Octave Cat, Rumpke Mountain Boys, Jahman Brahman, Conscious Pilot and many more!  Purchase a ticket to the evening of your liking, or go all out and purchase the three-night pass so you don't miss out on a minute of the fun.  Individual tickets are currently on sale for $20, with the three-night pass set at $55. Head over to http://www.woodlandsproductions.com to learn more and purchase tickets.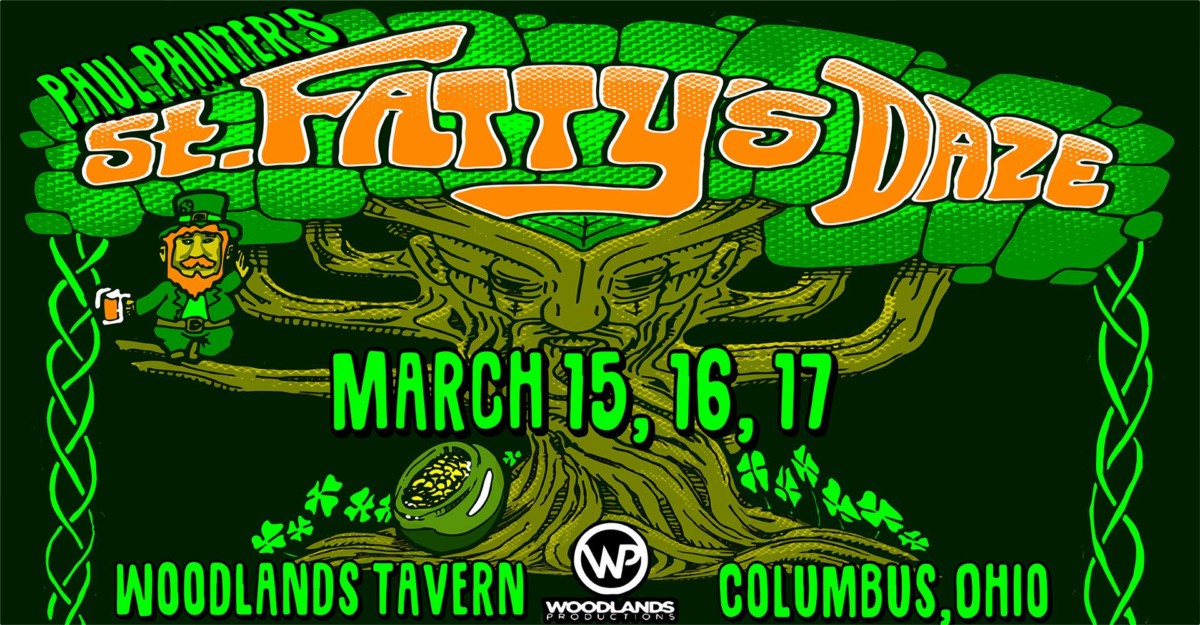 Gypsy Sally's in Washington D.C will also be spreading the St. Patrick's Day vibes this Friday and Saturday at the St.Paddy's Day Bash.  Join D. C's favorite 90's cover/party band, White Ford Bronco, and a crowd of kind people jacked-up on nostalgia and good vibes, for an unforgettable weekend of celebration and camaraderie. This event is 21+. Doors at 7:00p.m. Show starts at 9:00p.m.  Purchase tickets in advance; both nights for $40, or grab an individual pass for $25. Expect a slight increase in price if buying at the venue the day of the event.  Gypsy Sally's has got you covered with more info, and tickets to purchase!
If you're not into the St. Patrick's Day crowd, consider heading over to Madison Theatre in Covington, Kentucky for two nights with Papadosio and some other great bands.  Friday night Funk You, Cycles, and Earthcry will start off the evening, and get everyone stoked for the headlining set.  Saturday night Near Earth Objects, Afterfunk and Brether will kick things off.  Two night passes are available for $30, with individual passes set at $17.  After parties will be going on next door both nights, and for an additional cost you and your friends can keep the party going even later at Madison Live.
Don't forget to keep scrolling down and check out the entire list of this week's hottest concerts.  Let us know where you'll be this week, and please feel free to leave your own suggestions in the comment section.  Until next week. Stay jammy!
Events:
03/15 – Reggae Rise Up – St. Petersburg, FL
03/15-17 – St. Fatty's Daze – Woodlands Tavern –  Columbus, OH
03/15-16 – St. Paddy's Bash – Gypsy Sally's – Washington, DC
03/16 – BGN Presents: Harmonic Frequencies – Creative Labs – Baltimore, MD
03/16-17 – Warren Haynes Presents: Dreams and Songs – Thomas Wolfe Auditorium – Asheville, NC
Concerts:
03/12 – Mike Gordon – Charleston Music Hall – Charleston, SC
03/12 – Gordon Sterling Presents: The Gypsy Sally's Jam – Gypsy Sally's – Washington, DC
03/13 – Beggar's Tomb w/ Split String Soup – Gypsy Sally's – Washington, DC
03/13 – Joe Russo's Almost Dead – Penn's Peak – Jim Thorpe, PA
03/13 – Andy Frasco & The UN w/ Wild Adriatic – The Rex Theatre – Pittsburgh, PA
03/13 – Mike Gordon – Harvester Performance Center – Rocky Mount, VA
03/13 – Melvin Seals & JGB – The Westcott Theatre – Syracuse, NY
03/13 – Bumpin Uglies – The Reel Café – Wilmington, NC
03/13 – Yonder Mountain String Band w/ Fireside Collective – 20th Century Theatre – Cincinnati, OH
03/14 – Mother's Little Helper w/ 16th & T Band – Gypsy Sally's – Washington, DC
03/14 – Pink Talking Fish – Club XL – Harrisburg, PA
03/14 – Joe Russo's Almost Dead – College Street Music Hall – New Haven, CT
03/14 – Melvin Seals & JGB – Narrows Center for the Arts – Fall River, MA
03/14 – Bumpin Uglies w/ Villanova – The Firmament – Greenville, SC
03/14 – The Motet w/ Exmag – 1904 Music Hall – Jacksonville, FL
03/15 – Mike Gordon – 9:30 Club – Washington, DC
03/15 – Colebrook Road w/ Herb & Hanson – Dante's Bar – Frostburg, MD
03/15 – Del & Dawg w/ Del McCoury, David Grisman – Birchmere – Alexandria, VA
03/15 – Widespread Panic – The Theatre at MGM National Harbor – National Harbor, MD
03/15 – Pink Talking Fish – The National – Richmond, VA
03/15 – The Lizards w/ Flux Capacitor – Sherman Theatre – Stroudsburg, PA
03/15 – Aqueous – Anthology – Rochester, NY
03/15 – Yonder Music String Band w/ Fireside Collective – House of Blues – Cleveland, OH
03/15 – The Snozzberries – The Local – Boone, NC
03/15 – Papadosio w/ Cycles – Madison Theatre – Covington, KY
03/15 – Melvin Seals & JGB – The Cabot – Beverly, MA
03/15 – Runaway Gin – The Charleston Pour House – Charleston, SC
03/15 – Bumpin Uglies – Jack Rabbits – Jacksonville, FL
03/15 – The Heavy Pets – The Wynwood Yard – Miami, FL
03/16 – The Kind Thieves – Dante's Bar – Frostburg, MD
03/16 – Widespread Panic – The Theatre at MGM National Harbor – National Harbor, MD
03/16 – Steal Your Peach – Appalachian Brewing Company – Harrisburg, PA
03/16 – Yonder Mountain String Band w/ Fireside Collective – The State Theatre – State College, PA
03/16 – Pink Talking Fish – The NorVa – Norfolk, VA
03/16 – Mike Gordon – Asbury Lanes – Asbury Park, NJ
03/16 – Aqueous – Kings Rook Club – Erie, PA
03/16 – Joe Russo's Almost Dead – Masonic Auditorium – Cleveland, OH
03/16 – The Lizards – Putnam Place – Saratoga Springs, NY
03/16 – Papadosio – Madison Theatre – Covington, KY
03/16 – Runaway Gin – The Charleston Pour House – Charleston, SC
03/16 – The Motet w/ Electric Kif – Exit/In – Nashville, TN
03/17 – Widespread Panic – The Theatre at MGM National Harbor – National Harbor, MD
03/17 – Mike Gordon – White Eagle Hall – Jersey City, NJ
03/17 – The Fritz w/ The Phryg, Escaper – The Capitol Theatre – Port Chester, NY
03/17 – Pink Talking Fish – The Blind Tiger – Greensboro, NC
03/17 – Melvin Seals & JGB – Haws & Reed Performing Arts Center – Greenfield, MA
03/17 – Yonder Mountain String Band – Culture Center Theatre – Charleston, WV
03/17 – Restless Leg String Band w/ Brother Smith – The Burl – Lexington, KY