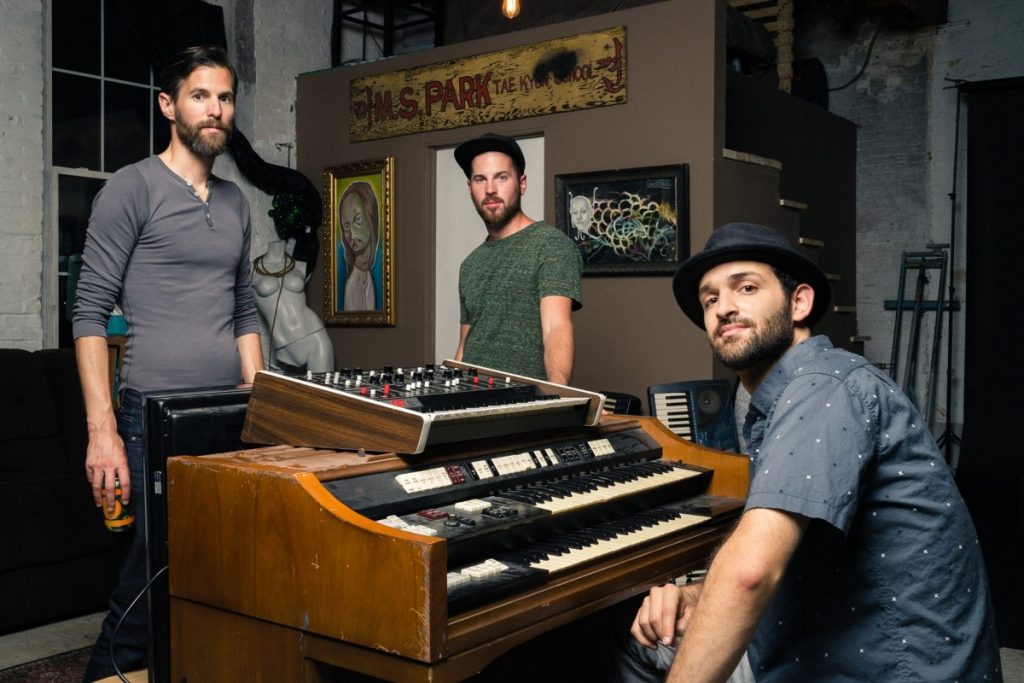 In the current jam music scene, there are few bands as iconic as Lotus, and in an industry made up of artists always looking to expand, there's bound to be side-projects a-plenty.  Sometimes musicians have to spread their wings and explore creative avenues.  Jesse Miller of Lotus recently teamed up with Eli Winderman, of another huge band on the scene–Dopapod, and drummer Charlie Patierno, to create Octave Cat.  The band is more experimental and jazzy, with lots of synth and modular noises to boot.  Octave Cat released their debut album today, March 10th, which you can listen to in full
here
 (and below).
How did the idea for Octave Cat come about and the three of you get together?
We got started last summer. Eli and I met up to play some of my synths and we recorded some of the session. The recordings evolved into the track Limber Up and then Spar. I asked Charlie to play some live drums on the tracks and the band was born. It's all evolved very organically. We've been writing and recording whenever we have breaks from our other groups.
What sort of freedom or change of pace does Octave Cat offer for you (Jesse) and Eli, separate from Lotus and Dopapod?
Musically Octave Cat is much more jazz oriented than Lotus. So getting into these different types of scales and harmonies is fun for me. Lotus always involves writing for guitar. Octave Cat is centered around electric piano and synths, so that changes the way I write as well. The whole project has been a lot of fun – working with other musicians, jumping between instruments, working fast, trying out new recording methods and equipment. It keeps me on my toes.
What is your songwriting process like?
We've all been writing and it has been very collaborative. We started sending around demos and beats we had made individually then building out from those basic pieces. I would have Eli over at my home studio tracking keyboards and then I could spend a couple days editing. Then when we had finalized arrangements Charlie and I went to Rittenhouse Soundworks to track the drum and bass parts live. We finished off by mixing at Miner Street Studio in Philly.
What is your favorite track from the album and why?
I like all the tracks, but lately Fever Subsides has stood out. The combination of the modular synth parts and the jazz-trio sound in that track shows the two sides of the group at the same time.
Why are you excited about these upcoming shows and what would you say to anyone who is on the fence about attending?
We've only played live one other time. So far, all of our time has gone into writing and recording the album, so we are excited to bring this music to the stage. We are all busy with our other projects so these 3 shows will be a rare chance to see Octave Cat live.
Written by Elise Olmstead.
Upcoming dates:
Live:
3/17 Philadelphia – Johnny Brenda's
3/18 New York – American Beauty
3/19 Baltimore – The 8×10 Club