Funk vs. Bluegrass
March 19, 2016
The Metro Gallery, Baltimore, MD
written by Cliff Taylor
photos by Jane Barbacane
March 19th 2016 was a day that will never be forgotten.  There was an epic battle in the city of Baltimore, and Metro Gallery was the scene.  Throngs of people turned out to bare witness to such an event.  The action continued well into the night, but not a single felony was committed.   People screamed and yelled, moving about in frenzy, yet everyone seemed happy.  What could this possibly mean you ask?   Funk vs. Bluegrass was the main event and everyone won by knockout!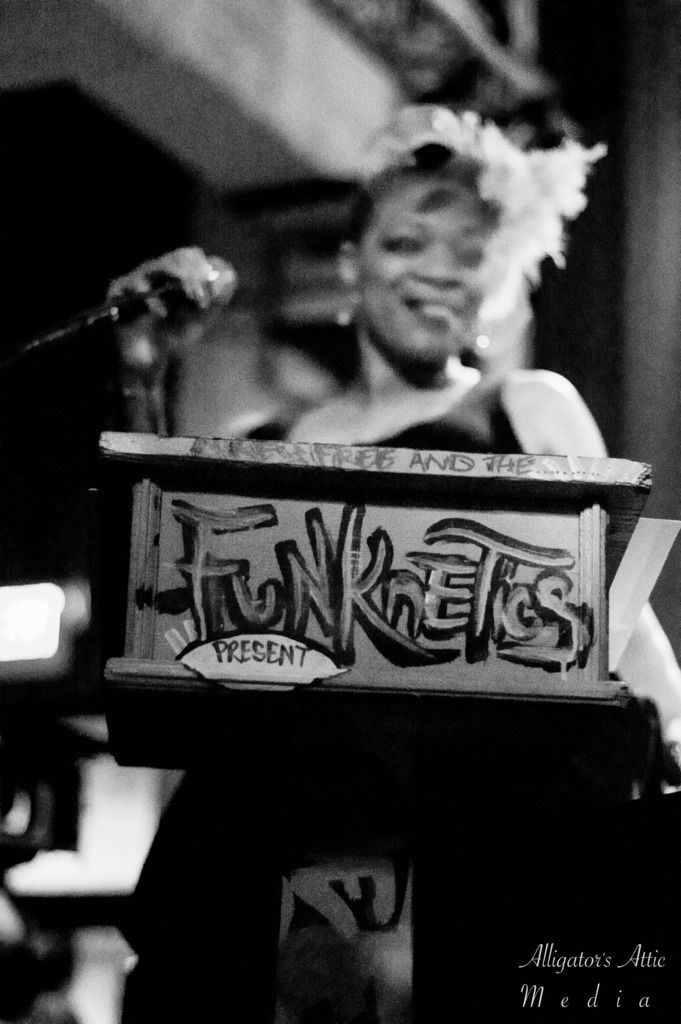 Billed as a show to honor the great musical genres of Funk and Bluegrass, three great acts combined powers to bring in a sell out crowd and provide one incredible night of entertainment.  The first band up was Mikey Free and the Funknetics presenting the Funk Family Tree.  An all-star super group of local musicians, this ensemble features band leader, guitarist, and vocalist Michael Bohorquez, Patrick Rainey on saxophone and vocals, Paul Joyce on bass, Greta Thomas on Violin, Chris Humphrey on keys, Papa Dom on the Djembe, Erik Morra on percussion, and Dwane Jackson behind the drum kit.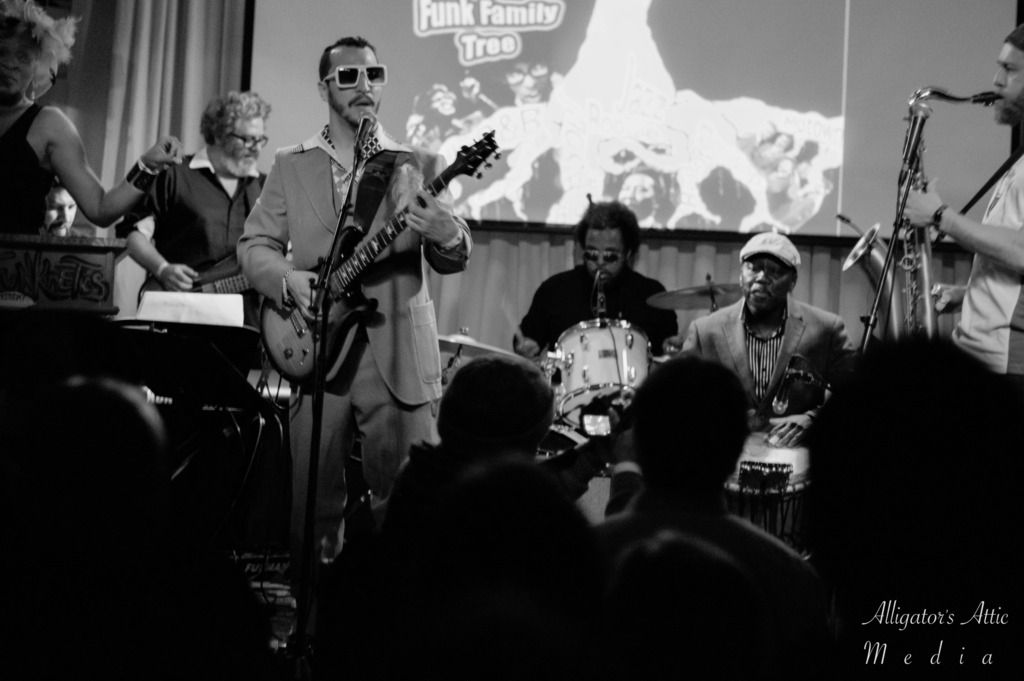 The story of the Funknetics is still incomplete.  Striving to really provide some history and information along with their show, the actual teaching was provided by Tracie Jiggets.  She gave brief but powerful monologues before the rest of the band demonstrated the evolution of the music through a selection of choice covers.  Running through blues, jazz, doo-wop, and the first sounds of funk, highlights included versions of tunes from the likes of Prince, Parliament Funkdelic and the great James Brown.  The Funknetics also connected the funk genre to present day music like Rap, Hip Hop and Jam.  From the first note to the last, Mikey Free and the Funknetics were captivating and down right impressive.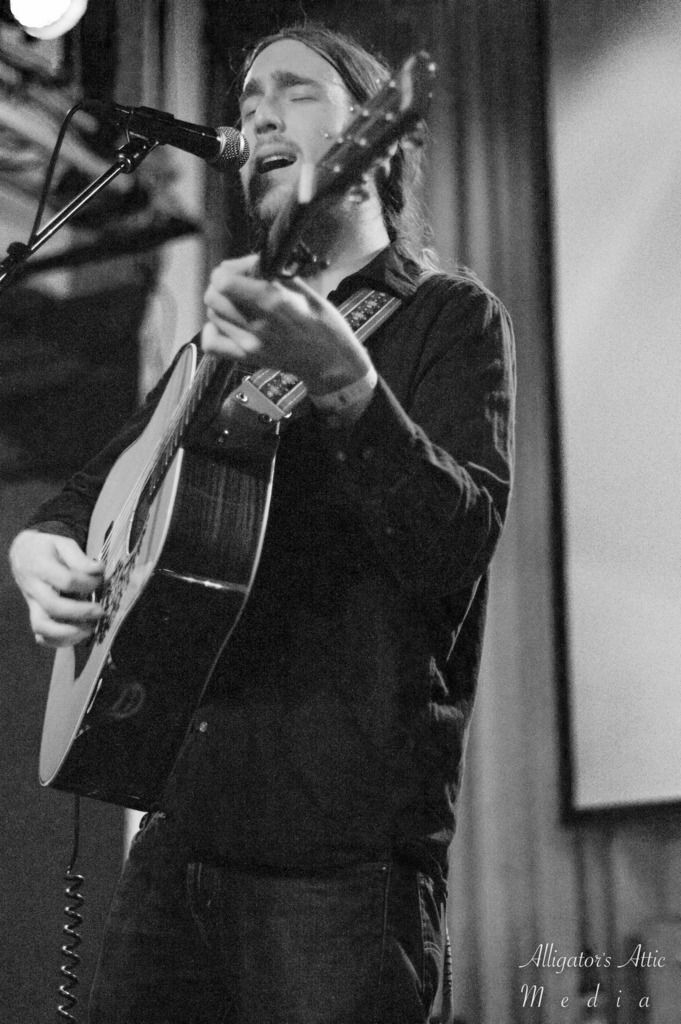 Quite different in sound but still rich in history, the genre of Bluegrass was represented well by The Dirty Grass Players.  Featuring Ben Kolakowski on guitar, Ryan Rodgers on mandolin, Colin Rappa on bass, Alex Berman on 5 string banjo, and Alex Tocco on the fiddle, these fellas turned up the heat real quick and started fighting back against the funk!  The crowd stomped and hollered along, encouraging the fellas that Bluegrass might just take Funk.  A fine version of the Ween song "Roses Are Free", a tune made famous in cover form by Phish, quickly transformed into a full venue sing-along.  The Dirty Grass Players have a bright future.  Make sure you check them out some time.  If you like hard driving bluegrass and newgrass you wont be disappointed.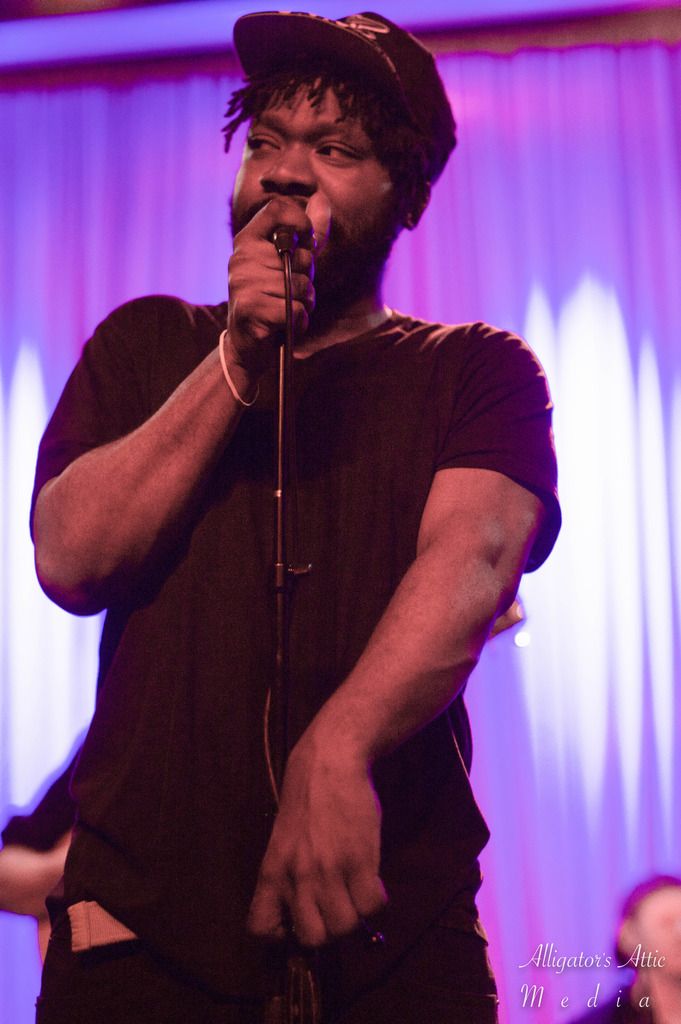 The final set of the evening was advertised as an Acoustic-Funk tribute to James Brown.  Eze Jackson took on the persona as Mr. Brown himself.  A fine backing band also included Letitia VanSant, Frank Mitchell, and various members of the Dirty Grass Players and Mikey Free and the Funknetics.  The super jam featured a run of hits and left every last person feeling good in a way only James Brown's music can achieve.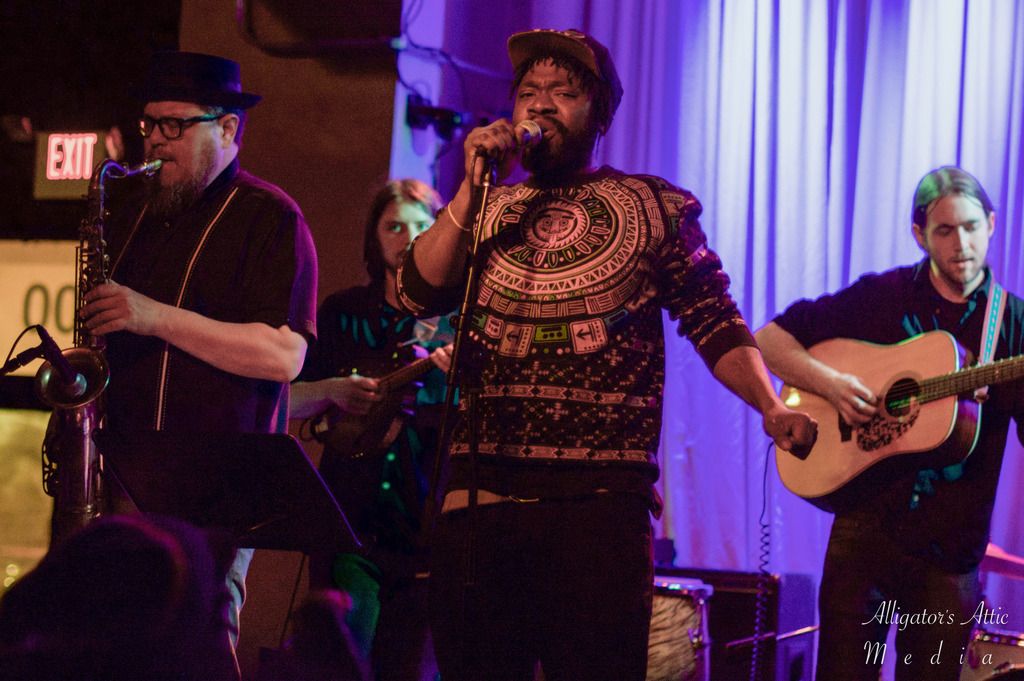 Metro Gallery is located in Baltimore's arts district and is a fine place to take in live music.  Their walls are decorated with posters from past shows and there was also live painting done during the musical performance.  Drinks are fair priced, and a cheap parking garage is also right next-door.  This particular evening, powerhouses of Funk and Bluegrass fought till the end.  Valiant efforts were turned in all around but no clear victor could be crowned. The musicians that shared the stage were top notch and the venue was fun to spend an evening at.  For more information on Mikey Free and the Funknetics and their Funk Family Tree please check them out on Facebook at www.facebook.com/thefunknetics/.  Look for more news and events from them in the near future.  While you're there look up the Dirty Grass Players at www.facebook/thedirtygrassplayers/ to find links for their music and show information.  Make sure and support your local musicians and artists!