Written by Maria Ekaterina
Deschutes County Fairgrounds in Redmond, OR is ready to welcome a packed lineup of artists, from Pretty Lights to Frameworks this September 22nd through September 24th. We picked 10 sets, we think our Jamily would love to see Live. These are in no particular order.
10 Dirtwire
Dirtwire plays an array of instruments both ancient and modern, including West African kamale ngonis, jaw harps, space fiddles, whamola basses, Rickenbacher electric 12 string guitars, bowed Banjos and mouth harps from around the globe, all interwoven into modern laptop beat creation. Hailing from the underground west coast electronic bass music scene Dirtwire finds itself at the forefront of experimental electronic music production mixing in their wide array of world instruments with sampled beats and 808's. Dirtwire's live shows are a communal psychedelic journey, ranging from down home boot stomping get downs, to bass and blues electronic mashups, to ethereal cinematic beat driven soundscapes. Woven into each is the exploration of where live instruments meet computer production, and where tradition meets experimentation.
9 Blackstrap Bluegrass
The Appalachian Mountains have been known to harbor, nurture and birth Blue Grass Magicians. It's no surprise to see Oregon locals create a safe and enthusiastic space for Bluegrass to flouring on the West Coast, as we know East Coast Bluegrass-loving fans will not want to miss this set at Cascade Equonox 2023. Get ready to hear some of your old-time favorites, new classics, and originals that will get your boot and booty a beat to shake to.
8 Fruition
Fruition's newest album, Broken at the Break of Day, shines a light on all five members of the band, whether it's on the traded lead vocals of "Dawn" or the irresistible rhythms of "Where Can I Turn." As it's been for more than a decade, their sound is hard to define, but the songwriting and the harmonies tie their diverse influences together. For example, "Counting the Days" is a poignant love letter, while "For You" shows the exasperation of maintaining a relationship on the road. The band's most electrifying rock moment, "Do What You Want," is then followed by "Nothing More Than Spinning," which sounds like a folk song interpreted by Queen. The stunning vocal blend heard in "At the End of the Day" brings Broken at the Break of Day to its beautiful and touching conclusion.
7 Goose
Over the past 4 years, Goose transformed and exponentially took their well-deserved seat as one of the most sought-after live bands nationwide. With smooth melodies and relaxed & relatable lyrics mixed with a throbbing fan base, it is an all-around experience to see Goose performing live at events such as Cascade Equinox. See where you can see their next show here: https://www.goosetheband.com/about
6 Phyphr
The rising electro-soul artist has opened up for national acts like The Floozies, Manic Focus, Daily Bread, SoDown, Marvel Years, Maddy O'Neal, Jason Leech, Shooka, Cofresi, and Recycled Funk. He recently performed at ReVibe Retreat, as well as a New Year's Eve Livestream by River Beats, whose fans nominated the producer for Breakout Artists of the Year 2020.
5 The Main Squeeze
There seems to be an aura in the air when the five members of The Main Squeeze enter a room. A multicultural five-piece from Los Angeles, CA, The Main Squeeze have built a cult following in the States on the road –putting rubber to pavement and playing over 1,000 shows together over the past nine years. For a group of men with completely different backgrounds, tastes, religions, and opinions, there's already a spirit shared among them when they sit down to play together. The Main Squeeze, who has toured with the likes of George Clinton &The Parliament Funkadelic, The String Cheese Incident, Umphrey's McGee, and many more and are lauded across North America's live music circuit. They've graced hundreds of stages and played festivals including Bonnaroo, Electric Forest, Firefly, and many more. Their breakout moment came during the pandemic, the band quickly developed a huge following on TikTok. They've since gained praise from NPR, Rolling Stone, Relix, and Wonderland as well as collaborated with artists such as 6LACK and Gallant and regularly hosted celebrity-attended gigs at their fast-becoming infamous "Squeeze House." The Main Squeeze are coming off their fifth album"To Be Determined" a body of work showcasing the unique chemistry the Los Angeles, CAbased band has developed together over the years. The album is a stunning showcase of why they have become a touring phenomenon in the US and around the world, which has led to a passionate fan base–with some fans traveling the US and having seen up to 30 shows.
4 Tara Brooks
The worldwide phenomenon is only a fraction of what Tara has come to be known as having worked events like Area 15, Return to the Rio [Australia], Sisyphos [Berlin], Stereo [Montreal], Output [NYC], Desert Hearts Resident to name a few. "Tara found her calling within the Los Angeles underground dance scene after growing up surrounded by music of all genres. She has since propelled her productions forward to pave a path as a respected and world-renowned artist. From "Eunoia", her first EP on John Digweed's iconic Bedrock label, to releases on Katermukke, Exotic Refreshment, Get Physical, Balance Music, Kindisch, and Desert Hearts Records – just to name a few her evolving productions clearly prove that her unique style is a true mirror of herself: passionate, emotional, interesting, fiery, fun, and authentic."
3 Trevor Hall
Raised on an island in South Carolina, singer/songwriter Trevor Hall realized at a young age that music was more than just a passion -it was his life's art. At sixteen, he recorded his first album. Shortly after, Hall left South Carolina for Idyllwild Arts Academy in California where he studied classical guitar and was introduced to the practices of yoga and meditation, which would greatly influence his life and his music. Hall's music, a blend of roots and folk music with touches of electronic elements, is imbued with a deep love of Eastern Mysticism. This powerful symbiosis fostered a deep connectivity with his growing fan base and Trevor quickly matured into a leader of the burgeoning conscious musical community. Along with numerous pilgrimages to India, he has sold out the historic Red Rocks Amphitheatre in Colorado as a headliner and he also completed a series of sold-out international tours with artists such as Ziggy Marley, Jimmy Cliff, Michael Franti, John Butler Trio, Matisyahu and Brett Dennen. IN AND THROUGH THE BODY, Hall's latest record, released September 25th, 2020, presents his most mature sound yet, touching on the timeless human themes of love, struggle, growth and redemption. Hall uses a palette of genres that span from folk, roots-rock, indie, and electronic, all with a consistent wash of authentic far-Eastern influence. Trevor Hall's prior release, THE FRUITFUL DARKNESS, was his first independent release and the #1 music campaign of 2017 on Kickstarter. The album was released on June 1st, 2018 and premiered at #4 on the iTunes Alternative Charts. In the lead-up to the new album, IN AND THROUGH THE BODY, Hall released a 2020 single featuring Brett Dennen, Put Down What You Are Carrying, which immediately became one of the top streamed songs in his scene. Chapter of the Forest(2014) and KALA(2015), debuted at #3 and #2 on the iTunes singer/songwriter chart respectively. Hall and his wife, Emory, created the Where the Rivers Meet Foundation in 2020 in order to continue their humanitarian efforts in both India and Nepal. "After decades spent traveling across India and Nepal," they say, "we were inspired to create a foundation that could give back to those lands and people that touched and impacted our lives so immensely." IN AND THROUGH THE BODY was produced by Brad Cook (Bon Iver, Hiss Golden Messenger), with additional instrumentation from Phil Cook (Megafaun) and Matthew McCaughan (Bon Iver), as well as vocal accompaniment from Emory Hall. Hall's mother and sister also have vocal appearances on a song, making the album truly a family affair. The album was recorded in Durham, North Carolina and mixed at Great Stone Studios in Oakland, California (former home of Green Day) by Johnny Cosmic (Stick Figure).
2 Honey Don't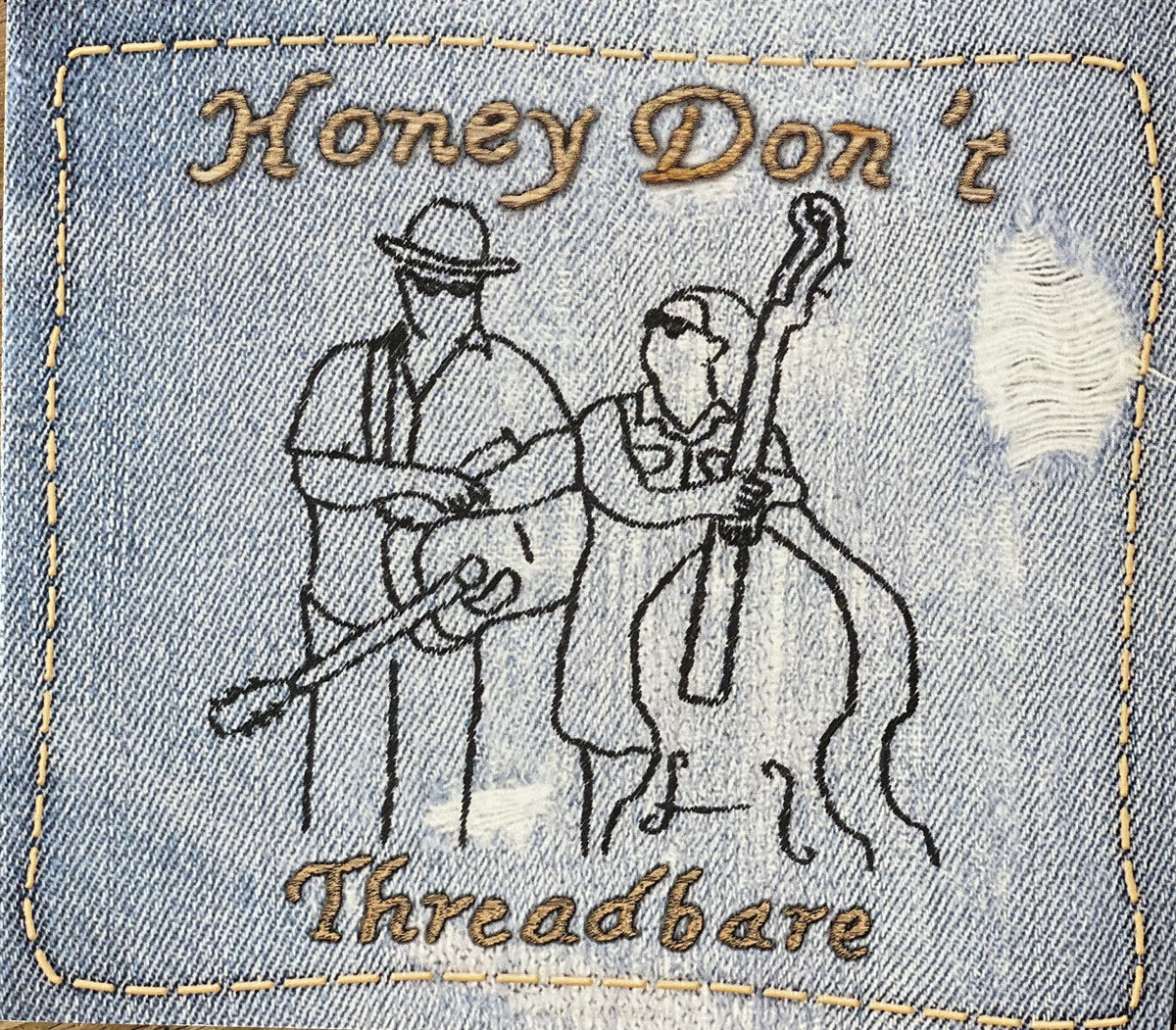 Honey Don't is an acoustic duo based in Bend, Oregon consisting of husband and wife team Bill Powers (guitar,vox) and Shelley Gray (upright bass,vox). The music is original for the most part and based in the folk tradition. The couple are founding members of the Colorado based old-time bluegrass band Sweet Sunny South that performed extensively and recorded several Albums between 2000 and 2010. The bluegrass and old-time feel is still a cornerstone of their sound but there's certainly more than that. There's swing, and country, rockabilly and blues too with the main focus being the songs and sweet harmonies the two create. Since relocating to Bend in 2014 they are often joined by Don Hawkins on snare and CJ Neary on fiddle to fill out the band. Honey Don't has recorded three full length albums since their inception in 2006 with the newest effort "Threadbare" having been independently released in early 2022. Bill's songs are compelling and memorable and there's an undeniable joy in the music. Bill and Shelley have been making music together for over twenty years and like a fine wine and exceptional bourbon, the best of their qualities have naturally distilled into a truly unique vibe, sound, and feel that is Honey Don't.
1 G Bundy
The BundyBand plays music inspired by New Orleans and the Pacific Northwest. It features many musicians who have been playing together in various formations for nearly 4 decades. You might catch us on a night up on the hill playing the jazz. Or a guest might come by and steer us down a path of John Prine songs. Any style of music is fair game: New Orleans trad jazz, second-line brass band tunes, funk, standards, original songs about Humanzees and Han Solo, or even covers from artists like Charles Wright, The Band, or Phish. Sometimes Fleschner lights an infinite cosmic fire with his organ. Sometimes Savage tears the fabric of space-time with his flute. Sometimes Bundy even plugs his clarinet into a bunch of pedals and breaks your mind. If we get it right, the music goes somewhere really special, and we all go along for the ride.
More about Cascade Equinox
What is Cascade Equinox?
Cascade Equinox will showcase an eclectic, dynamic lineup of 50+ acts ranging from jam, electronic, funk, soul, and bluegrass, with headliners like Pretty Lights, Goose, Big Wild, Phantogram, Trevor Hall & The Great In-Between, Of The Trees, Emancipator, and Fruition. The festival will also welcome additional acts such as Dirtwire, Opiuo, LP Giobbi, Gone Gone Beyond, Manic Focus, The Main Squeeze, Polyrhythmics, Maddy O'Neal, Moontricks, Tripp St., and Frameworks.
Cascade Equinox Festival will also offer a bevy of non-music activities and programming, including a vendor marketplace, workshops, kids zones, carnival rides, culinary commons, a healing sanctuary, yoga, beer and wine tastings, interactive art installations and live art.Deschutes County Fairgrounds is the Pacific Northwest's premier event facility and venue. With sweeping panoramic views of snow capped mountain peaks, trees, and creek running through its 340 acre space, Cascade Equinox promises a vast, naturalistic music festival unlike any other.
https://www.facebook.com/cascadeequinoxfestival
https://www.instagram.com/cascade_equinox/