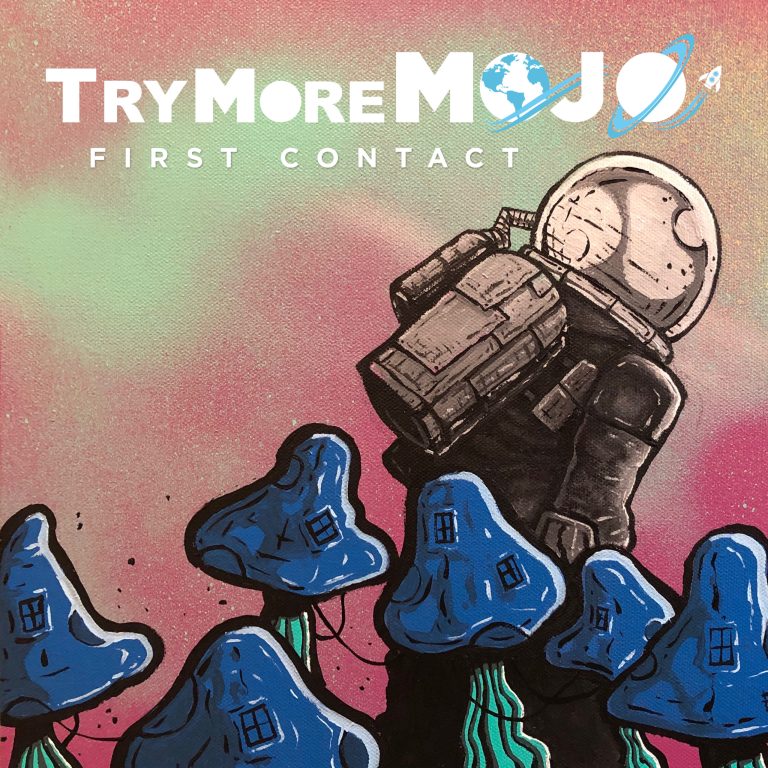 TryMore MOJO is a space-funk fusion band out of Dallas, TX, who has recently wowed me with their polished sounds that compare to the likes of TAUK and Umphrey's McGee.  It's surprising how huge they sound with only four members – Leland Kracher on keyboard/vocals, Coty Austin on bass/vocals, Evan Lamb on guitar/vocals and Medrick "Medz" Greely on drums/samples.  Their psychedelic fusion of jam, hip-hop, reggae, and funk keeps you endlessly captivated throughout the polished 7 track debut album First Contact.

The band splits the writing duties fairly evenly, all lending their hand in the creative direction of the songs.
"Someone will come with a riff which we jam on until the arrangement takes shape," says keyboardist Leland Kracher. "For example, a large chunk of our songs have formed via jams we get into live, which we then review and structure into the final arrangements." 
The title track "Stockholm" comes in with a funky beat and hip hop vocals that will make you bob your head, into the instrumental interlude "Hippo (Interlude 1)." The third track, "Monterey," lends a little bit of reggae flavor with an absolute fire guitar solo that seems to go on forever…in a good way.  "Resolutions," is my absolute favorite track on the album, and at over 10 minutes long it's a wild ride. The song starts out with a little bit of space-y, synth-y keyboards, then journeys into some more fast-paced drumming and some blistering guitar that rivals that of Brendan Bayliss, drops you into a fun little Papadosio-like bop, then continues to jam without a boring moment making sure to give the keyboards some time to shine as well.

The album was recorded at Söl Studios in Fort Smith, Arkansas, who did the mixing and mastering of the record as well. "Can't say enough good things about that studio," says Leland, " I specifically want to thank Grant & Anton for all their help, time and wonderful energy that helped contribute to making the EP what it is! Truly enjoyed our time spent there."  After listening to the album you'll understand why it is called First Contact, giving the listener their first encounter with this space-funk band that will leave you wanting more and more.