The Ron Holloway Band @ Martin's Downtown Roanoke, VA. 2/19/2016  B. A. Jones
   Ron Holloway, tenor saxophone player and living legend, is one of my favorite musicians. His illustrious career has spanned almost 40 years, with no signs of slowing. He has played in such renowned bands as The Dizzy Gillespie Band, Gil Scott- Heron's Amnesia Express Band, Root Boy Slim & The Sex Change Band, The Warren Haynes Band, and The Susan Tedeschi Band. With deep roots in R & B and Funk, he is also a highly sought after musical guest. Making guest appearances with famous bands like Melvin Seals & JGB, The Allman Brothers Band, Taj Mahal, Little Feat, Widespread Panic, Govt. Mule, The Dirty Dozen Brass Band, and The Tedeschi Trucks Band.
   Always the consummate professional, he is the living embodiment of a proficient musician, and conducts himself likewise off stage. His dulcet tones perfectly match his genuine personality. Humble and soft- spoken with fierce intelligence, and an infectious sense of humor. So it is no surprise when he formed his own band, the musicians performing with him are studio level musicians of the same caliber. The Ron Holloway Band's inaugural show was at Mad Tea Party Jam 3, in 2014, and I was there to rejoice in their magnificence. Having seen Ron several times with Warren Haynes, I was ecstatic to hear his namesake band, and was not disappointed!
The Ron Holloway Band came to Martin's Downtown in Roanoke, VA. on Feb. 19th 2016. The venue was full but not crowded, and I was happy to see both young and old alike, a much more mellow crowd. Not having seen them since last June, I was ready to get down to their funky sound once again. You may think The RHB would concentrate all it's energy around it's ecclesiastic sax man. This is far from the truth, as Ron is surrounded by equally accomplished musicians on all sides.
   There was one stand in member I had not seen with them before. Their regular bassist Christopher Brown was not there, as he was putting the finishing touches on a new album with his other band, Unified Conspiracy Theory. In his stead was Mike Tony Echols of The Echols Brothers Experience. In the back corner of the stage from the shadows he skillfully thumped and cajoled his bass, never missing a beat. He smiled slyly and kept the rhythm alive like a cardiologist massaging the blood through an emboldened heart. A certain bassologist!
   Tony Echols and drummer Rod Gross were undeniably the backbone of the band. Rod Gross seems to be the Goldilocks of drummers. Never playing too loudly, or too softly, his sound intensity level was just right. Adeptly and passionately, he kept the beat judiciously solid and steadfast. They kept the musical foundation concrete, and jointly sounded as if they had been doing this together for years!
   Wes Lanich on keyboards is the exceptional ingredient who adds the fun to funkiness. Though his body conveys a certain leisure, his music is simultaneously arousing and ambitious. His masterful melodies tell a harmonious story of their own. The thrill inside the thriller novel, and the twist to the storyline. Effortlessly accentuating each song, his music is flamboyant in spirit, yet somehow unpretentious. I reveled in his augmentation of each song.
   I love to see Ron sandwiched in-between his two gorgeous co- lead vocalists, and I'm sure that's exactly where he belongs. Both Amanda Lynne and Jenny Langer (aka Black Betty) have robust and impassioned voices. Their voices are powerful, and they are immensely gifted singers. They have both given me goose bumps, as well as shivers down my spine. One will sing lead vocals in a song, while the other sings back up and plays tambourine. The next song, they will switch. It's like watching two butterflies effortlessly pollinate musical orchids.
   These multi- talented women are role models for me and many others. Not only are their voices enviously superb, you can tell they practice to perfection. Hard working, jubilant, and extremely ingenious, Amanda Lynne and Jenny are heroines in an often wicked world. Amanda Lynne is the lead vocalist in Sol Frequency as well, and impressively also a writer. Jenny Langer is a former child actor and model! She is also the lead singer in Moonshine Society, and Black Betty & The Bad Habits.
   Joe Poppen is a guitar genius! Not only is he an impeccable guitarist, he is a teacher of his craft. He got his professional music degree at the Berklee College of Music, graduating in 2009. Onstage he almost seems reserved. Eyes closed the entire time, his guitar notes are crisp and courageous. Joe's guitar seems to be an extra appendage, an ancestral trait embraced at birth. At this show someone said to me, "I wish he were more engaged with the audience". To which I replied, "He is in his own musical world, and I admire that"! Joe Poppen exists in another musical dimension, a guitar-verse if you will. To observe a musician so aware of his instrument he almost reaches a meditative state, is illuminating.
   Ron Holloway's proficiency of his craft is most likely what draws people in to these shows. He is more than accomplished, he is an utter saxophone virtuoso. I have heard him as musician at large at Mad Tea Party Jam for 3 years running, and no matter the genre, he intensely magnifies each band for the better. The first time I heard him with the bluegrass band Cabinet, I thought "This will be interesting"! He amazed me then, and still does today. I wouldn't call him a perfectionist, as much as he is meticulous, and has a flair for the command of his instrument. He has coerced joyful tears from my eyes on numerous occasions, and I can't say enough about his stellar mastery and emotional performances. I sometimes hold my breath in anticipation, for the moment Ron's exquisite tenor sax joins in any song. His soulful and seductive saxophone is the climactic pinnacle of musical epiphany.
   With Ron Holloway as the sun these musical celestial bodies orbit around, it is a marvelous sight and sound to behold. Even so, no one musician, even Mr. Holloway, is sovereign. Instead they are each an equal ingredient, adding their own spice to the band. All added together equal a magical quotient. Seven powerhouse musicians, equating a root formation of fantastic composition.
   They delightfully began their first set with Killing Floor>Baby I Love You. Their sound was as decadent to my ears as raspberry moonshine is to my taste buds, and just as inebriating. They played The Weight into a Stevie Wonder medley that fused my essence with affection. I love to hear Ron play anything, but hearing him play Stevie renewed my devotion to his poetic euphony. The RHB played The Letter>In Time> Thankful Thoughtful. They peacefully breezed into Que Sera Sera, and ended the first set with a ferocious Make It Rain.
   At set break the entire band socialized and conversed with just about every audience member there. Ron autographed endless posters, and took photos with all who requested. He is such a kind and modest soul, which makes him very approachable. The entire band was gracious and affable, and everyone enjoyed their sincerity. I also got my picture with the charming Amanda Lynne.
   They opened their second set with Kissing My Baby Love> Down By The River. They slowly built up the energy into a crescendo with a fervent PFunk medley. Including a boisterous Give Up The Funk, I've Been Watching You, and Coming Round The Mountain. PFunk is the sound Ron and his band were born to play! Dynamic and enthusiastic while also engaging, satisfying, and alluring. They played one of my all time favorites to hear from them, God Made Me Funky, by The Headhunters- and the crowd was frenzied with excitement. They annihilated What Is Hip? with zeal and intensity, leaving us enthralled. They cordially stayed on stage and gave us an encore without our having to scream for it. They ended the show with Fight The Power, and endeared us to them unconditionally.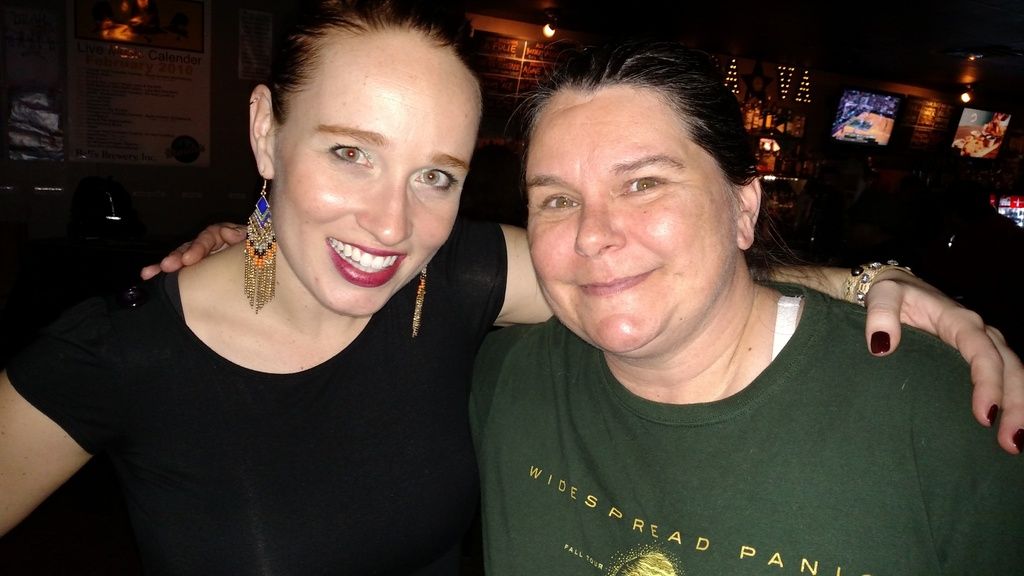 If you have never heard The Ron Holloway Band, I urge you to do so. In a world of mediocre spoon fed bands, and arrogant musicians, these ladies and gentlemen have authentic talent. They are among the most candid and sincere people you will ever meet. From Funk, to R&B, to insatiable jazz, this band reigns supreme. They are a foremost requirement to embracing everything awe- inspiring this world has to offer. I've always thought The Ron Holloway Band was extraordinary, but they have evolved into a phenomena.
   B. A. Jones