Written by / Photographer : Kristan Whitlow Hughes
Videographer : Ed Payne of Build Productions

People's Blues of Richmond formed in 2008 and has since been taking over the RVA music scene with their psychedelic blues infused rock and roll. Tim Beavers II and Matthew Volkes brought Nekoro Williams on board in 2012, and over the years the talented trio transitioned from being well known for their rowdy house shows to releasing their first album in 2010, "Hard on Blues." Following their next albums "Good Time Suicide" and "Quit or Die", the guys found themselves opening for artists such as Nathaniel Rateliff and the Night Sweats, ZZTop, Papadosio, and Greg Allman.

They've graced the stages of Red Rocks, The National, Electric Forest, and Lockn – but on October 4th, 2019, the band made an official announcement that touring would be on an indefinite hiatus and several shows would have to be canceled. PBR would still be moving forward with their Richmond, VA performance at The Broadberry on December 20th, 2019, newly titled as "PBR SAYS GOODBYE TO RVA with Bumpin' Uglies and VILLAGES."
Lovingly referred to by their fan base as "PBR", People's Blues of Richmond's success has created a tight knit community of fans that have been following their music closely and attending shows for years. If you live in Richmond, Virginia, no doubt you have heard of PBR and if you've been lucky enough to catch them on tour, their sonic Zeppelin Hendrix infused style of rock probably left you wanting more. Tickets for the event were quickly bought up and I was not surprised when the sold out announcement was made.
A Facebook group aimed towards connecting fans, "People's Blues of Richmond's Circus Folk", holds over a thousand members who love to share stories, photos, and videos. As the date of the Goodbye to RVA show approached, long-time fans shared their favorite pastimes and shout outs of love to the band. Steve Macaulay, who has been following PBR for years, decided to do something special; in anticipation for a big night, he bought out the VIP section of The Broadberry to share free access with selected top PBR followers. The raised area – undoubtedly the best view in the house – offered table space which was adorned with signs and balloons expressing PBR love.
"I think PBR was the right band for Richmond. They took a chance with their boastful name – People's Blues of Richmond – it's like they were saying here we come Richmond, we have a story to tell, and we want to represent you well. And they have. Their songs have local references that RVA people can relate to. They have built up a local, regional, and national fan base by creating music that resonates with RVA folks and many others. If someone doesn't know them, they will still know that they have a tie to Richmond by their name. And when they hear them, they will know that there is good music coming from Richmond. I've become aware of other RVA bands like The Trongone Band and Space Koi through them and they have certainly had an influence on my ventures into the RVA music scene.
"One of the things that struck me most about them were the engaging lyrics and how I was personally able to relate to them. Neko's drumming, Matty's bass, and Tim's guitar and vocals really bring them to life in an energizing and exciting way. I will never forget how much fun and musical joy their shows have brought to me."
-Steve Macaulay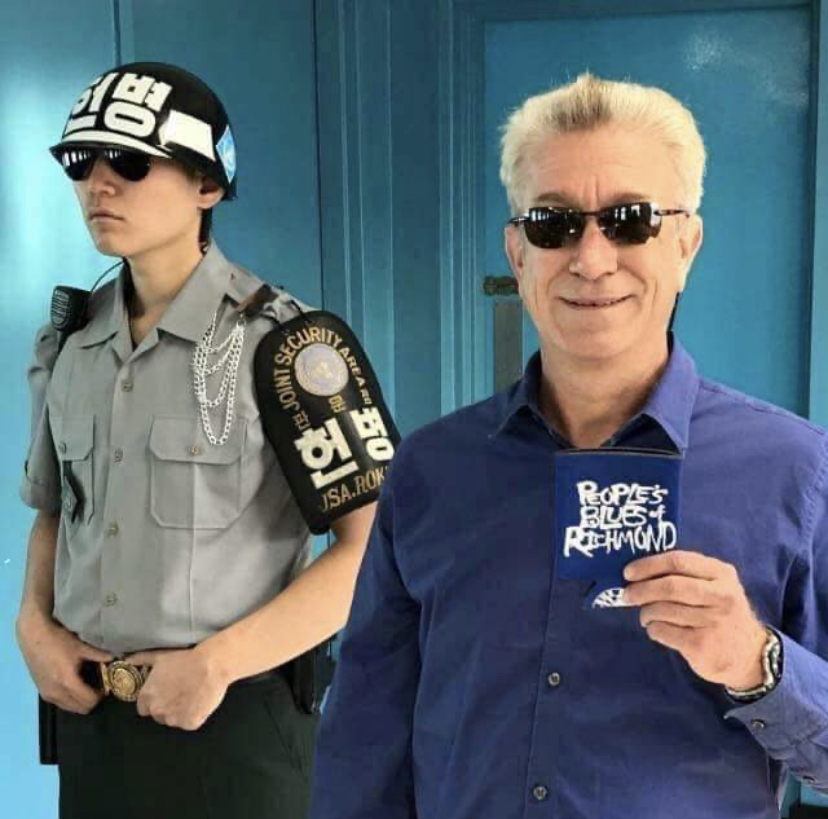 VILLAGES is well known for their RVA artist lineup (Stephen Lecky of Farm Vegas, Zach Hudgins of Jackass Flats, Corey Wells, and Stephen Kuester) and didn't disappoint when starting the night off with their catchy, folk rock tunes. A song titled "Razorblade" put off a folk/ragabilly feeling and it was impossible not to dance to. Bumpin' Uglies was up next and their performance is never one to miss. Brandon Hardesty (lead guitar/vocals) is well known for his impressive vocal range and profound song-writing, both of which match well with the high energy ska infused rock style of the band. Formed with Chad Wright, TJ Haslett, and Dave Wolf, Bumpin' Uglies always sets the tone for the party to come – plus, their annual music festival (Weekend at Wolfies) scored as my favorite festival experience of 2019.
Fans crowded towards the front as PBR prepared to take the stage, reminding us all that this was a sold out and historic show. They opened strong with songs like "Richmond City Hangover Blues" and "Busted" – and continued through the set with favorites like "The House on Oregon Hill" and "Maria Doesn't Care." The energy from the stage seeped into the audience, and everyone could feel every note of Tim Beaver II's strong and emotional lyrics. At one point, Tim's signature velvet top hat (he's often seen wearing it during performances) was placed on his head and a smile crossed his face. During the fast riffs, fans would climb on stage and dive into the audience, but could often be caught with a tear in their eye whenever a note was stretched to a pause: everyone felt as if they were saying goodbye to their family of ten years.


Taking no time for a break, PBR continued steadily through their set while jamming out well known songs like "Well, Well" and "Burning an Oak Tree." Former drummer Raph ( Raphaël Katchinoff, also of The Congress, The Southern Belles, and Big Heart Collective) joined the stage and told stories of meeting the guys over a decade ago at a well known Richmond bar, Emilios. A tambourine was brought on stag; Neko and Raph traded instruments to give an amazing group finish with "Cocaine" and "Nihilist." The fans sang along and the entire venue boomed with pure love. At one point, I heard a stage worker yell to the band, "6 minutes left!!" – and they continued every single moment full of energy, feeding off the crowd, the stage divers, and the fans singing along until all of the lights suddenly came on. The room exploded with screams and applause.
No one felt ready to leave and the shuffle to get out of the door was slow. People kept looking back to the stage as if they were leaving a piece of themselves behind: like they were boarding a plane and waving goodbye to their childhood best friend at the gate. Impermanence is one of the hardest life lessons and my favorite Buddhist teachings: you never know when a person, a place, or a feeling… will become a past time. Sometimes you will never know the true value of a moment until it becomes a memory. I try to remember that feeling the pain of loss can be a beautiful reminder of what it really means to exist.

Take in the happy, hug your friends, be present, keep an eye out for the new adventures for Matt, Tim and Neko, and don't forget – #loveisanactionword.

– Kristan

Miss the show or looking to re-live it? Don't miss this killer highlight video! https://www.youtube.com/watch?v=sYoJXrMxcvg
Additional awesome photos :