Welcome to a new week! The Jamwich is back with another hand-picked selection of some of the funkiest, crunchiest, and most jamtastic shows happening throughout the region this week.  Summer's end is just a bit over a month away! Don't miss out on these great opportunities to break out of your routine before the warm weather starts to migrate.  No plans? No problem! Here is what's up this week.
Be a part of the inaugural Strings & Suds this Friday and Saturday at Pisgah Brewing in Black Mountain, SC.  This event is being put together by the same folks who organized Jam in the Trees, Pisgah Brewing Outdoor Stage Series and MerleFest, so a good time is guaranteed.  The event  focuses on Americana, Bluegrass, and Alt-Country, and will feature live performance from bands such as The Mavericks, Donna the Buffalo, Ashley Heath & Her Heathens, Junior Brown, Sierra Hull, Jim Lauderdale and several other great acts.  If you're looking for a more intimate evening, consider purchasing a ticket to the Friday night event ($25). If you're looking to soak up some rays while you listen to a couple sets on the outdoor stage, then you might be more interested in Saturday's festivities ($55).  Two-day passes are completely sold out at this time, unfortunately, so you will need to purchase two individual day passes in order to attend the entire event.. To learn more about the event and purchase tickets head on over to the Pisgah Brewing's website.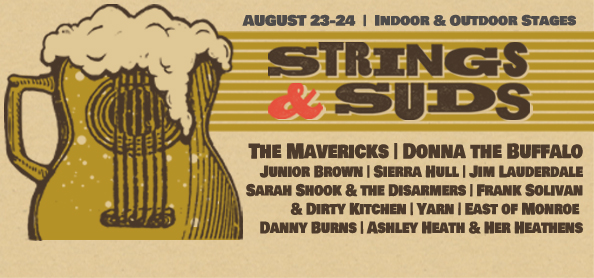 Calling all hippies, hillbillies, renegades, rednecks, misfits and music enthusiasts of all sorts! The Mason-Dixon Outlaw Music Festival & Campout wants you to come join in on a good time. Pack your things and head over to The Glades Festival Grounds in Gibbon Glade, PA this Friday, Saturday, and Sunday for a pickin' good time complete with live music, bonfires, and lots of laughs.  You're encouraged to bring your own instrument, but don't forget to check out the live sets from The Rusty Hay Whackers, Gary Burk III, Bindley Hardware Co., Ruff Creek, The Shiners, Molly Alphabet, Slim Forsythe and all of the other great musicians that will be on-site. Online sales for the event have ended, however, there are still some weekend passes available to be purchased at the gate for $60.  If you'd like to inquire about the availability of said tickets, feel free to get in touch with the good people at Lazy Ass Productions.
Southern Ohio and Northern Kentucky residents are in for a treat this weekend.  The family-friendly Whispering Beard Folk Fest is coming to Smale Park in Cincinnati, OH this Thursday through Saturday.  The organizers of Whispering Beard built the event around the elements that made music festivals of the past so unique and lovable, and hence this event will end up feeling more like a family reunion that a commercial event.  Unfortunately, there isn't any on-site camping, so you will need to transport yourself between wherever you end up staying and the festival grounds on a daily basis.  Figure out your lodging situation in advance to avoid any complications.  The line-up for the weekend consists of M. Ward, Ryan Bingham, The Felice Brothers, Maria Carreli, The Harmed Brothers, Frontier Folk Nebraska, Reverend Peyton's Big Damn Band and a bunch of other great local and regional acts.  Also, there are going to be six exclusive concerts aboard the Whispering Beard Riverboard. Tickets are limited (and sold separately) so if you'd like to experience this little bonus offer, be sure to secure your tickets ASAP.  To learn more about the event and it's history, to view the site map, and purchase tickets head on over to https://www.whisperingbeard.com/
That's it for this week.  To view the entire list of events and concerts for the week all you have to do is just scroll down a bit further.  Let us know if you're going to any shows or festivals this week, and feel free to leave your own suggestions in the comment section.  Until next week. Stay jammy!
Festivals:
08/22-25 – LOCKN'- Arrington, VA
08/22-24 – Kenlake Hot August Blues Festival – Hardin, KY
08/22-24 – Night Lights Music Festival – Sherman, NY
08/22-24 – Whispering Beard Folk Festival – Cincinnati, OH
8/22-25 — Dam Stock Music Festival — Austin, PA
08/23-25 – The Mason-Dixon Outlaw Music Festival & Campout – Gibbon Glade, PA
08/23 – Breakaway Ohio – Columbus, OH
08/23-24 – Norfolk Waterfront Jazz Festival – Norfolk, VA
08/23-24 – Strings & Suds – Black Mountain, NC
08/23-24 – Farmula Fest – Alexandria, KY
08/23-25 – Raise a Ruckus – Brevard, NC
08/23-24 – Emerging Music Festival – New York, NY
08/23-24 – The BBQ V – Trumansburg, NY
08/23-24 – Bridge Jam – Fayetteville, WV
08/23-25 — The Good Vibration Festival — Bellevue, OH
08/24-25 – Afropunk Brooklyn – Brooklyn, NY
08/24 – RTE 23 Music Festival – Wise, VA
08/24 – Sensorium Festival – Philadelphia, PA
08/24 – Oxbow Music Festival – Morristown, VT
08/24-25 – Deep Tropics Music, Arts & Style Festival – Nashville, TN
Concerts:
08/19 – Gary Clark Jr. – Highland Brewing Company – Asheville, NC
08/20 – The Revivalists – The Chicken Box – Nantucket, MA
08/20 – Jazz is PHSH w/ Box Era – Jammin Java – Vienna, VA
08/20 – David Crosby – The Kent Stage – Kent, OH
08/20 – Fruition w/ The Mighty Pines – Woodlands Tavern – Columbus, OH
08/20 – Gary Clark Jr. – Charlotte Metro Credit Union Amphitheatre – Charlotte, NC
08/21 – Moonalice – Gypsy Sally's – Washington, DC
08/21 – Galactic w/ Erica Falls – The Stationary – Dalton, MA
08/21 – Roots of Creation – The Wonder Bar – Asbury Park, NJ
08/21 – Jazz is PHSH w/ Montoj – The Ardmore Music Hall – Philadelphia, PA
08/21 – Fruition w/ The Mighty Pines – Beachland Ballroom – Cleveland, OH
08/22 – Galactic w/ Erica Falls – Asbury Lanes – Asbury Park, NJ
08/22 – The Accidentals – Beachland Ballroom – Cleveland, OH
08/22 – The Fritz – FR8yard – Spartansburg, SC
08/22 – Roots of Creation w/ The Loving Paupers – Jammin Java – Vienna, VA
08/23 – Big Gigantic w/ Louis Futon, Hippie Sabotage – The Brooklyn Mirage – Brooklyn, NY
08/23 – Borstal Boys – Thunderbird Café & Music Hall – Pittsburgh, PA
08/23 – Gary Clark Jr. w/ Blackillac – The National – Richmond, VA
08/23 – Zach Deputy – Westside Bowl – Youngstown, OH
08/23 – The Fritz w/ Cosmic Superheroes – The Pour House Music Hall – Raleigh, NC
08/23 – Umphrey's McGee – Iroquois Amphitheatre – Louisville, KY
08/23 – Widespread Panic – Ryman Auditorium – Nashville, TN
08/23 – Papadosio – Jannus Live – St. Petersburg, FL
08/24 – Splintered Sunlight w/ The Newspaper Taxis – The Ardmore Music Hall – Philadelphia, PA
08/24 – Big Something – Chameleon Club – Lancaster, PA
08/24 – Perpetual Groove – The National – Richmond, VA
08/24 – Soul Rebels w/ Habatat – 123 Pleasant Street – Morgantown, WV
08/24 – moe. Beech Mountain Resort – Beech Mountain, NC
08/24 – Widespread Panic – Ryman Auditorium – Nashville, TN
08/24 – Papadosio – Revolution Live – Ft. Lauderdale, FL
08/25 – Big Something w/ Catullus – The Ardmore Music Hall – Philadelphia, PA
08/25 – Gary Clark Jr. w/ Nathaniel Rateliff & the Night Sweats – Merriweather Post Pavilion – Columbia, MD
08/25 – Umphrey's McGee – Fraze Pavilion – Kettering, OH
08/25 – Universal Sigh – Mellwood Tavern – Louisville, KY
08/25 – Widespread Panic – Ryman Auditorium – Nashville, TN