What's up, readers?  Gear up for another adventure-filled week full of live music, sunshine, and smiles.  No plans? No problem? The Jamwich has got you covered with our personal selection of some of our favorite concerts and other events happening throughout the region this week. Here's what's up.
Pack your bags and head on over to the Thornhill Dragstrip in Morning View, KY for the 4th Annual Birds of a Feather music and arts festival.  Get stoked for three full days of live music from top-notch bands like Rumpke Mountain Boys, Goose, Dizgo, Restless Leg String Band, The Aquaducks, Hot Brown Smackdown, The Quasi Kings, plus many more.  The good folks hosting the festival please ask that you try and leave Thornhill Dragstrip cleaner, and prettier than we find it.  Trash and recycling bags will be handed out to everyone upon arrival. Please use them!  Be sure to pack a bathing suit so that you can take a dip in Lake Thornhill to cool off in the afternoon.  Four-day general admission passes (Thursday-Sunday) are on sale for $65, if you purchase online in advance, or $75 at the gate.  Primitive camping and parking are included in this price, however, you may upgrade to car-camping for $20. Day passes are also available for those who can't swing the whole weekend, or as a cheaper alternative to join in on the action.  To learn more and purchase tickets head on over to www.birdsofafeatherfest.com
The 58th annual Philadelphia Folk Festival, the longest continually running outdoor music festival in North America, is being held this weekend at Old Pool Farm in Upper Salford Township, PA.  The festival is presented by Philadelphia Folksong Society, a non-profit arts education organization that was founded in 1957 that works to present educational programs throughout the greater Philadelphia area, as well as preserve a vast array of historical musical styles. Music for the event will be provided by David Crosby & Friends, Margo Price, The Mavericks, Preservation Hall Jazz Band, Joan Osborne, Langhorn Slim and The Lost at Last Band, Amanda Shires, and a huge list of other bands as well.  Weekend general passes with camping included are on sale for $255, with a non-camping option available for $200. Discounted tickets are available for youth, and young children are able to enter the concert are for free (camping passes are still necessary however).  Get all the info you need and grab your tickets at https://pfs.org/philadelphia-folk-festival.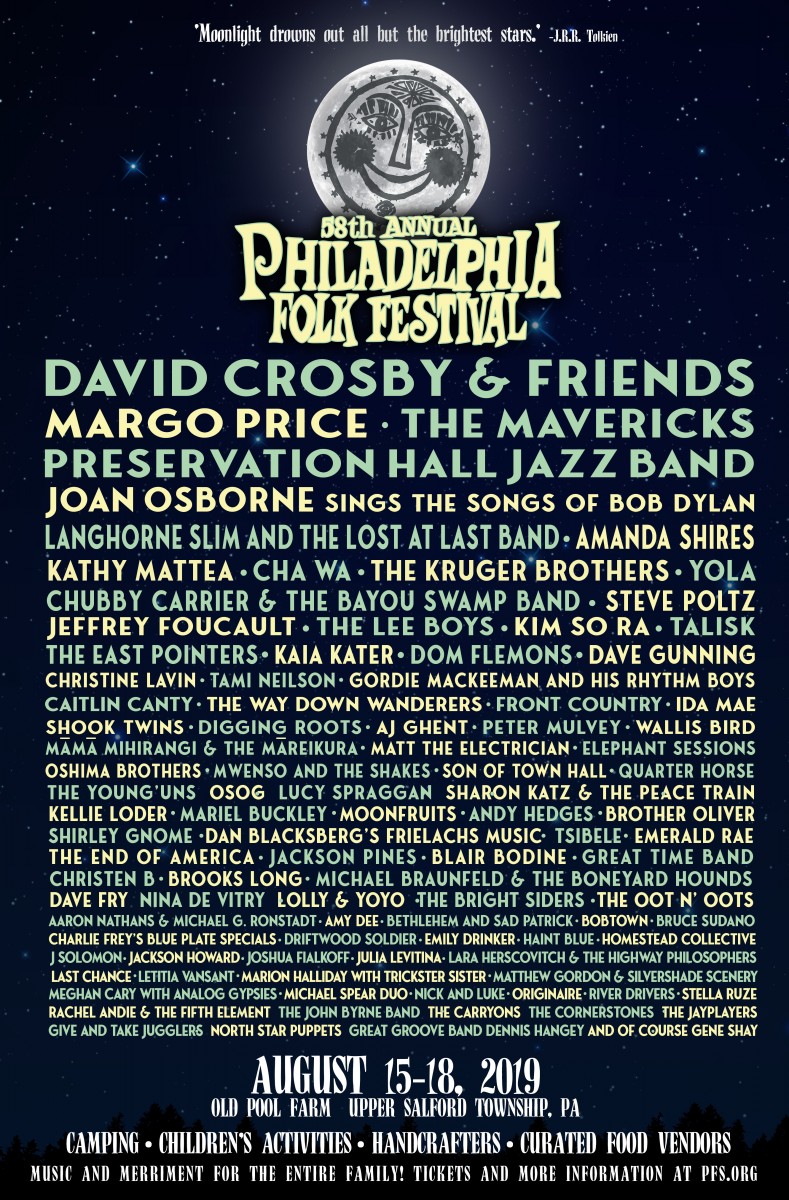 This Saturday marks the Hot August Music Festival at Oregon Ridge Park in Cockeysville, MD.  Pigeons Playing Ping Pong, Turkuaz, Billy Strings, Melvin Seals & JGB, Samantha Fish, Cedric Burnside, The Lil' Smokies, and a bunch of other great bands will be on-site to provide the good vibes.  Bring your kids and stop by the kids' corner for a schedule of fun activities like making hats with the "tattered hatters," face-painting, a harmonica workshop, drum circles, and more.  Also, a free shuttle will be running between Hot August Music Festival and Timonium Fairgrounds, with the first shuttle leave the fairgrounds at 11:00 a.m., and the final shuttle departing from the festival at 11:00 p.m.  Last call tickets are on sale for $73, with parking costing an additional $20 (there will be a designated ride share pick-up and drop-off zone, so get together with your friends save a few bucks). Also, The Dirty Grass Players would like to invite attendees to an after-party at Greene Turtle Sports Bar & Grill in Hunt Valley to keep the vibes goin'.  To grab tickets and learn more head over to www.hotaugustmusicfestival.com.
That's it for this week! Don't forget to keep on scrolling in order to peep the entire list of suggested events for the week. Let us know where you'll be, and feel free to leave your own suggestions in the comment section.  Until next week. Stay Jammy.
Festivals:
08/15-18 – Bird of a Feather – Morning View, KY
08/15-18 – Green Mountain Bluegrass & Roots – Manchester, VT
08/15-18 – Yasgur Road Reunion – Bethel, NY
08/15-18 – Philadelphia Folk Festival – Schwenksville, PA
08/16-17 – Dark Star's Pisgah Jubilee – Black Mountain, NC
08/17 – Hot August Music Festival – Cockeysville, MD
08/17 – Lights Out Festival – Hopkinsville, KY
08/17 – Charlemont Reggae Festival – Charlemont, MA
08/17 – Hopewell Music Festival – Troy, OH
Concerts:
08/12 – Dark Star Orchestra – Bottle & Cork – Dewey Beach, DE
08/13 – Gypsy Sally's Jam – Gypsy Sally's – Washington, DC
08/13 – Dark Star Orchestra – Bottle & Cork – Dewey Beach, DE
08/13 – David Crosby – Carolina Theatre – Durham, NC
08/13 – Galactic w/ Erica Falls – The Chicken Box – Nantucket, MA
08/14 – Sam Bush – Beacon Theatre – Hopewell, VA
08/14 – Travers Brothership – The Camel – Richmond, VA
08/14 – Jazz is Phsh – Rocks Off Concert Cruise – New York, NY
08/14 – Goose w/ Dizgo, Barefuzz – Skully's Music Diner – Columbus, OH
08/14 – Galactic w/ Erica Falls – The Chicken Box – Nantucket, MA
08/14 – Fruition – Prescott Park – Portsmouth, NH
08/15 – Shook Twins – Gypsy Sally's – Washington, DC
08/15 – Dark Star Orchestra – Virginia Credit Union LIVE! – Richmond, VA
08/15 – David Crosby – Jefferson Center – Roanoke, VA
08/15 – Samantha Fish – Beachland Ballroom – Cleveland, OH
08/15 – The Larry Keel Experience – Woodlands Tavern – Columbus, OH
08/15 – Chris Stapleton w/ Brent Cobb, The Marcus King Band – Erie Insurance Arena – Erie, PA
08/15 – Perpetual Groove – Will's Pub – Orlando, FL
08/15 – Umphrey's McGee w/ Magic City Hippies – St. Petersburg, FL
08/16 – Born Cross-Eyed w/ Oxymorons, The Truehearts – Gypsy Sally's – Washington, DC
08/16 – Sweet Life – Dante's Bar – Frostburg, MD
08/16 – Pink Talking Fish – Bird & Betty's – Beach Haven, NJ
08/16 – Sun & Rain – 551 West – Lancaster, PA
08/16 – Fruition w/ Brad Parsons – Thunderbird Café – Pittsburgh, PA
08/16 – Galactic w/ Erica Falls, Ikebe Shakedown – Brooklyn Bowl – Brooklyn, NY
08/16 – David Crosby – Smith Opera House – Geneva, NY
08/16 – CBDB w/ Three Star Revival – Georgia Theatre – Athens, GA
08/16 – Papadosio w/ Hive Mind – Terminal West – Atlanta, GA
08/16 – Umphrey's McGee w/ Magic City Hippies – The Fillmore Miami Beach – Miami Beach, FL
08/17 – Stooges Brass Band w/ The Dave Kline Band – Gypsy Sally's – Washington, DC
08/17 – Jazz is PHSH – The Broadberry – Richmond, VA
08/17 – Splintered Sunlight – The Ardmore Music Hall – Philadelphia, PA
08/17 – 12th Planet – Lincoln Theatre – Raleigh, NC
08/17 – Fruition w/ The Mighty Pines – Woodlands Tavern – Columbus, OH
08/17 – Galactic w/ Erica Falls, Kat Wright – Brooklyn Bowl – Brooklyn, NY
08/17 – Papadosio w/ Space Kadet – Terminal West – Atlanta, GA
08/17 – Umphrey's McGee w/ Magic City Hippies – The Amp – St. Augustine, FL
08/17 – Perpetual Groove – The Original Café Eleven – St. Augustine, FL
08/18 – Turkuaz – Bottle & Corke – Dewey Beach, DE
08/18 – Jazz is PHSH – 5 Points Music Sanctuary – Roanoke, VA
08/18 – John Fogerty – Bethel Woods – Bethel, NY
08/18 – Umphrey's McGee w/ Magic City Hippies – Wilmington, NC
08/18 – Galactic w/ Erica Falls – The Beachcomber – Wellfleet, MA