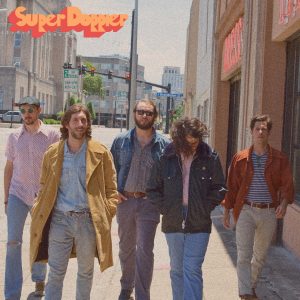 Written By Jeff Modzelewski
Super Doppler has the type of sound that reminds you of something you've heard before, but you can't quite place it.  They call themselves "Retro Psych-Country Rock," and you can see all of those pieces in their music, but it comes together to turn into something familiar but unique.  They remind me a little bit of Sam Roberts,  a little bit of The Killers, with a lot of the 60's and 70's to add to the pot.  
Their new self-titled album is strong top to bottom, with great hooks, solid melodies, and an energetic punch woven through it all.  "I Don't Wanna Die" kicks off the album with a tight rock tune. The vocals can best be described as earnest while the band has a great energy.  This stays around for most of the album, with the songs switching up just enough to keep things interesting, while maintaining the core style the band has.  Listening to the songs closely also shows a depth of talent. Cole Friedman has a great way of adding the type of bass work that makes you take notice on songs like  "Going Nowhere" and "Love Instead." His work turns what would be considered simple tunes into something with a lot more depth. The keys and slide guitar add a great element to "Missed the Runway," and it's a good switch up that was needed in the middle of the album.  And the chug-chugging breakdown during "Someone Is Watching You" includes some of the best guitar work of the album.
The band also does a good job emulating other bands without being a clone.  Songs like "Last Man Standing," Clear," and "You Bring Me Down" have a clear throwback to latter-day Beatles without sounding like they're trying to rip them off, which isn't easy to do.  "You Don't Love Me" has elements of late 50's and early 60's rock, but with that energetic twist that they bring to their music. And "Until It's Gone" has a real feel of Crosby, Stills, and Nash.  You can feel all of these bands in the music even though nothing sounds dated. 
I will say I wouldn't have minded hearing a few more solos or opportunities from band members to really tear it up.  It's pretty clear they have that talent. Some of the songs feel a little long as well, even though there's nothing on the album over 5:30.  It just comes from the songs sometimes being a little too straightforward. But I also respect the fact that they mostly chose to focus on highlighting the songs and keeping things moving at a good clip throughout.  And, as I mentioned, the talent that they play many of the songs with keeps things interesting. Overall this is a solid album by a band that's clearly doing something just a little different while keeping things easy to listen to.  A good effort from these guys from Norfolk.
Super Doppler are playing the Lava Minifest on 8/31 in Norfolk, VA.  Tickets are available here.