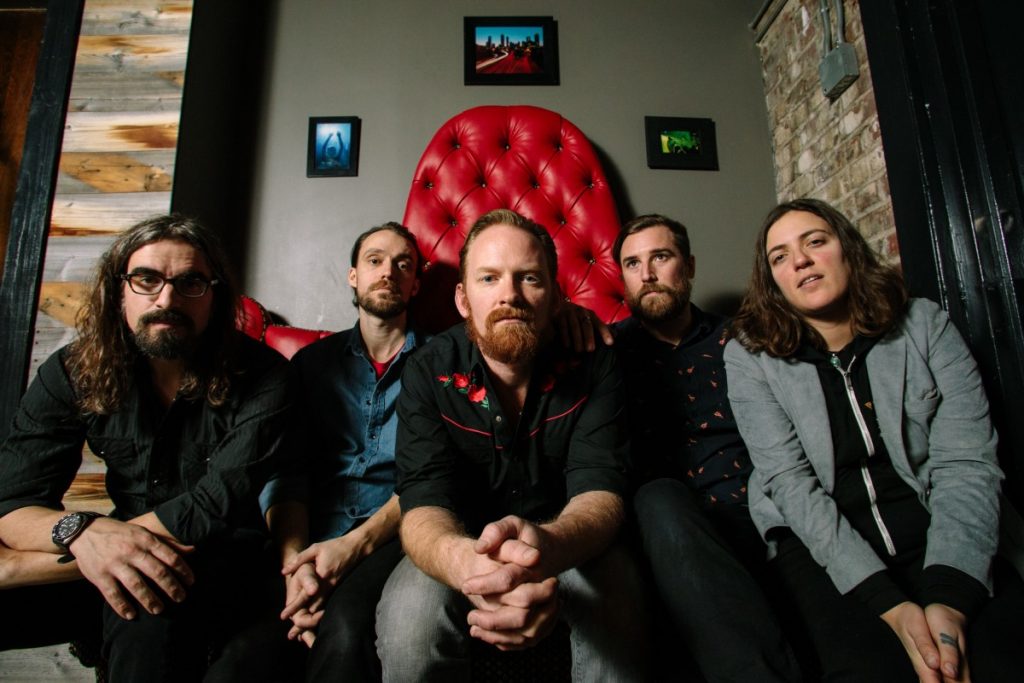 Last Friday July 19, Portland, OR's own
Fruition
released "Alone Together," the first track from an upcoming series of 45's to be released on 7" Vinyl and digital services
. 
The song was penned by the band's
Kellen Asebroek
and will be paired with "Snapdragon," a brand new song co-written by
Jay Cobb Anderson
and
Mimi Naja
.
 "
Snapdragon" will be released digitally on August 2nd.  The band expects to have the vinyl 7" available for sale when they join the
Wood Brothers
 at Colorado's legendary
Red Rocks
on September 5th. 
"Alone Together" was initially debuted at the band's year end 2 night stand at the
Boulder Theatre
in Colorado, while "Snapdragon" has never before been heard by the public.
Asebroek explains "Alone Together is about the huge (and often overlooked) importance of listening.  When people are at their lowest, one of the most important things we can do to help is just be there and be present.  It's amazing how far an empathetic open ear and heart can help lift someone out of the fog of depression.  Reach out to your friends!  We weren't meant to go it alone."
Blessed with 3 songwriters and singers, Fruition has always had more material than time to record and release it.  When the band prepared to record their last full album (2018's Watching It All Fall Apart produced by Tucker Martine), over 50 songs were written, but the studio session song list was honed down to just 13.  Each Fruition album has had several gems passed by because they didn't fit with the rest of the current material, and till now have never had a home.
The newly announced 45 Series will be an ongoing outlet for songs both old and new that simply need to see the light of day.  Asebroek explains "We already have four different 45's planned out, with each release containing two tracks.  The beauty of this is that we can really release ANYTHING we want, without worrying about it fitting on an album.  Some of them will be songs that we've played for years live and never recorded, some will be things your ears have never heard.  Got a favorite you'd love to hear given proper studio treatment?  Don't sleep on these 45's."  While the songs will be released digitally, they will also be pressed to very short runs of 7" vinyl for collectors.  Only 250 copies of the 45 Series #1 release will be pressed, with 50 available for pre-order on the band's website, approximately 50 at Indie retailers, and the other 150 only available at shows.   An announcement will be made shortly about the release date of the second 45 in the series which has already been recorded and mixed by drummer Tyler Thompson.  Fans can listen to the track on their favorite digital music service , or pre-order the vinyl 45 here: 
https://smarturl.it/Alone.Together
The band appeared this past weekend at Northwest String Summit outside of Portland, OR playing two sets including subbing in for a travel-delayed Galactic to close out Saturday's main stage. Fruition will return to the  Pacific Northwest for a soon to be announced NYE run, and will be spending the rest of the summer playing festivals and headline dates including this weekend at Peach Festival.  Several new dates have been added in September, around their Red Rocks and AmericanaFest shows,  with support from the band's good friend Taylor Kingman's new band TK & The Holy Know Nothings. A more extensive tour in October and November will be announced soon.

Upcoming Shows:

July 27th Peach Music Festival Scranton, PA
August 3rd Rhythms On the Rio South Fork, CO
August 8th Soulshine Farm Fest Green Mountain, NC
August 14th Prescott Park Concert Series Portsmouth, NH
August 16th Thunderbird Music Hall Pittsburgh, PA (w. Brad Parsons Band)
August 17th Hoxeyville Music Festival Wellston, MI
August 19th Hi-Fi Indianapolis, IN (w. The Mighty Pines)
August 20th Woodlands Tavern Columbus, OH (w. The Mighty Pines)
August 21st Beachland Ballroom Cleveland, OH (w. The Mighty Pines)
August 23rd LOCK'N Arrington, VA
August 24th Exile Music Festival Des Moines, IA
Sept 5th Red Rocks Amphitheatre Morrison, CO (supporting The Wood Brothers)
Sept 7th Bottleneck Lawrence, KS (w. TK & The Holy Know Nothings)
Sept 8th Atomic Cowboy Pavilion St Louis, MO (w. TK & The Holy Know Nothings)
Sept 11th Americana Fest Nashville, TN
Sept 12th The Firmament Greenville, NC (w. TK & The Holy Know Nothings)
Sept 13th Charleston Pour House Charleston, SC (w. TK & The Holy Know Nothings)
Sept 17th
Southbound Brewing
Savannah, GA (
w. TK & The Holy Know Nothings )
Sept 18th The Plant Dothan, AL (w. TK & The Holy Know Nothings)
Sept 19th Terminal West Atlanta, GA (w. TK & The Holy Know Nothings)
Sept 20th Jackson Terminal Knoxville, TN (w. Jon Stickley Trio, and TK & The Holy Know Nothings)
Sept 21st Bourbon & Beyond Louisville, KY
October 4-13 IGE Music & Art Immersion Lisbon, Portugal
November 14 Utopia Festival Burnet, TX