Hello readers! Hopefully everyone had a nice Memorial Day weekend filled with lots of sunshine and smiles.  The long weekend is over however, and that means that it's time to start figuring out what the move is for this week.  Festival season is officially upon us, and the choices of what to do and where to go are seemingly endless.  No plans? No problem! Here at The Jamwich we've got you covered with hand-picked list of the region's hottest concerts, festivals and other related events. Here is what's up this week.
Hurry up and purchase your tickets for Mountain Music Fest, which starts this Thursday, and runs all weekend long, at ACE Adventure Resort in Oak Hill, WV. The lineup for the weekend includes Tyler Childers, The Floozies, Big Something, People's Blues of Richmond, The Werks, Reverend Peyton's Big Damn Band and several other great musical acts.  If you're into action sports and outdoor activities as much as you are into live music, then this festival is perfect for you. Other than the classic music festival experience, Mountain Music Fest and ACE Adventure Resort offer whitewater rafting, zip lining, mountain biking, rock climbing, a kids camp, stand-up paddle boarding, paintball, mud racing, disc golf, and an entire waterpark (some of these activities may require extra payment).  The four-day weekend passes sold out quick, however, there are still plenty of 3-day passes available to purchase ($129 adv/$159 dos), as well as single-day passes ($79) for those who don't have the entire weekend free.  Camping is included with your three and four-day passes, however, parking is an additional cost.  To get more info visit www.mountainmusicfestwv.com.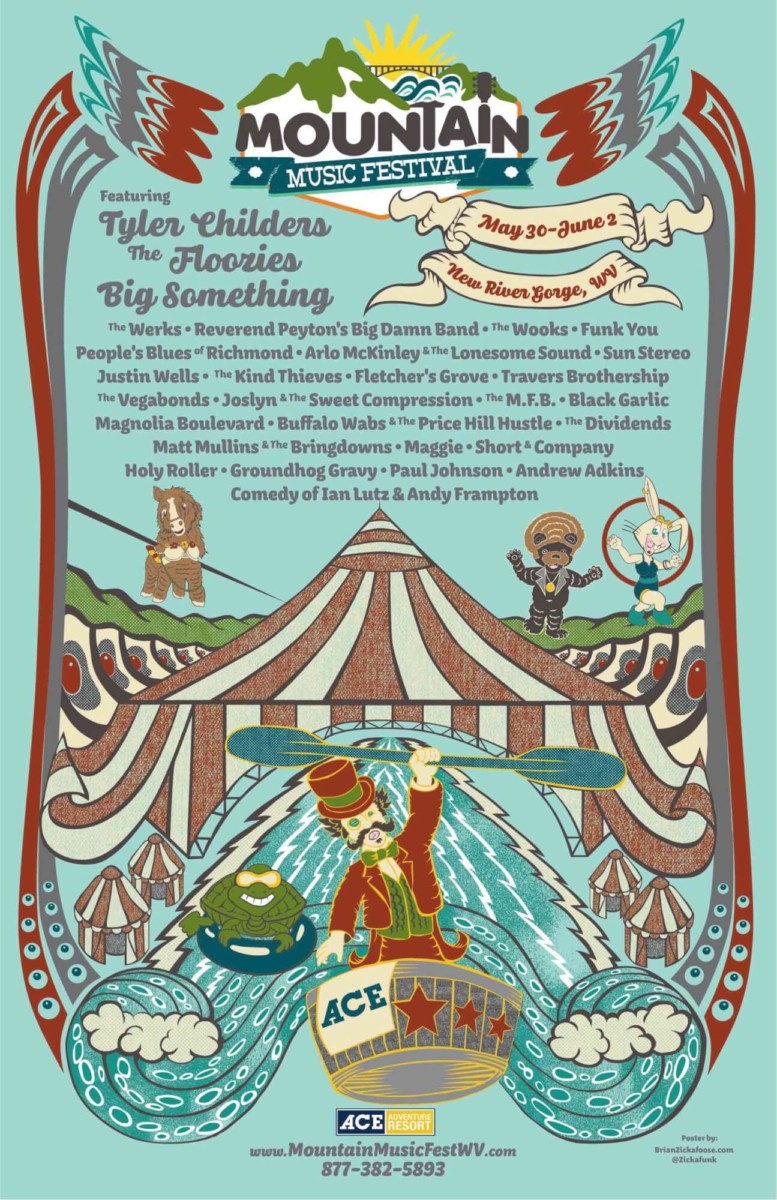 Get ready for Spring Badfish this weekend at Nelson Ledges Quarry Park in Garrettsville, OH.  The Ledges, as the venue if often referred to, is one of Ohio's natural gems and features 250 acres of forest, meadows, streams, ledges, fishing lakes, and the beloved quarry itself.  Bands scheduled throughout the weekend include Badfish, Roots of Creation, Bumpin' Uglies, Wild Adriatic, Ancient Elephant, and many more.   Weekend Passes are currently on sale for $75 in advance, and $90 at the gate, and includes primitive camping and parking.  Single-day passes are available, as well as discounted child/toddler rates.  To learn more and purchase tickets please head on over to www.nlqp.com.
A very special event, Unlimited Devotion, is taking place this Friday and Saturday at The Ardmore Music Hall in Philadelphia, PA in order to raise funds for The Rex Foundation and Camp Winnarainbow. Join special guest Wavy Gravy, and a whole lot of other well intentioned people, in the effort to strengthen two organizations that strive to make the world a better place for everyone. Circles Around the Sun, George Porter's Funk Revue, Fellowship of the Wing, and Splintered Sunlight are all scheduled to play over the two days.  A few supergroup performances made up of Steve Kimock, Keller Williams, Amy Helm, Aron Magner, Billy Nershi, John Kadlecik, and many others are also in the program.  To learn more about the event and get a list of all its performers head over to The Ardmore Music Hall's official site and navigate to the event's page. $75 for the weekend, or $40 a day.
Don't stop scrolling down now.  Below we have provided a list of sure-to-be excellent concerts throughout the region.  Let us know where you'll be this week, and feel free to leave your own suggestions in the comment section.  Until next week. Stay jammy.
Festivals/Special Events:
05/30-06/02 – Backwoods at Mulberry Mountain – Ozark, AR
05/30-06/02 – Branch Fest – Newport, ME
05/30-06/02 – Mountain Music Festival – Oak Hill, WV
05/30-06/02 – Unity Music & Arts Festival – Gore, VA
05/31-06/02 – Michael Arnone's Crawfish Fest – Augusta, NJ
05/31-06/02 – Bunbury Music Festival – Cincinnati, OH
05/31-06/01 – Cold Mountain Music Festival – Canton, NC
05/31-06/02 – Governors Ball – New York, NY
05/31-06/02 – Patriotic Festival – Virginia Beach, VA
05/31-06/02 – Spring Badfish – Garrettsville, OH
05/31-06/01 – Unlimited Devotion – Philadelphia, PA
05/31-06/01 – Happy Valley Music Fest – State College, PA
05/31-06/01 – Candler Park Music + Food Festival – Atlanta, GA
06/01 – Roots Picnic – Philadelphia, PA
06/01-02 – SOUQ NYC – Maspeth, NY
Shows/Concerts:
05/27 – The String Cheese Incident – The Capitol Theatre – Port Chester, NY
05/28 – CBDB w/ Pet Envy – Exit/In – Nashville, TN
05/28 –
05/29 – Ziggy & Lou: Music of David Bowie & Lou Reed – Gypsy Sally's – Washington, DC
05/29 – David Crosby – Sandler Center for the Performing Arts – Virginia Beach, VA
05/29 – The Original Wailers – Granite State Music Hall – Laconia, NH
05/30 – Circles Around the Sun – Gypsy Sally's – Washington, DC
05/30 – Southern Culture on the Skids – Hill Country DC – Washington, DC
05/30 – Kendall Street Company w/ Moogatu – The 8×10 – Baltimore, MD
05/30 – Keller Williams – Garcia's @ The Capitol Theatre – Port Chester, NY
05/30 – David Crosby – Clay Center for the Arts – Charleston, WV
05/30 – The Original Wailers – Hampton Beach Casino Ballroom – Hampton Beach, NH
05/30 – Toubab Krewe w/ Jonathan Scales Fourchestra – Charleston Pour House – Charleston, SC
05/31 – The Last Rewind w/ Eat Yer Meat – Gypsy Sally's – Washington, DC
05/31 – Solar Circuit – Dante's Bar – Frostburg, MD
05/31 – Wild Adriatic – Kings Rook Club – Erie, PA
05/31 – Keller Williams – Garcia's @ The Capitol Theatre – Port Chester, NY
06/01 – White Ford Bronco – Gypsy Sally's – Washington, DC
06/01 – James Vitullo – Dante's Bar – Frostburg, MD
06/01 – Better Off Dead – The 8×10 – Baltimore, MD
06/01 – LITZ w/ Space Bacon – Baltimore Soundstage – Baltimore, MD
06/01 – David Crosby – Cooper River Park – Pennsauken, NJ
06/01 – Bended Light – 80/20 Burger Bar – Norfolk, VA
06/01 – Of Good Nature – The Camel – Richmond, VA
06/01 – Roots of Creation – Lost Horizon – Syracuse, NY
06/01 – The Original Wailers – Ocean Mist – Wakefield, RI
06/01 – Funk You w/ Fusion Jonez – Charleston Pour House – Charleston, DC
06/01 – Papadosio – Pisgah Brewing Company – Black Mountain, NC
06/01 – George Clinton & Parliament Funkadelic + friends – Riverfront Live – Cincinnati, OH
06/02 – David Crosby – Carnegie of Homestead Music Hall – Pittsburgh, PA
06/02 – Yonder Mountain String Band – The Windjammer – Isle of Palms, SC