Hey, Readers! The Jamwich is back with another personally curated list of live concerts throughout the week.  Festival season is fast approaching, and the weekend long events filled with camping and live music have already started popping up. No plans? No problem! Here's what's up this week.
Our friends at Jibberjazz Productions are ready to descend upon Schuylkill Hill, PA for full weekend of camping and live music with their annual music festival Some Kind of Jam 14. The 20+ musical acts across two stages, many workshops, kids activities, parades, late-night jams, and fire performances will help make this weekend one that's unforgettable.  The festival is proud to showcase a wide variety of local and national bands that span many genres, with live sets from Moon Hooch, The Breakfast, The Mantras, Scott Pemberton Band, Desmond Jones, Ginada Pinada and many more!  Don't be afraid to bring your young ones; the kids area will keep them entertained with sock doll making, mini- sailboat construction/painting/sailing, dance parties, magic shows and loads of other fun stuff.  Several workshops will also be offered throughout the weekend. Come with an open mind and get schooled in promotions/networking, event safety and security, candle making, guided meditation, and much more!  Pre-sale tickets are currently on sale for $75 (general admission, weekend), with prices increasing to $90 the day of the show.  Early arrival is also available for an extra $15.  To learn more visit www.jibberjazz.com.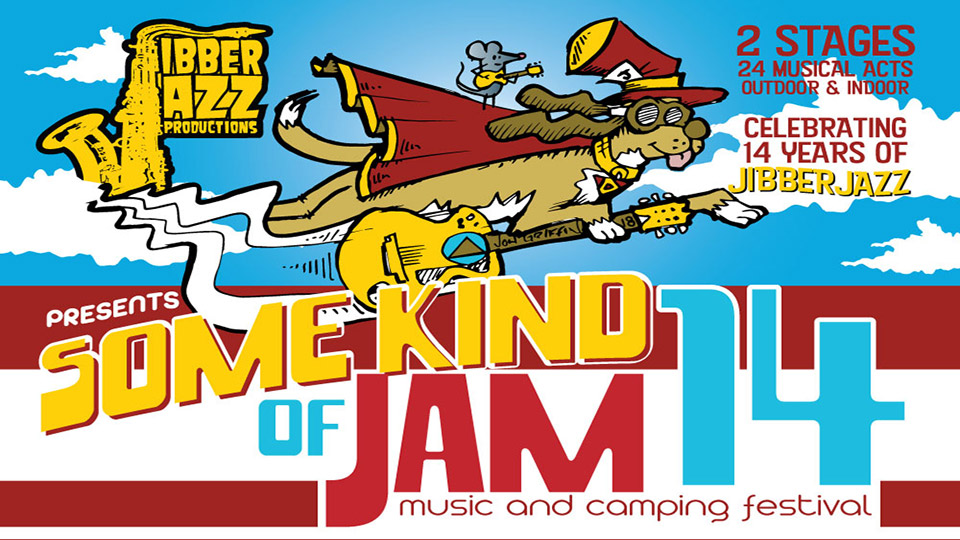 Charm City Bluegrass Festival returns to Druid Hill Park in Baltimore, Maryland this Friday and Saturday for their 7th annual celebration.  Tunes will be provided by Deer Tick, Steep Canyon Rangers, Seldom Scene, Charm City Junction, Jon Stickley Trio, and several other great bands.  No on-site camping for this one; so if you plan to come from out of town it's a good idea to figure our lodging in advance.  Parking will be available on-site, however, a $10 fee applies per vehicle.  Plenty of local food and craft vendors will keep you fed and entertained, and Union Craft Brewing will provide tasty libations.  Two-day tickets are on sale for $72, with Friday only being $32, and Saturday only being $52. Kids under 10 are free.
The Werks hit the road this week, with a total of five shows scheduled from now until Sunday.  Get your music fix right away this Tuesday at The Capitol Theatre in Port Chester, NY with support from Eggy.  Next stop is The Haunt in Ithaca on Wednesday, this time calling upon LITZ to set the vibe with an opening set.  After New York, The Werks head to Pennsylvania for a show at Club XL on Thursday with Cattalus, and then Rex Theatre on Friday, with The Trailheads.  Saturday night Papadosio enters the mix as the opener for The Werks' final show of the week at Baltimore Soundstage in Baltimore, MD.  If you'd like to treat your ears to some more Papadosio, check them out this Wednesday at Gateway City Arts in Holyoke, MA, Thursday at The Sinlcair in Cambridge, MA, Friday at Asbury Lanes in Asbury Park, NJ.
This week marks the much anticipated return of Dopapod! Having been on a hiatus for some time now, people are flocking from all over the midwest, and east coast to be at the band's long awaited homecoming this Friday at The Capitol Theatre in Port Chester, NY.  With an entire new album's worth of material, and a new album slated for late May, there is no telling what kind of madness will go down.  You'll have to look hard if you want to find tickets at this point. Ask your friends, offer favors, and hope for a miracle!
Other notable performances this week include Funk You at The 8×10 in Baltimore, MD (04/25), Turkuaz at The Charleston Pour House in Charleston, SC (04/25), Swift Technique w/ LITZ at Milkboy Philly in Philadelphia, PA (04/26), LITZ w/ Voodoo Circuit at Cattivo in Pittsburgh, PA (04/27) and FeelFree w/ Roots of Rebellion and Shamans of Sound at Pearl Street Warehouse in Washington, DC.
Don't forget to keep scrolling down to check out the extended list of concerts and events for the week. Let us know where you'll be, and feel free to leave your own suggestions in the comment section below.  Until next week. Stay jammy.
Festivals/Events:
04/25-28 – MerleFest – Wilkesboro, NC
04/25-28 – Some Kind of Jam 14 – Schuylkill Haven, PA
04/26-27 – Charm City Bluegrass Festival – Baltimore, MD
04/26-28 – Earlybird Festival – Garrettsville, OH
04/27-28 – Trondossa Music & Arts Festival – North Charleston, SC
Concerts:
04/23 – Gypsy Sally's Jam – Gypsy Sally's – Washington, DC
04/23 – TAUK – Martin's Downtown – Roanoke, VA
04/23 – The Werks w/ Eggy – Garcia's @ The Captital Theatre – Port Chester, NY
04/24 – The Duskwhales w/ Skyline Hotel – Gypsy Sally's – Washington, DC
04/24 – The Werks w/ LITZ – The Haunt – Ithaca, NY
04/24 – Blue October – Lincoln Theatre – Raleigh, NC
04/24 – Papadosio w/ lespecial – Gateway City Arts – Holyoke, MA
04/25 – Sam Riggs w/ Holy Roller – Gypsy Sally's – Washington, DC
04/25 – Funk You – The 8×10 – Baltimore, MD
04/25 – The No BS! Brass Band w/ The Trongone Band – Union Stage – Washington, DC
04/25 – The Werks – Club XL – Harrisburg, PA
04/25 – Driftwood w/ Muther Goose, Wkndr – Capital Ale House – Richmond, VA
04/25 – Universal Sigh – Boone Selection – Boone, NC
04/25 – Brit Floyd – Ovens Auditorium – Charlotte, NC
04/25 – Boombox – Asheville Music Hall – Asheville, NC
04/25 – Papadosio w/ lespecial – The Sinclair – Cambridge, MA
04/25 – Carbon Leaf – City Winery – Boston, MA
04/25 – Satsang – Beachland Ballroom – Cleveland, OH
04/25 – Perpetual Groove w/ CBDB – Riverfront Live – Cincinnati, OH
04/25 – Swimmer w/ The Inturns – Stanley's Pub – Cincinnati, OH
04/25 – Turkuaz – The Charleston Pour House – Charleston, SC
04/26 – The Fritz w/ The Shack Band, We The People – Gypsy Sally's – Washington, DC
04/26 – Bencoolen – Dante's Bar – Frostburg, MD
04/26 – Dangerbird – Villain & Saint – Bethesda, MD
04/26 – Larry Keel – The 8×10 – Baltimore, MD
04/26 – White Ford Bronco – Union Stage – Washington, DC
04/26 – Swift Technique w/ LITZ – Milkboy Philly – Philadelphia, PA
04/26 – The Werks – Thunderbird Café – Pittsburgh, PA
04/26 – Papadosio – Asbury Lanes – Asbury Park, NJ
04/26 – Trey Anastasio Band – Beacon Theatre – New York, NY
04/26 – Pink Talking Fish w/ Uncle Ebenezer – Brooklyn Bowl – New York, NY
04/26 – Chick Corea w/ Bela Fleck – Tilles Center – Greenvale, NY
04/26 – The Lizards – Buffalo Iron Works- Buffalo, NY
04/26 – Dead Alliance Buffalo – Dinosaur BBQ – Buffalo, NY
04/26 – ekoostik hookah – The Odeon Concert Club – Cleveland, OH
04/26 – Jazz is Phsh w/ Dewpoint – Sonia – Cambridge, MA
04/26 – Airshow – Wahoo's Tavern – Greensboro, NC
04/26 – The Jauntee – Gottrocks – Greenville, SC
04/26 – Universal Sigh – Amici – Milledgeville, GA
04/26 – Turkuaz – Crowbar – Tampa, FL
04/27 – The Mantras w/ Scott Pemberton Band, Psylo Joe – Gypsy Sally's – Washington, DC
04/27 – The Judy Chops – Dante's Bar – Frostburg, MD
04/27 – Papadosio w/ The Werks, lespecial – Baltimore Soundstage – Baltimore, MD
04/27 – Black Masala w/ Audacity Brass Band – Capital Ale House – Richmond, VA
04/27 – Suggesting Rhythm – The Camel – Richmond, VA
04/27 – Chic Corea w/ Bela Fleck – Keswick Theatre – Glenside, PA
04/27 – LITZ w/ Voodoo Circuit – Cattivo – Pittsburgh, PA
04/27 – Pink Talking Fish w/ The Rock Collection – Brooklyn Bowl – New York, NY
04/27 – Brit Floyd – Durham Performing Arts Center – Durham, NC
04/27 – Dopapod – The Capitol Theatre – Port Chester, NY
04/27 – The Jauntee – Pisgah Brewing Company – Black Mountain, NC
04/27 – Downtown Abbey & The Echoes – Center City Park – Greensboro, NC
04/27 – Universal Sigh – The Nowhere Bar – Athens, GA
04/27 – Trey Anastasio Band – College Street Music Hall – New Haven, CT
04/27 – TAUK w/ Captain Midnight Band – Exit/In – Nashville, TN
04/27 – Turkuaz – North Beach Bandshell – Miami Beach, FL
04/28 – FeelFree w/ Roots of Rebellion, Shamans of Sound – Pearl Street Warehouse – Washington, DC
04/28 – Next Town Down – Milkboy ArtHouse – College Park, MD
04/28 – Trey Anastasio Band – Brooklyn Bowl – New York, NY
04/28 – Brit Floyd – Cambria Country War Memorial – Johnstown, PA
04/28 – Jazz is Phsh – The Wonder Bar – Asbury Park, NJ
04/28 – Chic Corea w/ Bela Fleck – The Cabot – Beverly, MA