Town Run Tap House and Community Pub
Shepherdstown, WV
Written by Michael Tucker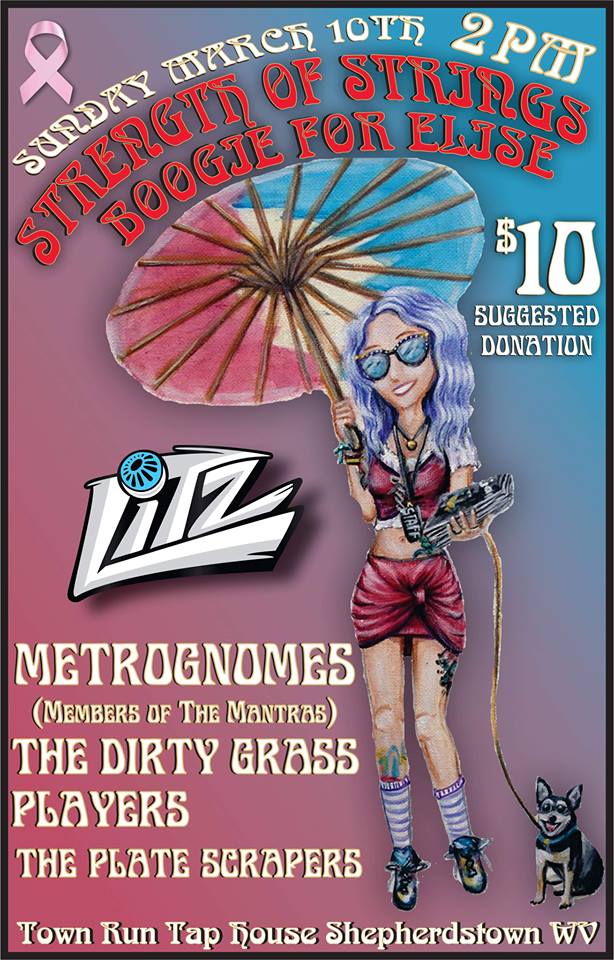 I couldn't be more excited for the upcoming Strength of Strings: Boogie for Elise benefit at Town Run Tap House and Community Pub.  I don't get the opportunity to have fun and to do a good deed at the same time very often.  And when that good deed entails raising money for Elise Olmstead, one of the kindest, gentlest, funniest, most empathetic and intelligent human beings I have ever met in her battle against breast cancer while enjoying a super-dope line-up of amazing musicians on a Sunday Funday, who could resist?  If you're reading this, I'm sure you have at least heard of Elise and her other half Taco (who I guess is not too bad himself!) and all that they have done for our beautiful live music community. These two are literal pillars of the community who have done so much good for us all. Well, here's our collective opportunity to give something back and to have a blast in a family friendly environment with great food and drinks while getting down to some fantastically diverse live music. Come on, who doesn't love a win-win situation with an amazing lineup which features Litz, one of my favorite bands, and which includes The Metrognomes (members of The Mantras), The Dirty Grass Players, and The Plate Scrapers — all on a Sunday afternoon into early evening in a comfortable environment with great food and drinks.
With these excellent bands on the bill, there will be something to please everybody: from all you grass lovers to rock and funk lovers like me. Believe me, after the last Litz show I saw at the Tally Ho in Leesburg when the boys were fresh off their Colorado tour, you'll want to come check out the heat these guys are currently bringing. I'm also pretty stoked to see the side project of The Mantras, and the Dirty Grass Players and The Plate Scrapers remind me of that Sleepy Creek style of fun. I also love Town Run's friendly and chill atmosphere, and I'm honestly looking forward to hugging many of my music festival friends I haven't been able to see over the course of the winter.
Last but not least, I couldn't think of a better cause than my friend Elise who has supported and encouraged me and many others while providing us with a platform to express ourselves. The suggested donation at the door is only ten dollars, and all proceeds from the event will go to Elise and her family to help alleviate some of the financial stress of her fight against breast cancer. There will also be a silent auction and 50/ 50 raffle the day of the event. Items are still needed for the silent auction; if you have something to donate, please message Strength of Strings on their Facebook page or just bring it to the show.
Doors open at 2. Music starts at 3.  Also, this is a kid and dog friendly event, so bring your whole crew on this special Sunday afternoon. The schedule looks like this so come out early and help support one of my favorite humans:
3:00- 4:15    The Dirty Grass Players
4:30- 5:45    The Plate Scrapers
6:00- 7:30    Metrognomes ( Members of The Mantras)
7:30- 7:45   Silent Auction Winners announced
8:00 – 9:30   Litz
I'll see you there. I'm counting on it. Let's boogie for Elise!