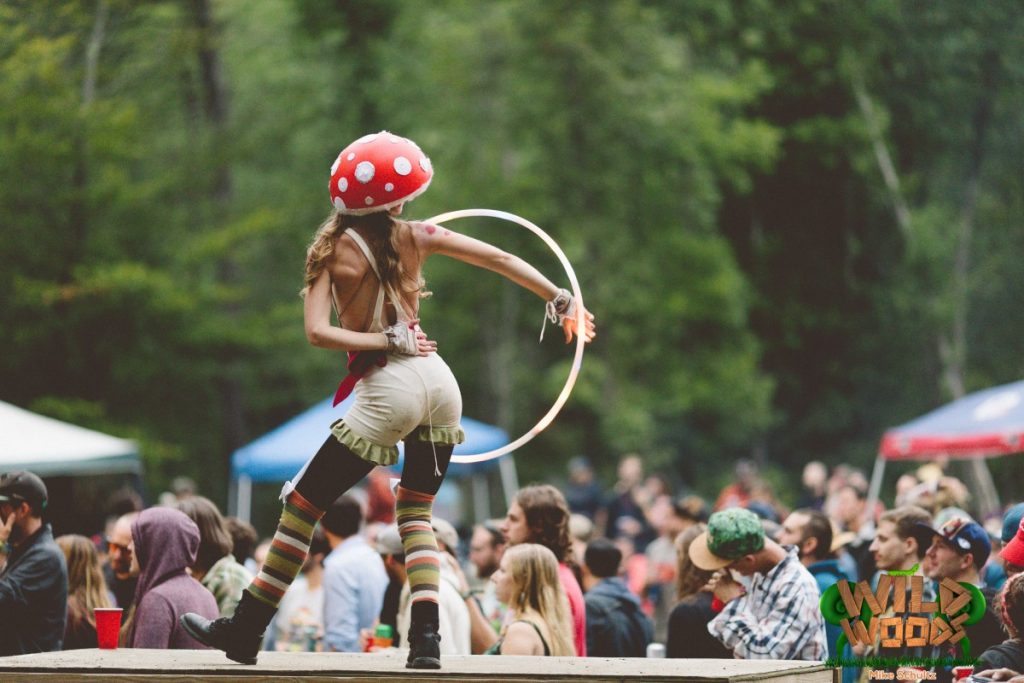 Written by Katie Clayton
Photos by Mike Schultz
Wild Woods Music and Arts Festival recently celebrated their fifth year at Page Farm in Croydon, New Hampshire. This year the Wild Woods team changed a few things up deciding to host the event for two days rather than three after realizing last year that a lot of patrons had to leave early on the third day. The goal in mind to assure that all their attendees got the most out of the weekend! With that being said, this was nothing short of a phenomenal five year celebration, jam packed with music,art,and a community of really special people!
After attending Wild Woods for the first time last year, the anticipation of getting back to the farm after a summer lacking in live music was all too real. Listening to folks trickling in Thursday evening it was very apparent that I wasn't the only one. Wild Woods has a great reputation of returning acts, which I think can only speak to the atmosphere that they provide not only for their patrons but the musicians and artists as well.
Friday morning started with camps getting set up and everyone getting reacquainted before Revibe took the stage as the first set at 1pm. Before that, fans of the Emancipator Ensemble gathered at the main stage to hear the band's sound check. "Four more sets!" someone yelled from the crowd. The Oregon based group would be playing that night. I hadn't seen the ensemble play in a couple of years and it was so refreshing to see them again. There's an entirely different quality to having the live band align with the familiar funky, down tempo, transient vibes that Emancipator's DJ set brings. While it's without a doubt dance worthy music it still holds that element of being very chill as well. Whether you are a fan of hula hooping, the casual to and fro bop with drink in hand, or are ready to dance yourself into oblivion, the Emancipator Ensemble is ready to bring it to you!
Friday also brought some slamming sets from Bearly Dead, G-Nome Project, Malakai, Moon Hooch, and Pink Talking Fish. Bearly Dead had the whole crowd dancing so much so that Elvis himself made an appearance. A big thing that sets Wild Woods apart from some of the other East Coast fests I've been to over the years is that with Page Farm being such an intimate setting, the bands really get a chance to interact with the audience in ways that they can't at larger festivals. So, when a patron goes out of their way to bring a framed photo of Elvis to the stage, one can't help but pay their respects to The King.
The layout of the farm also allows for some of the best sound quality I've experienced at a festival. With three stages going all weekend there is next to no distortion between stages. On top of that it's still just a very short walk from one set to the next, with tons of art, deco from The Reliquarium, and vendors to scope out along the way.
This year TJ Spurge was in charge of the art gallery. A repurposed barn that was built after a storm that occurred a few years back. TJ, along with the other artists in the gallery went out of their way to create not only a visually appealing space but one that you could find yourself in for the day. Located stage left to the main stage it was the perfect place to come in from the rain that passed in and out throughout the weekend while still being able to enjoy the music.
Saturday morning everyone needed some chill time before diving in to another day of music, especially after Yheti closed out the Lostinsound.Live Stage Friday night, bringing back all the nostalgia from my earlier festival days. This stage alone was almost like a separate festival. It included rap, electronic, dubstep, and a splash of techno here and there. Maxfield and G-Space got people out from the shelter of their easy ups and blow up chairs that streamlined the perimeter of the stage and into the rain to get down to their sets.
Guitarist Tim Palmieri of Kung Fu had double the fun Saturday playing with his long standing jam/prog rock band The Breakfast. While it was my first time hearing the band, fans swarmed the Reliquarium Stage for their set. If you're a fan of killer instrumentation, The Breakfast is worth a listen! Prior to their set Harsh Armadillo had everyone up and moving at the main stage, setting the pace for the rest of the evening and well into the night. The New Hampshire native band just released their third album Bite in June of this year and was all energy! Lead singer Andrea Belaidi's voice has a sound that is reminiscent to Ray Charles's era of R&B/Soul, that molds into something of its own with the groups own modern and electrifyingly funky twist.
Saturday night brought the much anticipated two hour Lotus set which was a force to be reckoned with! With no other sets during theirs I can almost guarantee the entire festival was present. Even the steady stream of rain that was coming down at this point could stop festival goers for sticking through to the very end! The artist gallery turned into a second dance floor for those seeking shelter from the rain, also providing a great opportunity for some of the galleries artists, Colette Aimèe, Spencer Yates, Alexia Velez, and Cavan Koebel to chat with patrons about their art. TJ Spurge had a projector screen displaying a live video of his resin art, creating brain melting color schemes that mixed all too well with Lotus's cacophony of sound waves.
Lespecial was another weekend favorite. They mixed things up, straying from their more hard rock slightly metal sound and incorporating covers of songs like Cardi B's Bodak Yellow and of course someone, had to be the one to cover Africa, by Toto which has somehow became a major staple to the soundtrack of 2018. If you haven't had a chance to see these guys live it's well worth it!
Happy Fifth Birthday Wild Woods! I think there is something to be said about festivals that year after year brings great mainstream acts while also supporting and growing the fan base of other more local ones. I walked away with a handful of groups that have now landed on my "must see again" list. They say in the restaurant business that if you make it five years you are built to last, and I can only hope that is the case for you Wild Woods. If you're looking for a solid weekend jam packed with music, in a beautiful location, and still want to be able to get home for work on Monday, this is the festival for you!