What's up readers? I sincerely hope you've been having a wonderful summer so far.  It's not over yet, though. Here's some of what's going on this week.
Feed your ears some crunchy tunes at The National in Richmond, Virginia this Thursday with the premier instrumental jam band STS9.  If you can't make it to the Thursday night show, then make sure to catch the band either Friday or Saturday (or both, why not?) at Pisgah Brewing Outdoor Stage in Asheville, NC.  Two night passes are available through the band's official website. Get yours before they sell out.
Grateful Shred, one of the hottest Grateful Dead cover bands on the circuit, will be channeling Jerry and the rest of The Dead this Thursday at Garcia's in Port Chester, New York and Sunday at The Ardmore Music Hall.  Also, check them out with Howlin' Rain Friday and Saturday night at the Brooklyn Bowl in New York City.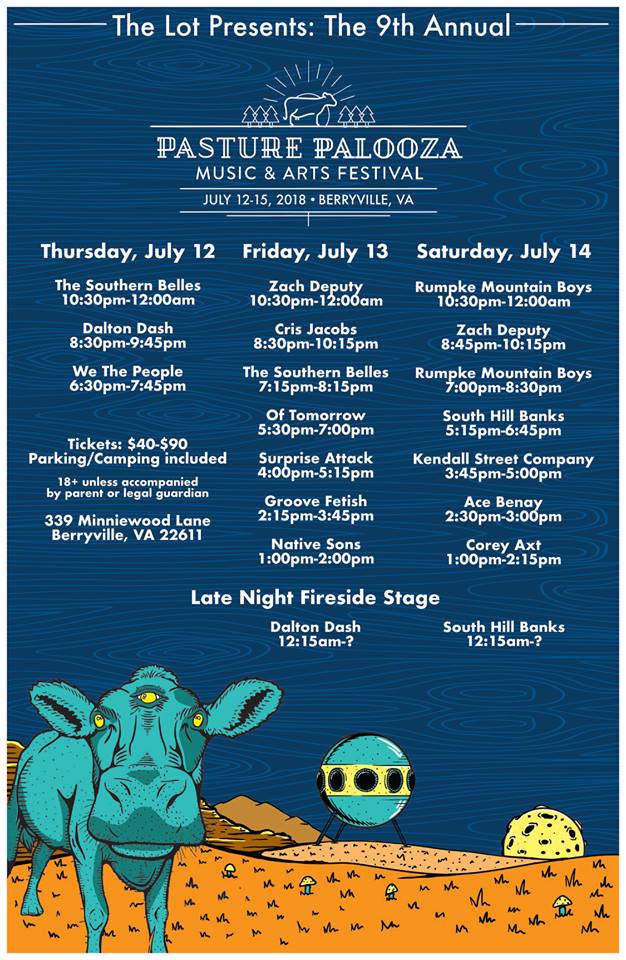 Get ready for the 9th annual Pasture Palooza Music and Arts Festival this weekend in Berryville, Virginia.  Join Zach Deputy, Rumpke Mountain Boys, The Southern Belles, Groove Fetish, Native Sons and many more great artists for a weekend of live music, camping, eating, and good times.  Weekend passes (Thursday, Friday, Saturday) are priced at a mere $80, entry for Friday and Saturday in $60, and just $40 for only Saturday.  Kids under 12 enter for free.  No booze on site, so feel free to bring your own.  Just remember: no glass containers' or bottles!  See you on the pasture! Be sure to check out http://www.pasturepalooza.com/contact if you have any questions.
The Great South Bay Music Festival returns to the Shorefront Park in Patchogue, Long Island for its 12th annual celebration.  Legendary Acts like The Dickey Betts Band, Little Feat, JGB feat. Melvin Seals, Papadosio, Pigeons Playing Ping Pong, Sublime with Rome, Umphrey's McGee and more will be rocking all weekend long.  No camping at this fest however, some special-rate lodging is available through the festival's official website, however the number of procured rooms in limited and subject to run out. Don't worry about bringing the little ones;  a designated Kids Zone will have them more than entertained with children-themed concerts, workshops, magic shows and treasure hunts.  Doors open Thursday and Friday at 3p.m., Saturday at 1p.m. and Sunday at 1:30p.m.  Check out http://www.greatsouthbaymusicfestival.com for more information, a detailed schedule of events, and to purchase your tickets.
Also worth checking out this week: Yarn at Dante's Bar in Frostburg, MD (07/14), Tweed at Gypsy Sally's in Washington, DC (07/11); Slow Lights, Box Era, and Tomato Dodgers at The 8×10 in Baltimore, MD (7/11); Electric Love Machine ft. Box Era at Gypsy Sally's in Washington, DC (07/12); John Ferrara and Seth Moutal Duo, and You Bred Raptors? at The 8×10 in Baltimore, MD; Staycation and Gordon Sterling & The People at Gypsy Sally's in Washington, DC (07/13), and Steal Your Peach "Summer Jam at Watkin's Glen" at Gypsy Sally's in Washington, DC (07/14).
Festivals:
07/12-15 – Great South Bay Music Festival – Patchogue, NY
07/12-14 – Camp Bisco – Scranton, PA
07/12 15 – Pasture Palooza Music and Arts Festival – Berryville, VA
07/13-15 – Green River Festival – Greenfield, MA
07/13 – Rock the Dock – Lake George, NY
07/13-15 – Blissfest Folk & Roots Music Festival – Harbor Springs, MI
07/13-16 – Heart of The Arts Music Festival – Titusville, PA
07/14-15 – Frankfort Bluegrass Festival – Frankfort, IL
Concerts:
07/10 – Tedeschi Trucks Band – CMAC – Canandaigua, NY
07/11 – Tedeschi Trucks Band – Wolf Trap – Vienna, VA
07/11 – Broccoli Samurai – Cattivo – Pittsburgh, PA
07/11 – Howlin Rain – DC9 – Washington, DC
07/11 – Tweed – Gypsy Sally's – Washington, DC
07/12 – Broccoli Samurai – Lizard Lounge – Lancaster, PA
07/12 – Dr.Slothclaw – The Waterhole – Saranac Lake, NY
07/12 – Grateful Shred – Garcia's at The Capitol Theatre – Port Chester, NY
07/12 – Howlin Rain – Johnny Brenda's – Philadelphia, PA
07/12 – Electric Love Maching ft. Box Era – Gypsy Sally's – Washington, DC
07/13 – Tedeschi Trucks Band – Coastal Credit Union Music Park– Raleigh, NC
07/13 – STS9 – The National – Richmond, VA
07/13 – Howlin Rain – Brooklyn Bowl – Brooklyn, NY
07/13 – Lettuce – Bay 41 at The Foundry – Pittsburgh, PA
07/13 – Max Creek – Park Point Courtyard – Rochester, NY
07/13 – Staycation and Gordon Sterling & The People – Gypsy Sally's – Washington, DC
07/14 – Tedeschi Trucks Band – Fox Theatre – Atlanta, GA
07/14 – STS9 – Pisgah Brewing Outdoor Stage – Black Mountain, NC
07/14 – Howlin' Rain – Brooklyn Bowl – Brooklyn, NY
07/14 – Yarn – Dante's Bar – Frostburg, MD
07/14 – Steal Your Peach "Summer Jam at Watkin's Glen"- Gypsy Sally's – Washington, DC
07/15 – STS9 – Pisgah Brewing Outdoor Stage – Black Mountain, NC
07/15 – Tedeschi Trucks Band – Charlotte Metro Credit Union Amphitheatre – Charlotte, NC
07/15 – Howlin' Rain – Ace of Cups – Columbus, OH
07/15 – Grateful Shred – The Ardmore Music Hall – Philadelphia, PA