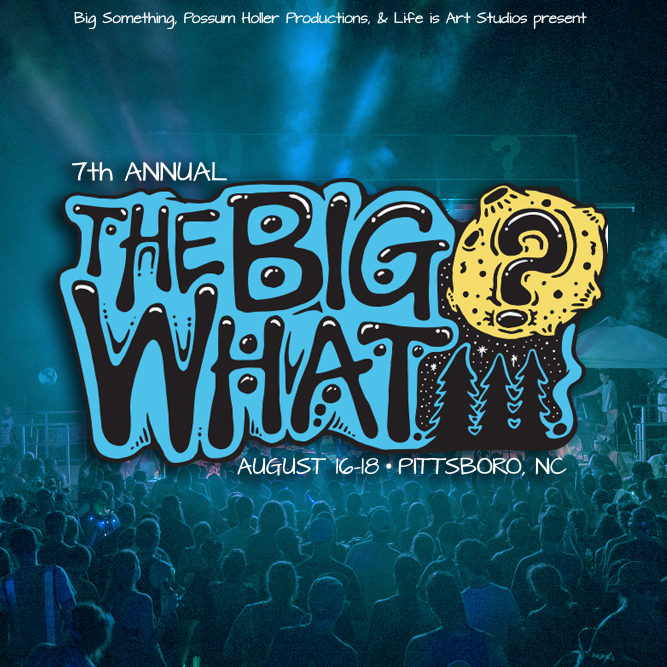 "The magic was even more clear, colorful and real than I had remembered, though I can't seem to express what that magic is.  That is the big question…the big WHAT?  The what that makes us sparkle, the what that will stay with me forever."
NEW Unreleased re-cap video!

The Big What? hosted by beloved jam band BIG Something has just announced their 2018 dates: August 16-18, 2018 at the beautiful Shakori Hills Community Arts Center in Pittsboro, NC.
This will be the 7th annual The Big What?, and continues to be a must-attend festival of the summer for music and festival enthusiasts.  The gathering is a friendship of music, art, performance, family, love, and self-expression of all kinds.  Costume themes, surprise sets, parades, workshops, and other special activities set this festival apart from many others.  The love that radiates from BIG Something's music, as well as the obvious care they put into every detail, will leave you feeling refreshed and rejuvenated after the weekend.
Past lineups from The Big What? include Turkuaz, The Fritz, Aqueous, and many more.  2018 lineup has not yet been announced, but you can expect 3 nights of BIG Something, which is enough to get us excited already!
In a musical climate run by mainstream and corporate festivals, The Big What is a breath of fresh air and gets the 100% bonafide Jamwich stamp of approval.
You know that you aren't going to miss it, so go ahead and get in on the best ticket price available — Blind Faith tickets will go on sale this Friday 1/19 at 12PM.