Written by Ashley D. Feller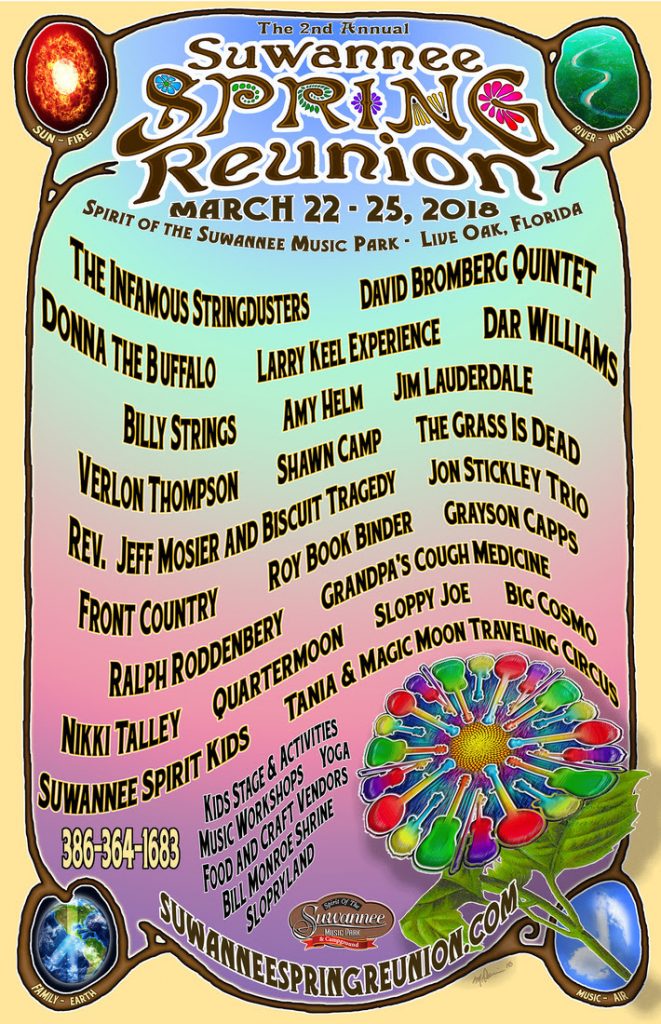 Get ready for spring and an incredible weekend of music at Spirit of the Suwannee Music Park in Live Oak Florida. The second annual Suwannee Spring Reunion released its lineup Friday and it is sure to be a weekend to remember. On March 22nd-25th Spirit of the Suwannee music park will welcome music lovers to share a new tradition with a long history. This year's theme is "Sowing the Seeds of Music"-Sustaining Our Community. The Suwannee family is a strong yet diverse family that all share the love of music. This is only the festival's second year in action and the lineup features some of the more prolific acts in Americana music today.
Headliners include The Infamous String Dusters, David Bromberg Quintet, Shawn Camp, Amy Helm, Billy Strings, The Grass is Dead, and Jon Stickley Trio and much more listed below.
Spirit of the Suwannee Music Park has gained much acclaim over the years for being the home of many premier music festivals. Many will often testify that the park is the crown jewel of the south and the best live music venue in Florida. Spring Reunion offers a complete intimate musical experience for all on multiple stages as well as various workshops, art exhibits, and yoga. The camping experience at Spirit of the Suwannee Music Park is also superior due to the beautiful scenery and just about every amenity imaginable. There are numerous full electric campsites that are available for reservation, also cabins, but primitive camping is abundant and included with weekend ticket purchase. The park is outfitted with several bathhouses, the SOS Café complete with a full bar, a country store, disc golf course, and golf cart rental!
One of the best qualities of this festival is the sense of community that can be found among festival attendees. There are two campsites that welcome musicians and music lovers to come visit and either join in the spontaneous jam sessions or simply enjoy listening to the pickers around the campfires. The two bands that facilitate these experiences are Sloppy Joe of Wisconsin and Quarter Moon of Gainesville. This is also a completely family-friendly festival. There is a kid's stage with many activities and plenty of entertainment for the young and the young at heart.   There's also quite a variety of food and craft vendors.
Multi-day tickets include four days of music (Thursday-Sunday) on four stages. Four nights of primitive camping, upgraded sites are available by calling the park at 386-364-1683. Children under twelve are admitted for free when accompanied by parents or legal guardians. There are also weekend and single day tickets available as well as discounts for the military and students with valid identification. Currently, there is a combo special for Spring Reunion and its sister festival Suwannee Roots Revival which commences in October. This offer stands until January 15th. All information regarding tickets, site reservation, pet registration, and admission is available on the ticket page on the festival website Suwanneespringreunion.com or by calling the park office.
Mark your calendars for March 22nd -25th and come enjoy a fabulous weekend of music, dance, art, and community. The Spirit of the Suwannee Music Park has everything for the makings of a great weekend and more. Come be part of a new tradition with deep roots. See you in the sunshine under the live oak trees at the 2018 Suwannee Spring Reunion.
Deleted:in
Inserted: uch
Deleted:any
Inserted: –
Inserted: ,
Inserted: ,
Inserted: ,