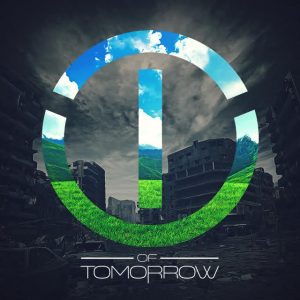 Album Review
Of Tomorrow, Of Tomorrow
Written by Randy Harris
Of Tomorrow is a genre spanning collective of DC-area musicians that simply refuses to be pinned down. With elements of jazz, rock, reggae, hip hop, funk, and multiple subgenres included, the band provides itself a smorgasbord of influences and styles to infuse into a sound that is worthy of their futuristic namesake. The band recently released a spectacular debut, self-titled album that truly embodies everything that the band stands for, both musically and personally.
The laidback, dreamy "Intro" efficiently serves its purpose to lead into the jazzy groove of "Dopener." Angelic keys and deep bass form the basis of the soundscape, as the juicy guitar runs in between verses to round it off. Finally, a spacey bridge takes listeners into the ether, providing a solid foundation for the rest of the record. "Basslove" features a very special guest in John Ferrara (Consider The Source) and consists of blistering bass in between headbanging blasts from the rest of the band. "Calloused Paw" brings out the reggae vibes, including harmonic horns and soulful vocals and lyrics. "Everyday Life" keeps the horns alive with an uptempo, guitar-led mix of jazz and samba, reminiscent of early Santana.
Next it's time to get funky with "Vapor (Anywhere)," which urges listeners to "stand up" and "let the music blow your mind." "Native City" starts off with a sexy groove and soft, comforting vocals that match the feeling of belonging spoken of in the lyrics. Then the album goes deep with "Basslove (pt II)," featuring a rolling bass line and psychedelic synths. "You're Right Of Course" brings in a jazzy bass solo to blast into a passionate chorus before continuing the jazzy theme into "Changing Destinations," which switches gears suddenly into a blazing rock & roll chorus. Finally, the album finishes off with "Floutro," which features a hip-hop groove under the politically charged voice of the Honorable Representative Barney Frank.
The band also included a bonus track, a live version of "The March" recorded during their Audio Barre sessions in 2016.
Overall, Of Tomorrow is an explosive debut for the band. It truly provides an expansive showing of all of their genres, styles and talents as a group. This record shows a commitment to their craft that leads not only to musical talent, but also to a direction and a message that they are sincerely passionate about. The common underlying theme of jazz permeates the album, but their versatility pops up at every corner, keeping listeners on their toes at all times. Of Tomorrow was released on January 1, 2017 and can currently be downloaded for free via the band's website.