Andy Frasco & The UN Review
The Woodlands Tavern, Columbus, OH, Feb 21, 2016
written by Elisha Gud
photos by Steve Mack Photography
http://www.stevemackphotos.com/
When you work at a music venue often times certain shows start to mesh together. Not at Woodlands Tavern in Columbus, Ohio. Andy Frasco & the U.N. have played at Woodlands on multiple occasions each time bringing a vibrant, jazzy, dazzling, rock and roll vibe. I have seen a lot of incredible musicians and bands play at this venue and it is an honor to include Andy Frasco &the U.N. as one of them.
Typically bands show up early before their shows, hang out back stage, set up, and sound check. Most bands stay away from the bar guests and fans that come to see them until right before the show or even afterwards to sign merchandise, take pictures, and do meet and greets. That wasn't the case for Andy and the rest of the band mates. It kind of felt like Andy Frasco and the U.N. were a hometown band out and about interacting with all the guests and people in the bar. They all came out to grab something to eat and a quick beverage beforehand.  Supaman sat at the bar with me while they waited for their gear to get set up to do sound check. I asked him many questions such as, where they were all from, what they all like to do for fun, and about the recent tragedy that happened while they were in Chicago.  The bands van had been broken into with thousands of dollars of gear stolen. Typically, in a situation like this a band would have to cancel a few gigs to recuperate while coming up with money to replace equipment and lost possessions. But this wasn't a typical situation, tons of fans donated to help the cause and the band was able to come up with a donation of over $6,000 in just twenty-four hours—it's like they say; the show must go on.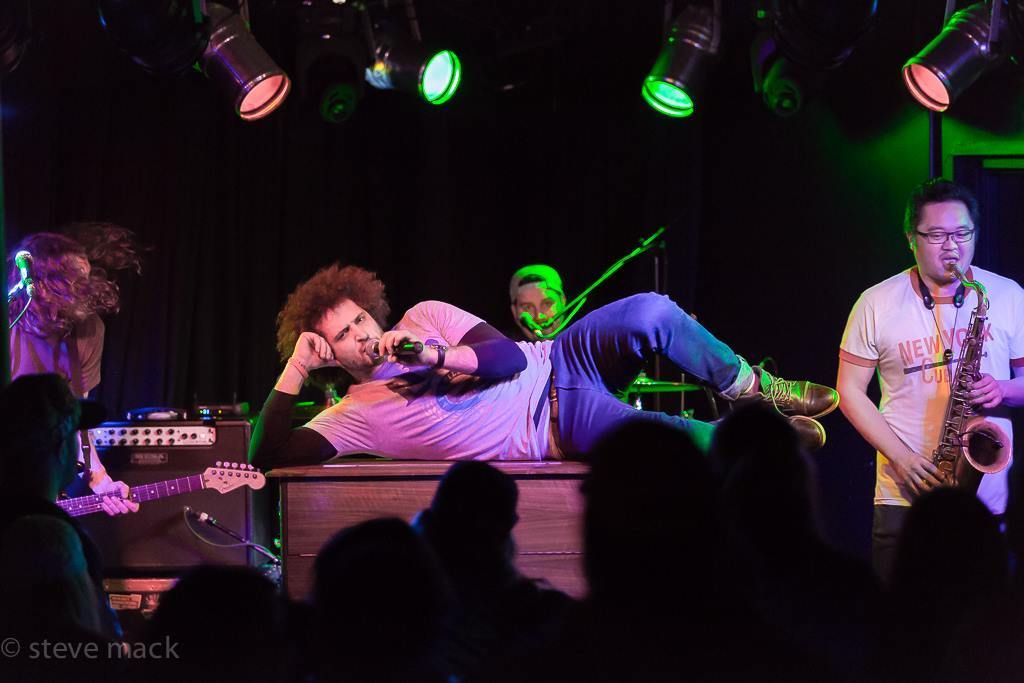 So that's what happened, we partied—Frasco style. The band played some of their own songs as well as created their own renditions of a few classics including The Talking heads, Metallica, Prince, and ending with Rage Against The Machine. With that being said there were a few moments that stood out the most.
At the start of the show Frasco made a champagne toast nearly knocking saxophonist, Ernie Chang out with the cork as the bottle popped open. Ernie and Shawn Eckels on guitar then joined the crowd for multiple 'jam offs' and battles of who could rage harder while. All in all I think both brought the rage and did an incredible job of incorporating the crowd to engage them in the moment. Meanwhile Andy danced on stage, climbed on things, sent confetti blowing out of his piano at the crowd, and traded shirts with people in the crowd while Supaman on bass guitar held it down on stage. Of course there was the instrument trade off where all of the members swapped instruments and towards the end of the show Andy asked for everyone in the bar to join them on stage.  Being quite possibly one of the most interesting things I have ever seen at Woodlands Tavern.  The stage isn't big, but seeing all of the smiling faces of fans and music lovers on stage raging with such an incredibly talented band made it all worth seeing and being a part of.  Don't miss Andy Frasco & the U.N. as they play two sets at Resonance Music and Arts Festival.