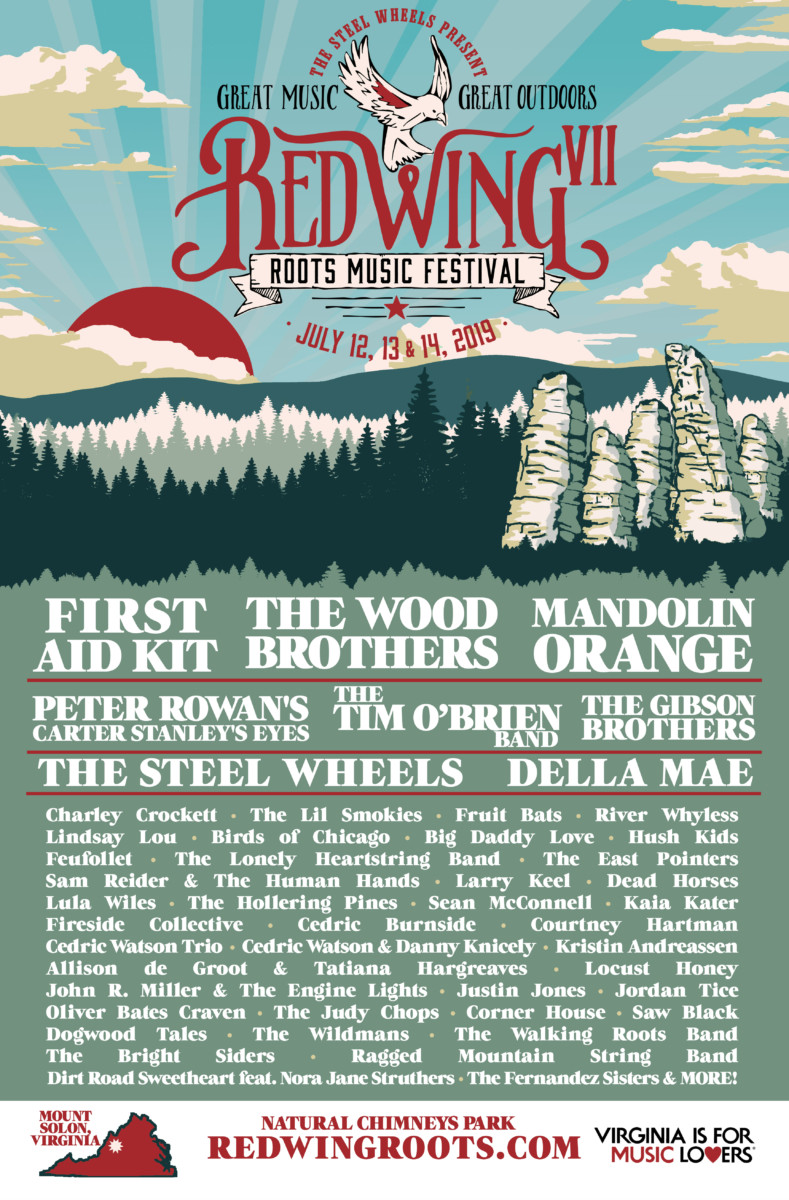 Red Wing Roots Music Festival released the full line up of bands to perform at the 7th annual music festival at Natural Chimneys Park, in Mount Solon, VA, July 12-14, 2019.
Red Wing organizers, along with with festival hosts, 
The Steel Wheels
, are are thrilled to announce this outstanding lineup of regionally and nationally-acclaimed musicians for the annual 3-day festival located in the beautiful Shenandoah Valley. Instead of focusing on increasing the size of the festival, the production 
team continues to strive to improve the experience, sustainability, and overall quality of the festival. This year 200 additional campsites have been added in response to the camping demand.
The 2019 lineup includes 
First Aid Kit
, 
The Wood Brothers
, 
Mandolin Orange
, 
Peter Rowan
's Carter Stanley's Eyes, The 
Tim O'Brien
 Band, 
The Gibson Brothers
, 
Della Mae
, 
Charley Crockett
, 
The Lil Smokies
, 
Fruit Bats
, 
River Whyless
, 
Lindsay Lou
, 
Birds of Chicago
, 
BIG DADDY LOVE
, 
Hush Kids
, 
Feufollet
, 
Lonely Heartstring Band
, 
The East Pointers
, 
Sam Reider
, 
Larry Keel
, 
Dead Horses
, 
Lula Wiles
, 
Th

e Hollering Pines
, Sean McConnell, Kaia Kater, Fireside Collective, Cedric Burnside, Courtney Hartman, Cedric Watson, Danny Knicely, Kristin Andreassen, Allison de Groot & Tatiana Hargreaves, Locust Honey, John R Miller & the Engine Lights, Justin Jones, Jordan Tice, Oliver Craven, The Judy Chops, Corner House, Saw Black, Dogwood Tales, The Wildmans, The Walking Roots Band, The Bright Siders, Ragged Mountain String Band, Dirt Road Sweetheart featuring Nora Jane Struthers, Fernandezsistersband and more!