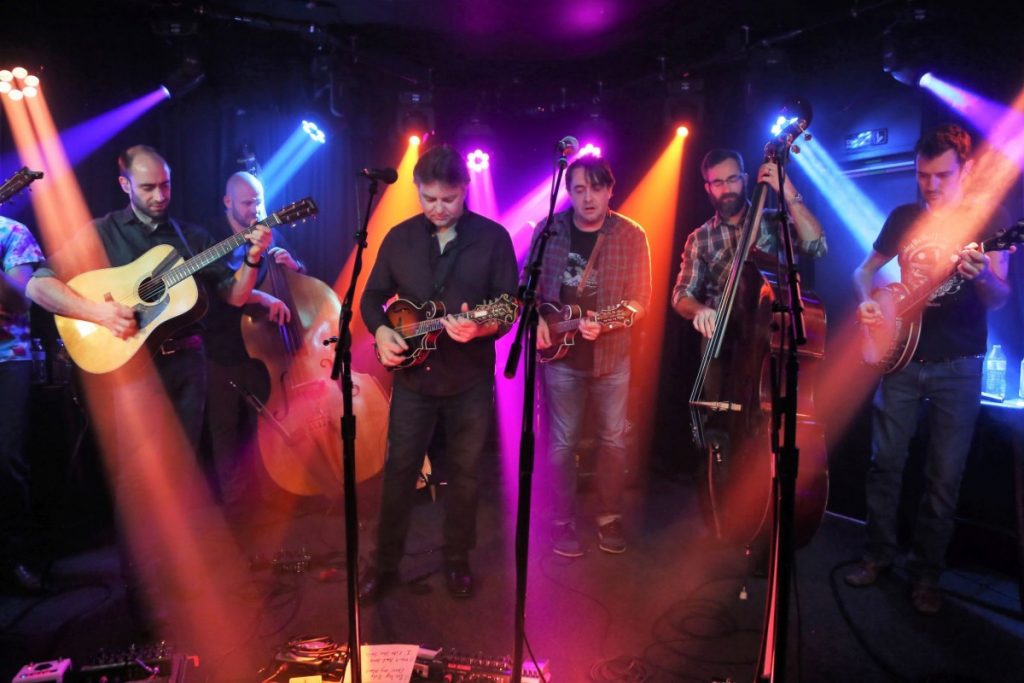 Words and Photos by Tom Wickstrom
Woodlands Tavern in Columbus, OH, has been serving up live music for 10 years, and on January 27 the Grateful Ball twanged into town to celebrate the occasion. With an anticipated triple bluegrass punch of music, the crowd was teeming in energy waiting for the music to start. From the first notes picked on his mandolin, Jeff Austin took the crowd's energy, absorbed it into himself and his band mates and returned it tenfold one jam after another. While Jean-Luc Davis laid down a steady back-beat on bass, Jeff traded licks back & forth with banjoist Kyle Tuttle & guitarist Julian Davis. Julian is a brand new addition to the band and he reminded me of a young Billy Strings. Highlights of their 75 minute set include the traditional "Raleigh & Spencer" the Bad Livers "Death Trip," as well as Jeff Austin's "Steep Grade Sharp Curves" & "15 Steps."
After a very brief set break, the Travelin' McCourys hit the stage. Hot off a Grammy nomination for their recent self-titled debut CD, the Travelin' McCourys showed why they have been backing up the great Del McCoury for so many years. Brothers Ronnie McCoury(mandolin) & Robbie McCoury(banjo), Jason Carter(fiddle), Alan Bartram(bass) & Cody Kilby(guitar) showed a cohesiveness honed from many years on the road together. One guy in the crowd kept screaming out "Let Her Go!" one of the songs from the new CD. It is also one of my favorite songs but it was nice when they finally played it & he shut up. Other song favorites they played were "I Live In A Battlefield," "Southbound" & "The Shaker." Once again, the audience could feel the energy directed towards them, and responded with enthusiasm and applause.
After two awesome sets of bluegrass music, it was time for the Grateful Ball. Everyone from the Jeff Austin Band & Travelin' McCourys came together on stage to perform a set of bluegrass inspired Grateful Dead tunes. Seeing all 9 band members on stage together jamming the Grateful Dead reminded me of how I first got into this type of music, especially the bluegrass side of things. The set seemed like a blur but I do remember grooving to "Cumberland Blues", "West LA Fadeaway", "Brown Eyed Woman" & "Women Are Smarter". The Grateful Ball capped off an amazing night of music.
The show was sold out but it didn't feel as crowded as I expected it to be. Over the holidays, Woodlands Tavern rebuilt the stages and upgraded everything and proved they could handle a show of this size. It was nice to listen to the show playing on the bar side & throughout the venue. Woodlands also proved they know how to party & celebrate 10 years in business. Keep up the great work & here's to another 10 years.
Here is a link to all the pictures I took at the show: