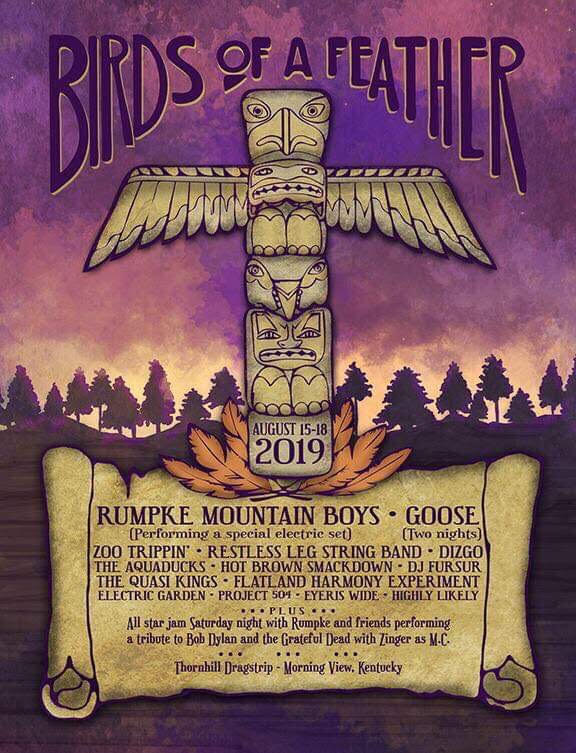 Written by: Michael Stegner
Tucked away in a beautiful scenic location along the banks of the Licking River, Birds of a Feather Music and Arts Festival is working on their 4th annual event that will take place August 15-18, 2019.
The event's home state of Kentucky is a wonderfully diverse and beautiful region with a musical history and tradition that out dates rock n roll, the blues, or motown. The Bluegrass State's musical identity has evolved throughout the years to include plenty of other genres, but the enthusiasm and spirit of bluegrass music is still alive and well in Kentucky, that much is for sure. If you don't know what I'm talking about, then I suggest checking out this up and coming festival for yourself.
Despite what the increasingly fast-paced world might make you think, sometimes simpler is better. Sometimes overcomplicating things can become a distraction. Instead of letting production effects take the center stage of his event, Brandon Whitson has taken the traditional approach to planning.   "It's an old school 'Woodstock' type festival," he says. "We just try our best to be good at it."
The carefully tailored lineup, which was recently released, consists of artists and musicians ranging from bluegrass, rock, and country, to funk, reggae, and jazz.
The festival is held at Thornhill Dragstrip, which is the oldest operating dragstip in the country.
"The venue is between Thornhill Lake and the Licking River and has a lot of room for us to continue to make our home for Birds of a Feather Festival at this beautiful venue for a long time to come," explained Brandon.
Another major focus throughout Brandon's planning is the family-friendly atmosphere he hopes to create. With plenty of activities designed for all ages, like water sprinklers and a bounce house, parents are encouraged to bring the whole family.
"You can swim or kayak in the lake, and there's plenty of room for biking or hiking," explained Brandon. "There is also a designated family camping area, and we might even have a magic show on Saturday!"
Being located less than 20 minutes from Cincinnati and Covington's thriving music scene has helped this festival establish itself as a hotbed for local talent.  
"Our goal is to promote bands that we like and bands that are starting to make a name for themselves and also have them promote us in return." The community involvement and grassroots promotion techniques have been successful for Brandon and the BOAF team in recent years. "We try to offer some of the top bands in our region to create a nice blend of diverse music," he said.
With Cincinnati natives Rumpke Mountain Boys headlining, lots of unexpected surprises are surely in store for any 2019 attendees. At last year's event, they became festival heroes by performing a campfire set until 7 in the morning, something not too uncommon for the Rumpke boys. This year they will surely make lasting memories during their special electric set as well as a very special all star jam Saturday night honoring Bob Dylan and The Grateful Dead. Special guest sit-ins are a guarantee.
Aside from Rumpke Mountain Boys, the lineup announcement has several other noteworthy acts like Connecticut natives Goose, who are playing 2 nights, the Columbus based band Zoo Trippin', Restless Leg String Band from Lexington, and Bloomington based Dizgo, just to name a few.
Tickets are currently on sale for $50, and prices will increase closer to the event date. They are available for purchase on their website.  "We have some ala carte options for the festival experience this year," Brandon added.  "Such as car camping for $20, RV parking for $50 and dog passes $50."