Written by Charles "Bones" Frank, Photos by August J. Heisler
The air of the North Carolina night ran crisp, cool, and swift as I stood outside my house, waiting in anticipation for a pair of headlights to round the bend of my avenue. A few blocks away I started to hear the rumbling of a big block American engine and sure enough two portals of luminescent bulbs cut through the darkness and drew near. My carriage had arrived. My photographer August Heisler emerged into form and a pair of swinging side doors flew open like a portal gate, ready to transport me into a mystic swamp realm of intrigue, costume, music, and pure energy. Yes my friends, the time was nigh, Hulaween weekend was upon me.
Journey with me through the wormhole and allow me to walk you through some of the incredible features of the Spirit of Suwannee Music Park; the amazing talent that graced the stages, peppered the woods, and illuminated the night. Hulaween is a massive undertaking in its' fifth year, curated masterfully by The String Cheese Incident. If one simply gazes at the lineup or daily schedule, artist's names leap off the page to leave the collective jaw of the live music loving community ajar and on the floor. In addition to the music, the festival is teeming with other worldly art installations that span the entirety of site map, keeping the attendees sensory meter on full overload at all times. Hulaween is not just a festival; it is a doorway down a corridor of imagination. It was an honor to be on hand for The Jamwich to bottle some of the lightning there, and we have tons of coverage to roll out. In this first piece, I'll quickly touch on a few personal highlights from the first day I spent down at Suwannee.
Day 1:
Hulaween features a pre party on Thursday in which the Meadow Stage (main stage) stays dormant but sees a litany of amazing acts grace the famed Amphitheater stage, along with opening the other three stages on the site. The pre party could frankly stand alone as a festival unto itself. Not a single gap exists between the names on the Thursday lineup, but before I touch on some bands that stole my eardrums, let me describe my main highlight of Day 1, which is simply the arrival.
Arrival:
There are not enough words in our humanly language to do justice to the feeling one gets when first touching down on festival grounds at Hulaween. Firstly, as I addressed briefly in my preview, the arrival process and overall entire patron friendly accessibility of the gathering absolutely wraps one up in rejoice. Getting in is generally swift, easy, and welcoming. The first moment ones' feet meet the ground at Hulaween is serene, it is unique only to this festival, and it is indescribably magical. Festival goers from far and wide do incredible things with their campsites, thusly before one even makes land on actual venue grounds; they are met with the spirit of Halloween bubbling from every nook and cranny. Huge inflatable ghouls and goblins dance about to the background noise of eerie down tempo house music that is a campsite favorite to many attendees. Lights from lasers flutter in every direction, creating this astonishing aura and aforementioned energy that lives only at Hulaween. After only a few minuets on the site, reunions and revivals of groups rejoining one another can be seen and heard everywhere. Although Hulaween is a large event that draws more than 20,000 people, it is still a grassroots festival and the degree of separation between one individual or one group and another is very small. Everyone knows everyone and this becomes apparent instantly upon arrival. Though the temperatures can sometimes turn quite cool at night, Hulaween basks in a warmth created by the close and shared conscious of its' community. I have been so, so blessed to travel this country from end to end and attend events of all scales, and while many of us can sympathize in the relief that finally reaching a festival destination brings after a long journey, I testify to you all that there is NOTHING like arriving at this jamboree.
Ajeva:
I couldn't write this recap of highlights without mentioning the funk junkies Ajeva. This group from St. Petersburg got the day started in just the right fashion, absolutely thumping their keys and bass driven soul funk sounds from the Amphitheatre stage at high noon. Hulaween does an excellent job of cultivating acts from all regions of the country, while still staying true to its' geographic location and including some Floridian flavor. Florida is a piping hot oven for jam centric talent and Ajeva hit the nail right on the head. This group is dynamic, diverse, and potent. Although their set was very early on in the festivities, they left an impression that would last long into and after the weekend. The funk came to town, and I absorbed it gratefully.
Papadosio:
Papadosio's lone set of the weekend fell in the pre party, as the band is deep into their west coast tour in support of their new album 'Content Coma'. However, given how special the circumstances were, the boys from Asheville took the red eye in just to make their late afternoon set on the Amphitheatre Stage, one of the most famed stages in the country. So many great artists lent their sounds to this Thursday bash, but Papadosio's set took me away. Their set rang so true deep down in the swamp. Their sound, an earthy yet electro infused pulse that builds and builds upon itself takes listeners on a trance laced journey that spans the spectrum of emotion, dance, acceptance and tranquility. This five-piece powerhouse can make you move without thinking, think without exhaustion, and inspire without speaking. Papadosio uses lyric lightly and perfectly. They are able to augment and accent critical points of song, and collect the joint mindfulness of the crowd while keeping the focus on the massive rolls, crashes and soothing but scorching instrumented electro quilt that is being woven on the stage. On this occasion, guitarist/producer/vocalist Anthony Thogmartin offered some words briefly before departing about how extraordinary gatherings like Hulaween really are. He touched on just how difficult it can be for events like it to continue to succeed, and how important it is that the larger community uses societal tools like voting to ensure a world where music festivals can continue to thrive. Everyone in the crowd was connected in that moment. The love permeated from the stage to the floor and spread around the amphitheater. I had witnessed something special. I got a chance to catch up with Papadosio later that evening and chat about their new record, their tour, the age in which we live, and their show from that afternoon. Keep it locked right here with us at The Jamwich for my interview with Anthony and Mike which will follow this piece!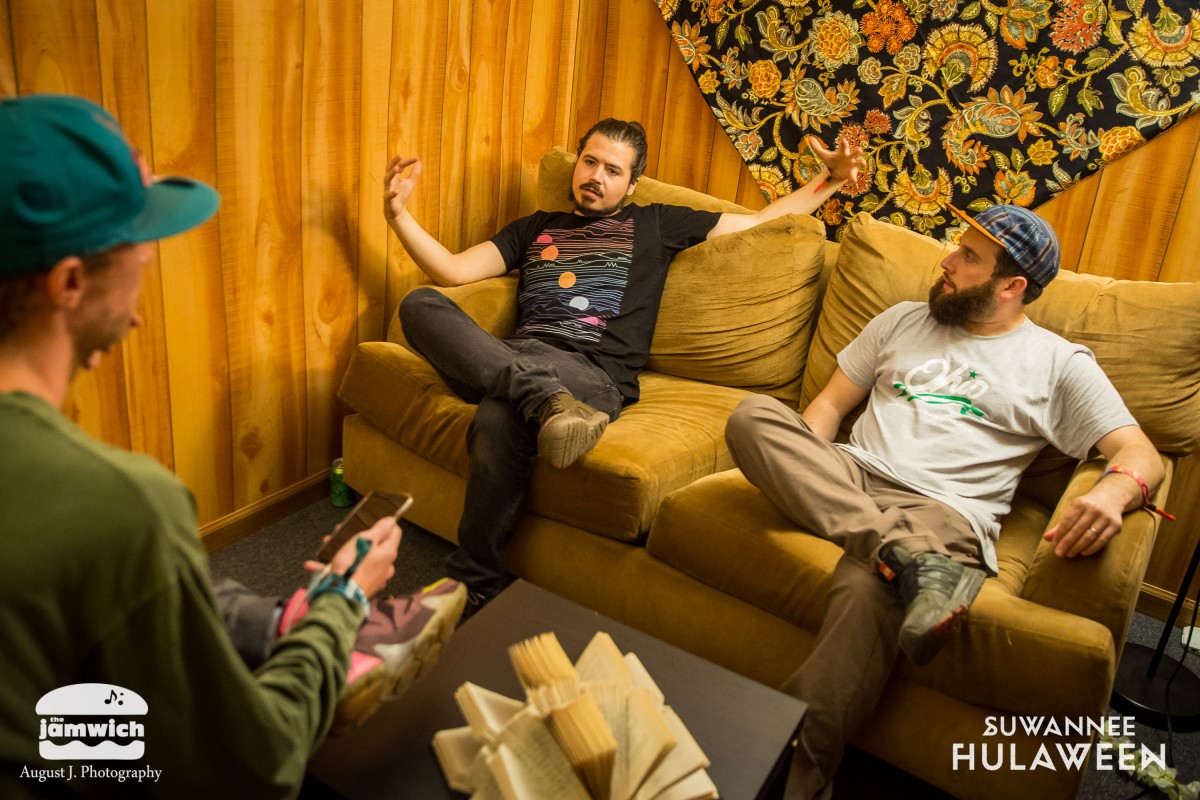 Joe Russo's Almost Dead:
Comrades, what could be better than a pair of nighttime JRAD sets to truly send the Hulaween spaceship into orbit. Now under the veil of darkness, the amphitheater area glowed with a canopy of light, under which a packed crowd of eager anticipants waited for the first notes from this Grateful Dead monster to strike. JRAD's sound is a hybrid conglomerate of familiar Dead tunes, insane tempo switches and cadence reversals that result in a tension and release style jam-wagon that only JRAD can steer. Those familiar with this group know that the group consisting of Joe Russo, Tom Hamilton, Scott Metzger, Dave Dreiwitz and Marco Benevento is not your grandmother's Grateful Dead cover band. They are a new breed my friends, they have sparked a new fire in the Grateful Dead world and they're burning hotter than the whites of coal. On this Hulaween eve pre party, the unit spun the crowd into the outer realm right from the opening whistle. "The Eleven" took its' place as stanza opener, followed by a "New Speedway Boogie," which has become a more rare delivery for the quintet than in their earlier days and it was received to a enormous applause. After "Estimated Prophet," "Tennessee Jed" and "Jack Straw" the band took a short break before returning to punctuate their appearance with a set of non-stop bangers. "Music Never Stopped" would appropriately open and give way into a beautifully sung version of "Brown Eyed Women" in which Tom Hamilton adorned in his traditional Newsies cap and scarf displayed his vocal range. The familiar lyrics darted into the night and found the crowd hanging on close with every single word. The breath of a population so intertwined with one another swept through the throng of Hulaweeners as everyone and their neighbor was belting out the words to the Garcia/Hunter penned original. Following "Brown Eyed Women" came "Black Throated Wind," after which the band would take no breaks and segued into "Bertha," "The Wheel" and smoothly into the finale of "Cumberland Blues." Yes, the wheel was indeed turning. JRAD rolled out a high octane "Deal" encore that saw their volume increase tremendously and created a celebratory ruckus in the near midnight mass. JRADå had once again produced a party for the ages, and I slunk back into the eve mind racing of the treasures that loomed the rest of the weekend.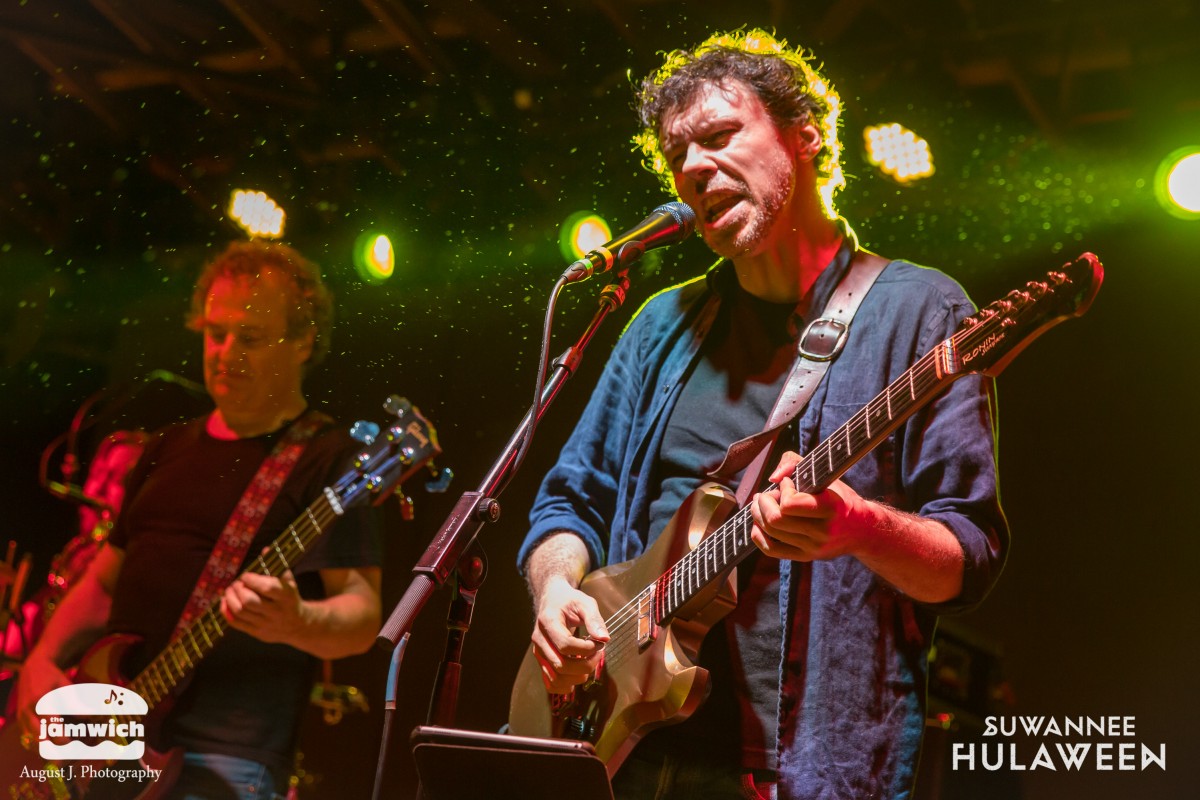 Stay tuned as our meaty main coverage rolls out, and August and I journey into Spirit Lake, take in the sets on the main stage, and continue to explore the mysteries of Hulaween!
Continue Reading –