Written by: Kathy Moore
Photographs by: Dave Cunningham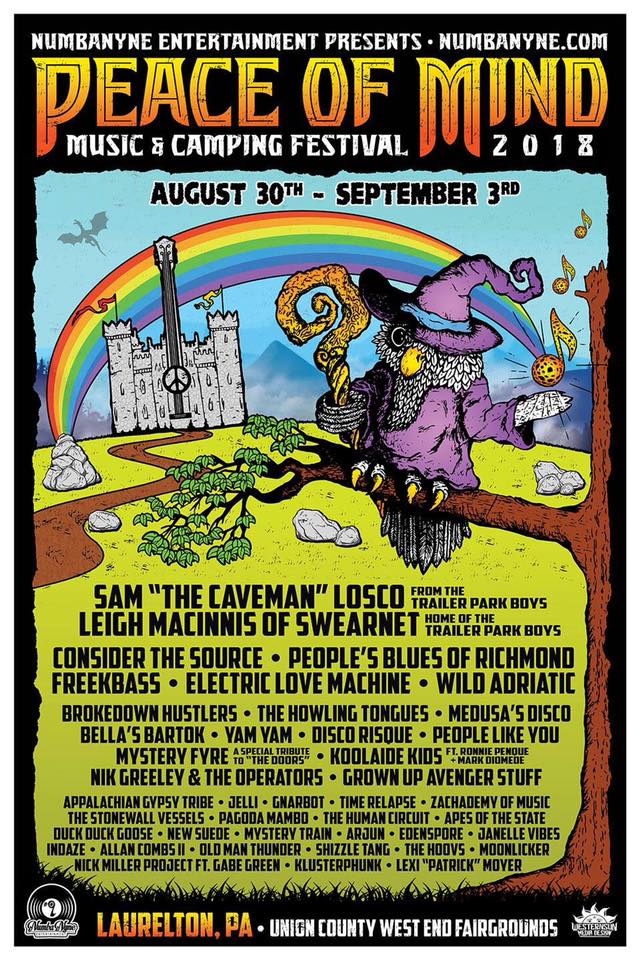 2018 marks the eighth year of Peace of Mind Festival, and the first year in its new location, West End Fairgrounds in Laurelton, PA, situated between State College and Williamsport. The decision was made to move from Weiser State Forest in Halifax, PA (just north of Harrisburg) in order to better accommodate the growing number of attendees. Hosted by NumbaNyne Entertainment, this four-day event boasts over 35 bands and also includes two sets from well known actor-comedians from Trailer Park Boys; in fact, Peace of Mind is the first festival in the U.S. to host actors from this show. While predominately a rock, alternative, and jam festival, you can also find a mixture of funk, psychedelic, jazz, and alternative bluegrass.
The first night, Thursday, has an eclectic mix of genres with five bands and is guaranteed to pique your interest and get you to the stage. Opening up at 7:00 p.m. is Appalachian Gypsy Tribe, a six-piece psychedelic/funk band from Lehigh Valley, PA, fronted by vocalist Emily Newman. With their catchy lyrics and groovy beats, they are sure to captivate the audience and get everyone dancing. Keeping up the momentum is Mystery Fyre, a high energy, three-piece rock band made up of the Knorr brothers. Their eclectic blend of psychedelic rock 'n soul is sure to keep the crowd on their feet. Funking things up a bit is YAM YAM, a jazz-funk 5- piece hailing from Harrisburg. With the addition of keys and saxophone, their melodious and soulful sound is sure to mesmerize the crowd. Following YAM YAM is Mercury Retrograde, with a psychedelic, jam-funk sound. You're sure to see their devoted fans, Camp Retrograde, front and center, grooving to the spacey beats. Ending the night, but certainly not the party, is Brokedown Hustlers– Sleepy Creek, West Virginia's resident band. This 5-piece alt-grass band is known to rage the stage and get the crowd singing along. Fronted by lyrical mastermind August West and backed by Barely Garcia on banjo and guitar, Dr. Fiddle on mandolin and fiddle, Tennessee Jed on guitar and harmonica, and Philthy Lush on upright bass, Brokedown Hustlers brings an original outlaw sound that you don't want to miss.
On Friday, the music begins at 12:00 p.m. and runs until 3:30 a.m., with music on the main stage and tweener sets indoors. From the earthy, progressive folk of Edenspore, to the prog rock of Consider the Source and the soul and groove of Nik Greeley and the Operators, there will be music for everyone's taste. Bringing the rock, Indie rock, and alt rock are bands New Suede from Nashville, The Howling Tongues from Atlanta, The Human Circuit from Texas, and Grown Up Avenger Stuff from Charlotte, NC. Representing funk and jam are Pagoda Mambo from Louisiana, Time Relapse from Philadelphia, and Shizzle Tang from Sunbury, PA. Moonlicker closes out the night with their unique blend of acoustic and electric psychedelic folk.
Saturday's music starts with Alan Combs II Music-a solo blues, soul, and funk act from Bloomsburg, PA, followed by Old Man Thunder, a rock and blues trio from Sunbury. At 1:15 and 2:30 are Leigh MacInnis and Sam Losco (Caveman Sam) from Trailer Park Boys fame bringing their unique form of comedy to the stage. The Main Stage acts include rock 'n roll band Wild Adriatic, followed by Bella's Bartok, a gypsy-punk ensemble from Massachusetts. Freekbass takes the stage with his inventive style of funk, followed by the heavy, hard driving, and energetic sound of Virginia trio People's Blues of Richmond. On the indoor stage playing tweener sets are Kluster Phunk with their distinct blend of funk, reggae, and jam. This five-piece band from Wilkes-Barre is sure to impress with their exploration and improvisation. Next, The Stonewall Vessels bring a unique blend of rock and funk that will get the audience moving. Transforming the energy of the Indoor Stage will be People Like You, a freak-folk gypsy-punk ensemble from New Hampshire. Continuing with the high energy is psychedelic rock band Medusa's Disco. This one of a kind act brings an unparalleled force that you do not want to miss. Jelli may be an acoustic trio, but they bring the funk, punk, folk, and bluegrass. With influences that range from John Prine to The Meat Puppets, this exceptional trio will leave you speechless. Ending the evening is Apes of the State-a folk/punk/pop act from Lancaster. Mandolin, banjo, violin, and guitar topped off by strong vocals are the winning qualities of this band.
The music wraps up Sunday with a diverse selection ranging from blues to bluegrass and jam to funk and psychedelic. Disco Risqué brings their eclectic mix of funky dance and rock with two sets; one on the Main Stage in the afternoon, and the other on the Indoor Stage at night. Gnarbot delivers a progressive jazz fusion sound which I'm excited for, followed by Baltimore's Electric Love Machine, an electronic, future wave quartet. These guys never cease to amaze me with their ever-changing funky sound. Duck Duck Goose, a psychedelic rock band from Sunbury, has two tweener sets indoors and Mysterytrain, the penultimate band of the night, rocks the stage with their unique blend of rock, country, bluegrass, and funk. And closing out the festival Sunday night is The Dee Maple Band-an acoustic band that performs a wide variety of genres with influences like Tom Waits, Frank Zappa, King Crimson, and The Grateful Dead. The rotating lineup of musicians and varied instruments will leave you smiling and dancing.
Peace of Mind Fest is packed with music for everyone. There's lots of raging to be had over the course of four days. Make sure you bring your dancing shoes and your smile- and don't forget to fuel up at one of the many food vendors. This is going to be one for the books. Purchase your tickets now to save money on the gate price- www.peaceofmindfest.brownpapertickets.com