Written by Katie Clayton
Rock/funk jam band LITZ have hit their stride and there's no turning back now. Though we were saddened by the cancellation of The Mad Tea Party Jam, the sad news gave way to an exciting announcement that they'll poising themselves to take over that festival weekend with their own event, much like Pigeons Playing Ping Pong and Domefest. This weekend frontman Austin Litz will be closing the chapter at the Mad Tea Party Jam Farewell Shows with Austin Litz & Friends, featuring members of LITZ, along with The Dirty Grass Players, Funk You, and Electric Love Machine, at The 8×10 in Baltimore Saturday June 16th and Sunday June 17th.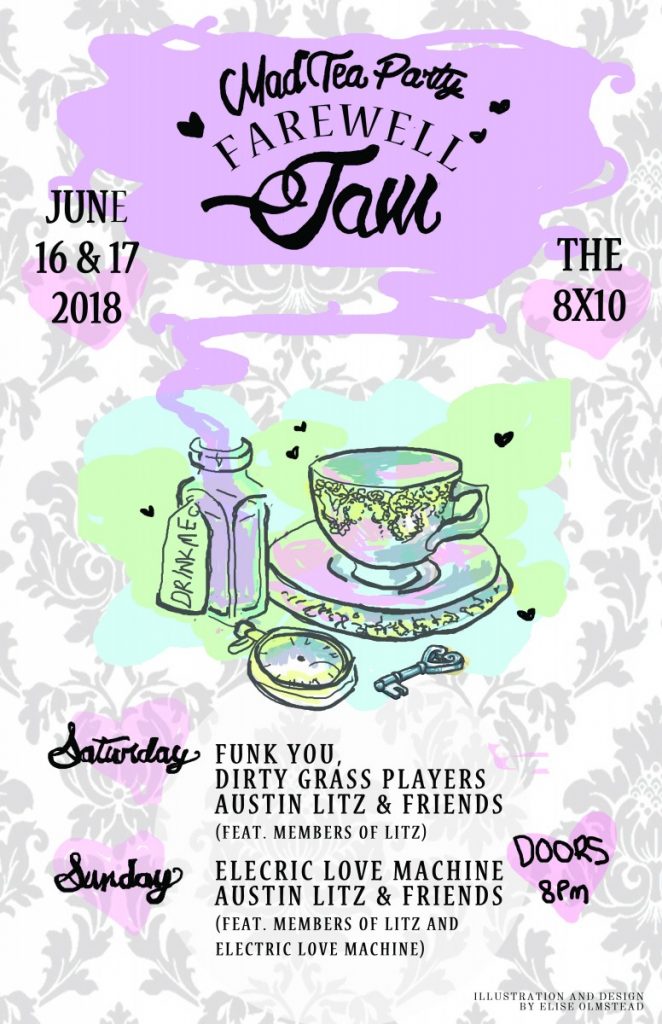 The band just released their new live album back in February and since have kicked off the start of their latest East Coast tour.  With a constantly developing sound, LITZ has been expanding and opening not only their own minds but those of their listeners. Their first two albums were all about "The Illusion of Time," guiding us through their process and in a lot of ways setting the foundation for what the group was and is in a purely conceptual sense. Early shows were predominantly based in Maryland, the band's home state, and quickly brought forth a steady fan base, with LITZ selling out the show of their first record release.
Fast forward to the present, the band has gone through some changes. For one, they are all over the East Coast now, opening and headlining their own shows, as well as incorporating sit-ins from a number of other artists. They've also transformed from a six-piece to a four, in many ways redefining their sound all while sticking to that funky horn and guitar shreddery that fans have grown to know and love. I got to chat with LITZ about what's to come for them in 2018 (full disclosure, there's a lot!!), where they gather their inspiration from, and got a closer peek into the depth behind their work. The answers you see here were a collaboration of all band members. If LITZ wasn't on your radar for sets to catch this summer that's too bad because they are probably going to be there anyway!
How have things been going since your live album release, Live to a Tea, in February? 
Amazing!  Been working super hard, but much more relaxed since then.  Those shows were the first to our hometown crowd with the new line up. We worked all-day everyday behind the scenes to get everything up to speed and destroyed both nights with sit ins galore and funkin' heavy jams assured.
How have you guys evolved as a band in the last couple of years?
We have grown in many directions over the past couple years.  Initially we had a bluesy rock, mixed with a go-go feel that evolved into a more textural synthesis focused space funk sound. We've recently refined that into a modern psychedelic rock sound.  We have a big vision for our future sounds and are always seeking new directional ideas with constant experimentation with funky and new technologies, new syntheses techniques, and new instruments.
Where do you get the inspiration for your album art? What kind of picture are you trying to convey through your music, because it really does seem like it takes you through a story? 
Drew DePorter designed the album art and takes us on an alchemical journey.  It's about refining and distilling energy and ideas with the lighter and flame, new funky ideas emerge from the smoke.  There also appears to be a head cracked open with energy flowing out of the skull, representing open minded thinking.  All of this corresponds directly to the distillation and refinement of our sound.
I really loved your Bowie Tribute album, what about artists like Bowie inspire you and how do you translate those qualities into your music, specifically into your style? 
The theatrics and rock n roll vibes inspire us most.  Bowie often creates characters with a mystical aesthetic with stories spanning over albums.  These type of conceptualizations are present in our style if you look for it.  For instance our first two albums, were really one body of work about the illusions of time, there are many tarot references and mythic themes throughout.
You guys are kicking off an East Coast Tour, what can concert goers expect from you guys in the next coming months?
We love the road and can't get enough of it.  Concert goers can strap their seatbelts on for a funky ride chalk full of shredding guitars, funky grooves, and psychedelic soundscapes.
What's to come for LITZ in 2018?
2018 is the year of LITZ!  We're headlining / doing multiple sets at a handful of regional festivals such as Yonderville and have made it onto some national sized festivals like Peach Fest.  We are recording a 4 song EP in April and couldn't be more excited.  This will be the first time that the band has sought outside production help, everything has been done in house up to this point.  We plan to follow up this EP with our 5th full length album!  In other words watch out ya funky muffins, the LITZ train is riding down that strange track fast.