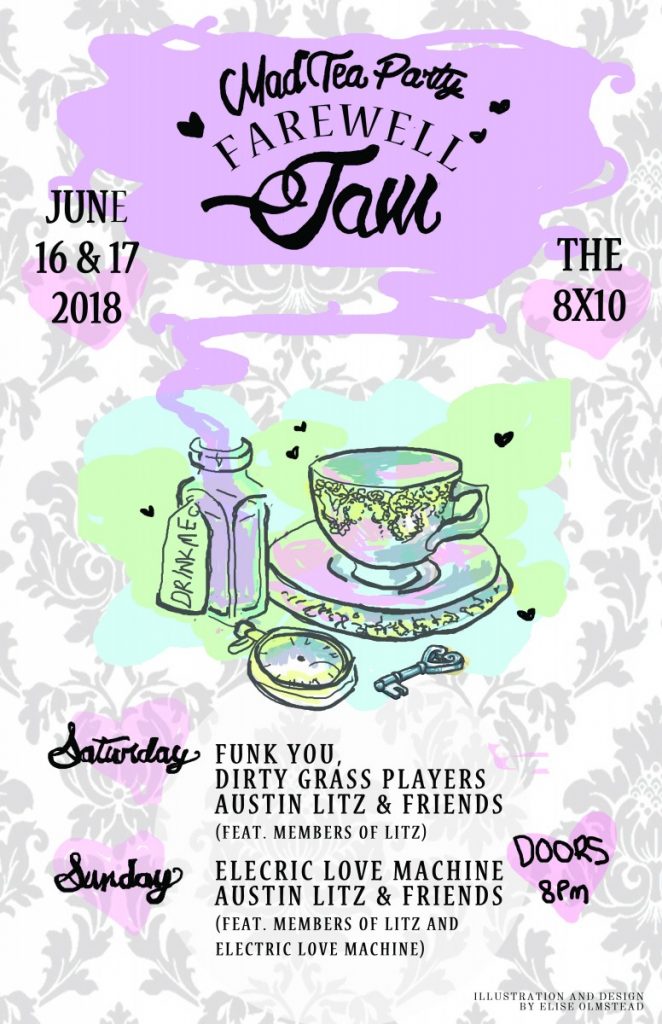 Good morning and Happy Monday!  There's plenty of music to see and festivals to join in this week, but if we had to choose one event to tell you about — it would be the Mad Tea Party Farewell Jam shows at The 8×10 this Saturday June 16th, and Sunday June 17th.  The Mad Tea Party Jam had to be unexpectedly cancelled this year, and organizers Taco and Elise of The Jamwich decided that it's time to close the chapter and no longer hold the festival.  While this might not mean forever, it is certainly a long hiatus.   It is only fitting that the shows capping off their "farewell" would be held at The 8×10 in Baltimore, a long-time "home base" for The Jamwich and their friends and fan base.  These shows will feature music from Baltimore bands and beyond – including The Dirty Grass Players, Funk You, Austin Litz and Friends (featuring members of LITZ), and Electric Love Machine.  Tickets can be purchased for Saturday here and for Sunday here.
The Duck Creek Log Jam is coming to the beautiful Hocking Hills this weekend; part camping trip, part music festival, small by design, family owned, located in one of Ohio's most scenic regions, and a guaranteed good time! Scheduled performers include The Hip Abduction, Caamp, The Last Revel, The Wooks, The Giving Tree Band, plus more. Weekend passes are currently sold out; however, single day passes are still available through the festivals official web page.  If you plan to purchase your ticket at the gate, make sure to bring cash (no credit/debit will be accepted).  Also, expect a $10 per car parking fee. Duck Creek features family, party and dispersed camping to try to provide everyone with an optimal experience (just don't go looking for a party in the family zone). Check out www.duckcreeklogjam.com for more info and to purchase tickets.
Out of the Beardspace is once again hosting Beardfest in Hammonton, NJ, with an incredible lineup of up-and-coming bands as well as national acts – including a never before seen combination of great artists playing together – Medeski, Martin, and MonoNeon. If you have to google MonoNeon, let us save you the trip.  MonoNeon is also known as Dywane Thomas Jr., was Prince's last bassist and has also worked with Ne-Yo and other artists.  Other bands on the lineup include Marco Benevento, Moon Hooch, Ghost Note (feat. members of Snarky Puppy), Splintered Sunlight, and more.  Go relax by the beach at beautiful Paradise Lakes Campground, attend some workshops and catch some tunes June 14-17, get your tickets here.
The 12th annual Groverfest will be held this weekend in Union Grove, NC at the picturesque Fiddler's Grove campground.  Come enjoy beautiful country landscapes, good company, and great acts like Duk Tan, The Mantras, Coddle Creek and Dirk Quinn Band, plus many more.  Weekend passes are a mere $60, and day passes just $30. All tickets include camping and parking.  Online ticket sales will be open until Thursday, and then available at the gate during the festival.  Live workshops available throughout the weekend.  Go to www.groverfest.com to get more information.
Also worth checking out this week is the New Zealand, roots reggae band Katchafire. Having originally formed in 2000 as a Bob Marley tribute group, this band has been continually evolving since its formation.  The current lineup features Logan Bell (lead vocals and rhythm guitar), Jordan Bell (drums, vocals), Grenville Bell (lead guitar), Tere Ngarua (Bass), Hani Totorewa (keys, vocals), James Ferguson (keys, saxophone, vocals) and Leon Davey (percussion, vocals). The band has five studio albums under their belt, the most recent being Legacy, which is currently being promoted on tour.  Check out the full concert list below to see when and where you can "Katchafire" this week.
Festivals:
06/15-16 – Duck Creek Log Jam – Logan, OH
06/14-17 – Beardfest – Hammonton, NJ
06/15-17 – Classic Fest – Garrettsville, OH
06/15-17 – Grateful Friends Fest – Paw Paw, IL
06/15-17 – Groverfest – Union Grove, NC
06/16 – Jam Sandwich at Mayo Island – Richmond, VA
Concerts:
06/12 – The Kingfishers w/ The Jauntee – Silk City Diner – Philadelphia, PA
06/12 – Brit Floyd – Saenger Theatre – Pensacola, FL
06/12 – Thomas Wynn & The Believers – Gypsy Sally's – Washington, DC
06/13 – The Funky Knuckles – Gypsy Sally's – Washington, DC
06/13 – Katchafire – Culture Room – Ft. Lauderdale, FL
06/14 – The Revivalists – Red Hot Amphitheatre – Raleigh, NC
06/14 – Brit Floyd – Ruth Eckerd Hall – Clearwater, FL
06/14 – Katchafire – The Social – Orlando, FL
06/14 – Ghost-Note – Gypsy Sally's – Washington, DC
06/15 – The New Mastersounds – Rex Theatre – Pittsburgh, PA
06/15 – ekoostik hookah – Buzzbin Art & Music Shop – Canton, OH
06/15 – The Motet – The Blind Tiger – Greensboro, NC
06/15 – The Revivalists – Charlotte Metro Credit Union Amphitheatre – Charlotte, NC
06/15 – Brit Floyd – The Fillmore Miami Beach – Miami Beach, FL
06/15 – CBDB – The Firmament – Greenville, SC
06/15 – Kuinka – Gypsy Sally's – Washington, DC
06/15 – The Judy Chops – Dante's Bar – Frostburg, MD
06/15 – Katchafire – Guanabanas – Jupiter, FL
06/16 – The Mad Tea Party Farewell Jam – The Dirty Grass Players, Funk You, Austin Litz & Friends (w/members of LITZ) – The 8×10 – Baltimore, MD
06/16 – The Infamous Stringdusters – Blue Point Brewing Company – Patchogue, NY
06/16 – Jazz is Phsh – Brooklyn Bowl – Brooklyn, NY
06/16 – The Jauntee – Drom – New York, NY
06/16 – The New Mastersounds – Rocks Off Concert Cruise Aboard The Liberty Belle – New
York, NY
06/16 – The Revivalists – North Charleston Performing Art Center – Charleston, SC
06/16 – Brit Floyd – Germain Arena – Estero, FL
06/16 – Katchafire – The Wynwood Yard – Miami, FL
06/16 – Better Off Dead Maryland – Gypsy Sally's – Washington, DC
06/16 – Annabelle's Curse – Dante's Bar – Frostburg, MD
06/17 – The Mad Tea Party Farewell Jam – Electric Love Machine, Austin Litz & Friends (w/members of LITZ & ELM) – The 8×10 – Baltimore, MD
06/17 – Brit Floyd – Florida Theatre – Jacksonville, FL
06/17 – Katchafire – Surfer – Jacksonville Beach, FL