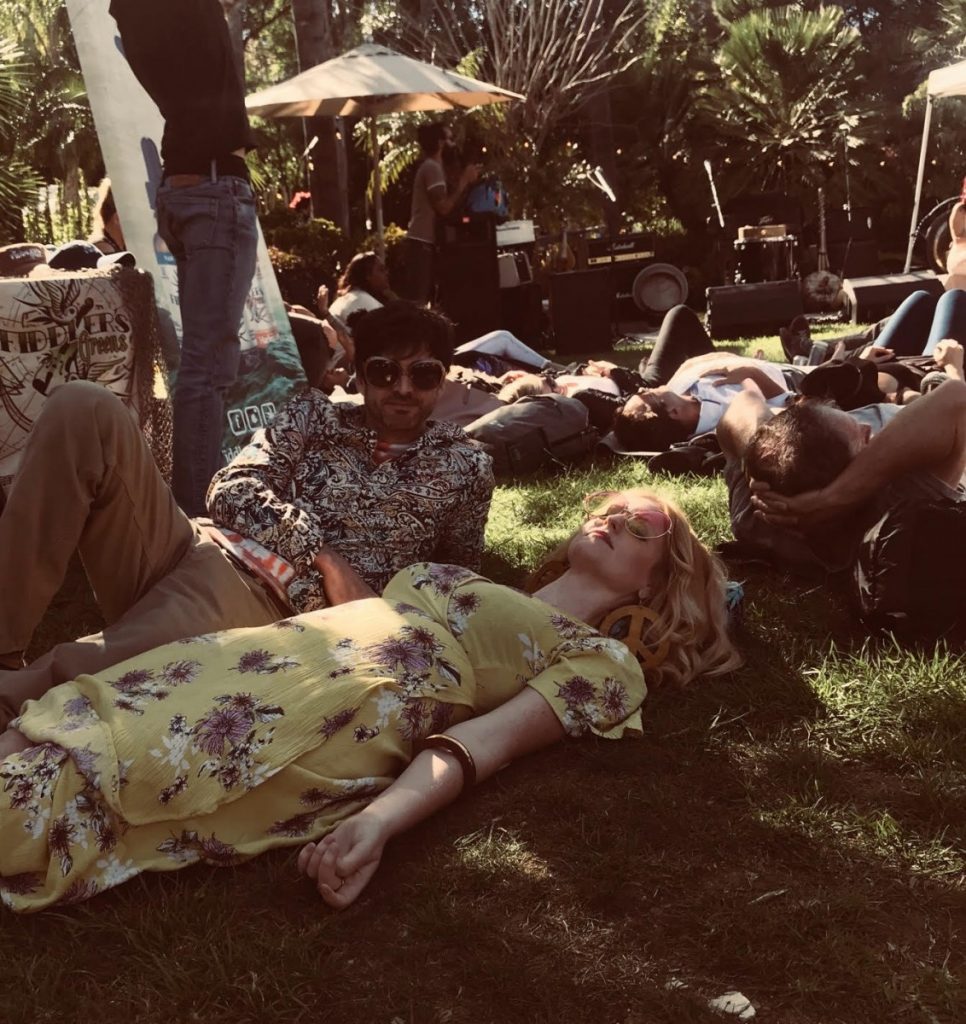 Shuttle riders looked longingly at a fat, perfectly rolled joint that filled the air with that earthy cannabis smell, triggering imagery of the olfactory bliss that would have been were it lit. A 15-minute shuttle ride through the beautiful Malibu hills transported the attendees from reality to a pro-cannabis safe space full of the informed, information-hungry and those just seeking a good time.
Upon arrival, we met a mellow, positive vibe that continued throughout the evening. Friendly vendors and about a dozen booths lined the perimeter of a cozy grassy area that was surrounded by lush, green trees and vegetation with a stage to the front. First stop, Mood33 to try three tasty cannabis-infused beverages labeled 'joy,' 'passion,' and 'calm.' We spoke with the company CEO and got the sense that company success went beyond finances to having a positive impact on humankind – hence the slogan, "Feel the Change, Be the Change." The guys at Viscous shared a delicious puff from their THC and hemp oil vape as they finished daily sales. CBD Naturals offered CBD-infused water and other vendors offered a variety of tinctures and even topical CBD/THC-infused balms, which are intended to alleviate pain. Overall, the vendors rocked it; showing up with well-produced and packaged products offered by informed and friendly staff.
As 4:20 approached, attendees gathered around the stage for the dreamy sound bath and cannabis ceremony. Musicians and artists took the stage, instructing the crowd to lie down and relax while surrendering to a guided meditation accompanied by sounds that traveled through space and a spiritual cleansing with sage. Musicians weaved through the crowd with percussive instruments that created a sonic landscape that titillated the senses and fused with surrounding nature. A curious bird circled above.
Next up was a discussion panel moderated by Brian Chaplin and consisting of cannabis activists, advocates and industry folks including: Ariel Clark, a lawyer who works with startups and cannabis regulations, Eben Britton, an NFL player who credits the neuroprotective properties of cannabis for saving his brain from extensive damage, Chelsea Leyland, a person living with epilepsy who weaned herself from prescription drugs and has not suffered a seizure since she began self-medicating with CBD, Dr. Ira Price, founder of the K.A.R.E. (Kannabis Accreditation Regulation & Education) certification program and advocate for clinical application of cannabinoids, Len May, CEO of Endocanna Health talked about personalized Canna-health products based on personalized genetic makeup and Anya Cravitz talked about the importance of quality and care when sourcing Canna-health products. Finally Sari Gabbay, Founder of Cannabliss Retreats, who works to change the stigma surrounding cannabis by advocating for appreciation of the cannabis flower and the positive effects it offers the world.
The early-birds who began celebrating at noon were offered a session (which we unfortunately missed) by Dr. Ira Price on the health benefits of cannabis, and the night owls enjoyed live music by Stellamara. The 420 event was part of a larger event –a 6-day Cannabliss Retreat were attendees became K.A.R.E. certified, in an attempt to standardize the industry.
Cannabliss was not your typical 420 party. This may not be the place for those seeking a wild and crazy 420 party, but those seeking to learn and promote cannabis as a positive would find themselves right at home at this grassroots gathering of pro-cannabis advocates and industry trying to do something good.
A literary masterpiece by
Vid West & Yer Buddy