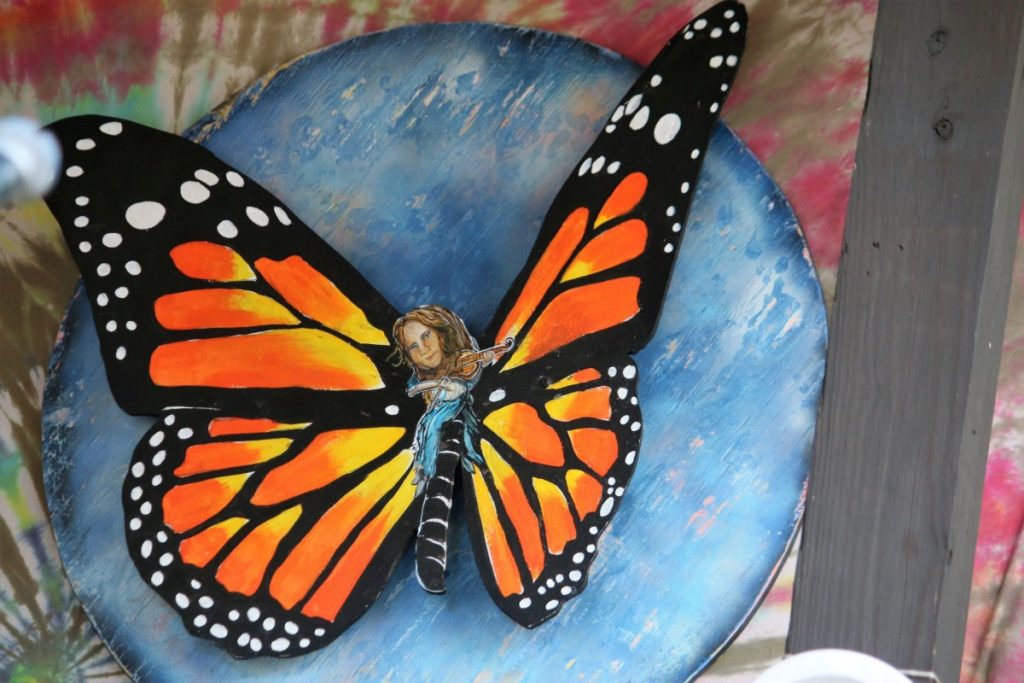 Hickory Fest, August 18-20, 2017
by Tom Wickstrom
This was my first time attending Hickory Fest. Located at the Stony Fork Creek Campground just outside Wellsboro, PA, Hickory Fest drew some of the best musicians around the country and featured bluegrass & acoustic music in tribute to the memory of Sue Cunningham. I had first heard about Sue while interviewing Verlon Thompson at this past March's Suwannee Spring Reunion. Sue was a world class fiddle player and performed with many of the performers that would be playing this weekend. She was also a real life Rocket Scientist. Although Sue straddled both worlds, she always kept her feet on the ground, stayed humble and truly cared about everyone around her. Most of the musicians performing had been touched by Sue in one way or the other.
I arrived late Friday afternoon and once cmp was set up, I headed over to the main stage. Jakob's Ferry Stragglers were mid-set and entertaining the crowd with their blend of "Appalachian Bluegrass". They had a nice, fun groove that had people dancing early. The Gatorbone Trio was up next. Consisting of Lis & Lon Williamson & Tim Higgins, this trio had ties to Sue Cunningham through recording & performing since the 90's. I really enjoyed their blend of songs & vocal harmonies. Verlon Thompson followed showed off his songwriting talents and unique musical take on his originals as well the cover songs he did. I was truly moved by his version of Glen Campbell's "Gentle On My Mind". Chris Henry & the Hardcore Grass came next. I had really only seen Chris Henry in more of a backing musician role in other bluegrass bands or in support of Peter Rowan or other musicians, but I was greatly impressed by his up tempo set of bluegrass tunes. Peter Rowan came out & joined the band for a few songs as well.
The Harris Brothers then took me on a musical journey spanning many musical genres including roots, blues, rock & roll, country & bluegrass. Their performance was one of my favorites from the weekend. Peter Rowan then commanded the stage for a set of music that covered the immense expanse of his musical career. Whether he sang a song solo acoustic or with the many musicians that rotated on & off the stage, Peter had the crowd mesmerized with his stories and original songs. "Midnight Moonlight" was a highlight for me. Finally, it was time for the last performers, The Traveling McCourys to hit the stage. Consisting of Rob & Ronnie McCoury, Jason Carter & Alan Bartram from the Del McCoury Band and well as Cody Kilby. Their blend of tradition & contemporary bluegrass in conjunction with cover songs done bluegrass style, including many Grateful Dead songs had the entire audience on their feet dancing away. Peter Rowan came out and joined them for a couple of songs, including a repeat performance of "Midnight Moonlight". Although he had just done the song in his prior set, this rendition raised the energy level and set the bar for what was coming on Saturday.
Saturday was another great day of music. The Cherry Flats Ridge Pickers, Grass Stained Genes & Midnight Rooster all offered great sets of music and there were also great 2nd performances by Gatorbone Trio, Verlon Thompson, Chris Henry & the Hardcore Grass, The Harris Brothers & Peter Rowan. I had camped next to this RV and had the opportunity to listen to Megan McGarry and her dad Chris picking outside of their camper. Megan, who is currently finishing her schooling in Boston at the Berklee College of Music & her dad played a set on the main stage that highlighted her vocal skills as she played fiddle & banjo and her dad played guitar. I was greatly impressed with her musical talents and thoroughly enjoyed her set. She also sat in with many of the other performers on fiddle throughout the weekend. Another surprise for me this weekend was the songwriting & singing of Van Wagner. Van is actually an Environmental Sciences teacher in the region and when he's not in the classroom, he educates with his music & programs on Pennsylvania history. His songs painted a picture of life and characters from the area and how they intertwined through the history of the region. In talking to Van after his set, I discovered he had 24 different CDs to buy, so I had him choose one for me to check out his music.
The Sue Cunningham Memorial Music Scholarship was presented to Valentina Paolucci of Florida and the audience had a chance to hear Valentina play and show why she was this year's winner. Following the award presentation, music continued to shine all day. Dan Shipe has been a part of this festival since the very beginning with his renditions of folk & bluegrass inspired music. He was joined by many friends that were all connected to each other and Sue Cunningham in one way or another. Many of them had toured with Sue all over in Hickory Project & the Sue Cunningham Band. Closing out Saturday night was Big Sky & Grass Is Dead. Big Sky, based out of southwest Florida, presented a set that melded blues, country, gospel, folk & New Orleans styles into a groove that was hard to describe but full of energy. Grass Is Dead closed out the evening with their bluegrass renditions of Grateful Dead & Jerry Garcia Band songs. Lead singer Billy Gilmore shined on mandolin, guitar & fiddle while Steve Pruitt (mandolin), Jared Womack (dobro), Jon Murphy (bass) & Brian Drysdale (drums) all contributed to a sound & groove that was a perfect way to close out the evening.
I awoke Sunday morning knowing there was still music to be played but I also had a 7 hour drive back home. I decided to hang out till the very last possible minute to enjoy as much music as I could. The morning began with a kid's fiddle contest at the workshop stage. It was followed by a performance by Sue's Brothers, Tom & Steve Cunningham and they were joined many musical friends. Tom played Sue's fiddle while Steve played bass. Up next was the Rowan Brothers. Being 5 & 10 years younger than older brother Peter, Chris & Lorin presented the perfect lazy Sunday afternoon set with their pop-infused acoustic roots music.
Megan McGarry played fiddle with them on a few songs and older brother Peter also joined in. Afterwards, I had the opportunity to interview the Rowan Brothers. That interview will be published separately. Up next was Verlon Thompson & Big Sky. I really enjoyed the pairing of them together. While they all shared vocals, multi-instrumentalist Rick Russell took everything to the next level with his superb harmonica & keyboard skills. It was getting time for me to take off, but I couldn't do that before I caught some of Grass Is Dead & Friends. Once again, it was great to hear more Grateful Dead songs done bluegrassy. After several songs, I made it to my car and started my journey home. As I pulled out of the campground, I was humming "They Love Each Other" and felt so privileged to have been a part of this great weekend. I hope to come back again next year.