Written By: Jeff Modzelewski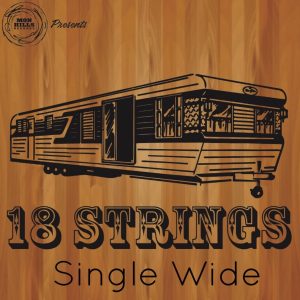 As acoustic and bluegrass music continues to be a driving force in the jam scene, it's always exciting to see where bands find their niche.  There's traditional bluegrass, jamgrass, country, Americana, folk, or, more often than not, some combination of the various options, and the best acoustic driven bands find a way to take something that sounds familiar and put their own unique spin on it.  On the second album from 18 Strings, Single Wide, this West Virginia 3 piece does exactly that.
The band consists of Andrew Tuck on vocals, guitar, and various other instruments; Chris Jones on vocals, mandolin, and cello; and Greg Thurman on vocals and bass.  They have a sound that has a little twang but isn't country, includes a mandolin but isn't quite bluegrass, and comes from the heartland but doesn't fit neatly into the folk genre.  They describe themselves simply as "acoustic," and the simple description works for a band that isn't trying to do much beyond writing very solid songs.  The album has a good mix of styles, leading off with "Legions of Debauchery," a "country song about a heavy metal band."  The style, both in the music and structure of the song, is reminiscent of The Devil Makes Three without being a copy.  That's not where the band stays, however.  They move into more sentimental areas on songs like "Anon" and "So Long" and they get more down and dirty on "Hogtied."  It's a fun mix of styles that gives the album a unique sound.
The other exceptional piece of the puzzle comes into play when the band adds vocalist Helen Jones for a few songs.  She steps in to add backing vocals on a couple tracks but takes the lead on the rollicking bluegrass track "Someone Who Ain't Me."  While the rest of the band provides vocals that are more than adequate, it was a smart decision to bring in a female voice for a couple tracks.  They bring things back to the 3 piece for "Country Breakfast," a tune that hearkens back to the rots of Appalachian music before closing the album with the forlorn "Ghost Radio." 
To make a mark as an acoustic act you need good songs and good execution.  While I can't speak for 18 Strings live performances, they clearly have the songwriting and chemistry down pat.  There's a lot to like on this album and nothing that falls flat.  Definitely worth a listen.
Check out 18 Strings website and more of their music here.