at The Spirit of the Suwannee Music Park in Live Oak, Florida
Phase 2 Additions Include Damian "Jr. Gong" Marley, Mike Gordon, Lotus, Noname, David Shaw (of The Revivalists), The New Mastersounds, Goldfish, Perpetual Groove, ProbCause, Roosevelt Collier Trio , Andy Frasco & The U.N, Dimond Saints, Frameworks, The Heavy Pets, SoDown, Jonathan Scale Fourchestra, Yellowhammer, Stokeswood, Voodoo Visionary, Jaden Carson Band, Beebs & Her, Money Makers, Scholars Word, Parker Urban Band, Universal Green, Earphorik, and Many More…
Plus Thursday, October 26 Pre-Party Lineup Adds Including 2 Sets by Umphrey's McGee, Luthi, SoDown, Evanoff, Psychedelic Monks, Yamadeo
All G.A tickets & limited VIP Packages are on sale now!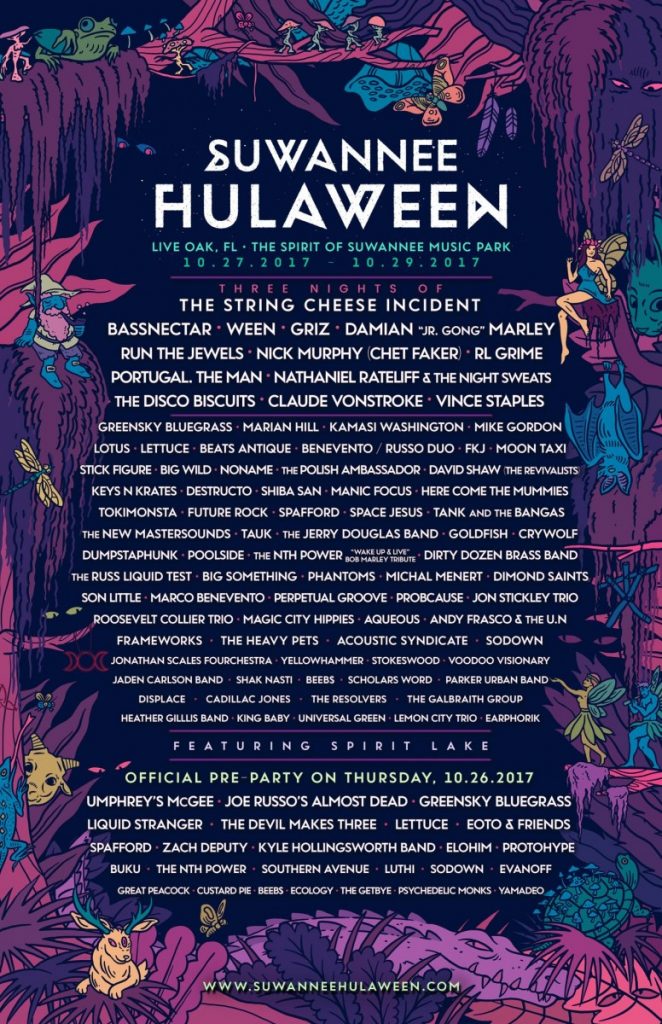 Suwannee Hulaween has announced a second round of additions to this year's musical lineup, rounding out the bill with their most uniquely crafted and blended lineups to date. Hulaween returns to the historic Spirit of the Suwannee Music Park for its fifth year, once again setting the bar high in the international festival space not only offering an expansive roster of world-class live and electronic talent but a fully experimental experience.
Hulaween continues to bewitch and tantalize music fanatics of all tastes and strides with an impressive array of legends and rising stars alike. Phase two sees the addition of reggae icon Damian Marley, multi-instrumentalist powerhouse Mike Gordon, experimental electronic Jam band Lotus, The Revivalist lead vocalist David Shaw, female hip-hop wordsmith Noname, South African electronic music duo Goldfish, the intoxicating jazz-fusion band The New Mastersounds, bass-quenching duo Dimond Saints, anthemic electronic-rock band Perpetual Groove, and much more. While Thursday pre-party on October 26th at Spirit Lake doubles its impact with 2 Sets by Umphrey's McGee, Luthi, SoDown, Evanoff, Psychedelic Monks, and Yamadeo.
The phase two lineup joins an already all-star lineup featuring preeminent live acts like the global Jam phenomenon that is The String Cheese Incident, The Disco Biscuits, Greensky Bluegrass, and Lettuce along with contemporary music's most in-demand live acts like Ween, Run The Jewels, Portugal. The Man, Nick Murphy (Chet Faker), and Nathaniel Rateliff. Hulaween is also inviting dance music titans like Bassnectar, GRiZ, RL Grime, Claude VonStroke, Beats Antique, FKJ, Shiba San, and Manic Focus to electrify the dance floor.
Hulaween is not only defined by their forward-thinking, diversified musical lineup but also by its breath-taking art installations, awe-inspiring production, live performers, yoga, immersive workshops, and insightful speaker sessions, producing a creative space with limitless entertainment, adventure, and mind-opening exploration on the wondrous, naturally stunning Spirit Lake grounds.
With it's unparalleled combination of musical talent, finely curated artistic programming, and an unmatched festival location, Hulaween's distinguished experience is one that can't be found anywhere else.
About Spirit of the Suwannee Music Park
Set in the midst of 800-acres of Spanish moss-draped oak and cypress along the black Suwannee River and complete with the largest bat house in the southeast U.S, Spirit of the Suwannee Music Park is one of the most beautiful live music venues in the country. The park also offers guest comforts including a general store, full-service restaurant, free showers, indoor bathrooms and water stations.
For More Information, Tickets, and VIP Packages for Suwannee Hulaween 2017, please visit:
Suwannee Hulaween Full 2017 Lineup
The String Cheese Incident (Three Nights)
Bassnectar
Ween
GRiZ
Damian "Jr. Gong" Marley
Run The Jewels
Nick Murphy (Chet Faker)
RL Grime
Portugal. The Man
Nathaniel Rateliff & The Night Sweats
The Disco Biscuits
Claude VonStroke
Vince Staples
Greensky Bluegrass
Marian Hill
Kamasi Washington
Mike Gordon
Lotus
Lettuce
Beats Antique
Benevento / Russo Duo
FKJ
Moon Taxi
Stick Figure
Big Wild
Noname
The Polish Ambassador
David Shaw (of The Revivalists)
Keys N Krates
Destructo
Shiba San
Manic Focus
Here Come The Mummies
TOKiMONSTA
Future Rock
Spafford
Jacob Banks
Space Jesus
Tank and the Bangas
The New Mastersounds
TAUK
The Jerry Douglas Band
Goldfish
Crywolf
Dumpstaphunk
Poolside
The Nth Power "Wake up & Live Bob Marley Tribute"
Dirty Dozen Brass Band
The Russ Liquid Test
Big Something
Phantoms
Michal Menert
Dimond Saints
Son Little
Marco Benevento
Perpetual Groove
ProbCause
Jon Stickley Trio
Roosevelt Collier Trio
Magic City Hippies
Aqueous
Andy Frasco & The U.N
Frameworks
The Heavy Pets
Acoustic Syndicate
SoDown
Jonathan Scale Fourchestra
Yellowhammer
Stokeswood
Voodoo Visionary
Jaden Carson Band
Shak Nasti
Beebs & Her Money Makers
Parker Urban Band
Scholars Word
The Galbraith Group
King Baby
Displace
Heather Gillis Band
Cadillac Jones
The Resolvers
Universal Green
Lemon City Trio
Earphorik
Official Pre-Party Full Lineup on 10.26.2017
2 Sets by Umphrey's McGee
2 Sets by Joe Russo's Almost Dead
Greensky Bluegrass
Liquid Stranger
The Devil Makes Three
Lettuce
EOTO & Friends
Spafford
Zach Deputy
Kyle Hollingsworth Band
Elohim
Protohype
Buku
The Nth Power
Southern Avenue
Luthi
SoDown
Evanoff
Great Peacock
Custard Pie
Ecology
The Getbye
Psychedelic Monks
Yamadeo