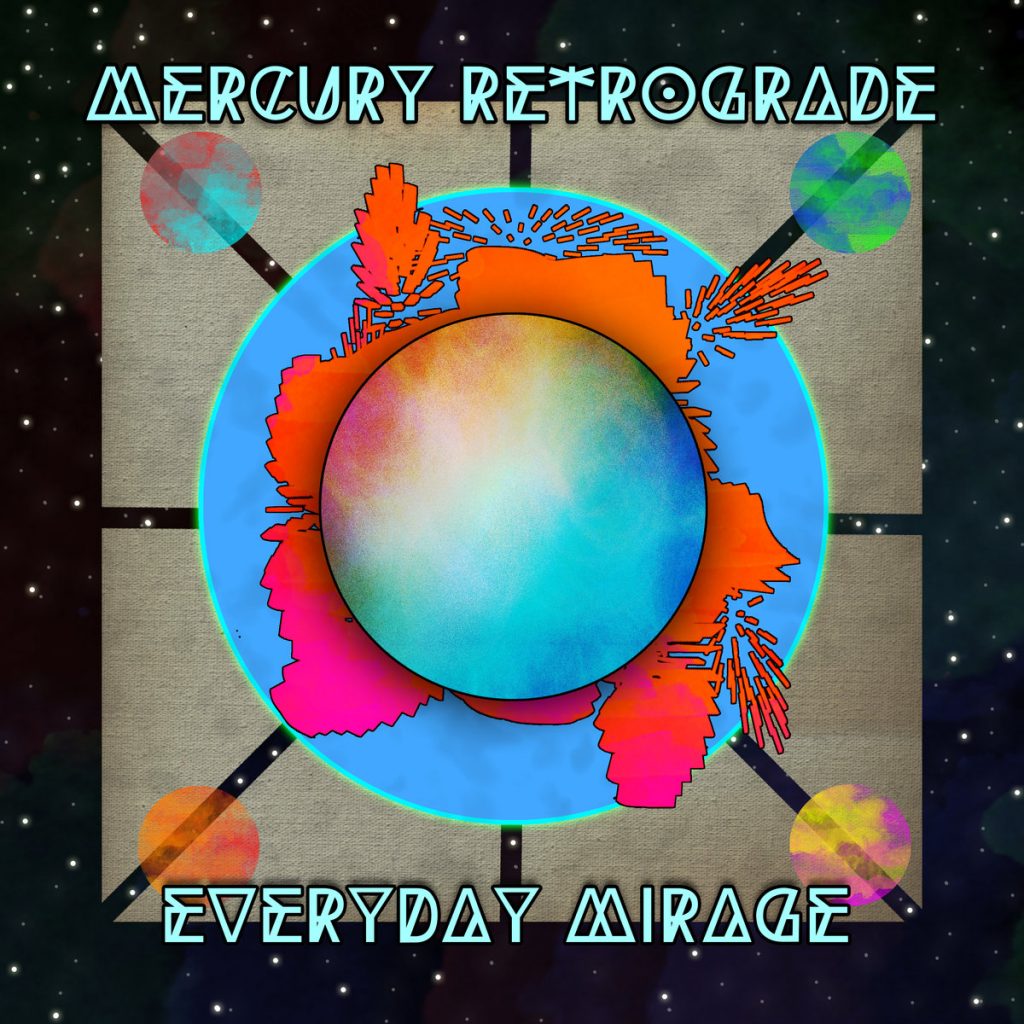 Written by Rachel Bessman
Loyal denizens of Camp Retrograde unite! The Philadelphia based space-time travelling quartet has released their debut album Everyday Mirage, and it is exactly the journey through their collectively altered consciousness they promised to us. An ever eclectic blend of sounds and rhythms, Mercury Retrograde makes music that is at once atmospheric and ethereal, but also rooted in the deep bass created by "Bass Daddy" Adam Baker and alternative and progressive guitar tones led by founding member Dan "Lt. General" Snyder. Combined with world synth textures of keyboardist Sean O'Connell and hypnotic grooves of drummer Eddie "The Durk" Durkin, their sound brings a nostalgic and refreshing blend of jam, funk, alternative and psychedelic music.
Fans have already clamored to climb aboard the Mercury Retrograde spaceship as it carves out a place for itself in our Appalachian jam scene, calling themselves members of the aforementioned "Camp Retrograde" – and with good reason. Everyday Mirage is the perfect vessel to take a ride in through the great beyond with Mercury Retrograde, so strap in and get ready for a classic jamfunk adventure.
The album opens up with "At Least Keep Playing Games > Astral Couch" and immediately sounds like something right out of the 1960s jam scene; the uptempo beat holds up meandering guitar riffs, wandering through synthesizers that rise and rise, getting the listener feeling as though we are truly going somewhere. It's a classic build, exciting and fast, suddenly dropping off here and there into different patterns and arrangements but keeping the feel the same. I sat back and felt myself relax and imagine drifting through the cosmos, hopping from planet to planet as the song bounced back and forth, and then smoothly transitioned into the title track, "Everyday Mirage".
"Everyday Mirage" brings us back to reality a bit, slowing the tempo down and sticking to a more cohesive melody. The lyrics paint the tale of journey we are on with Mercury Retrograde, as Dan sings "No matter how hard I try, I spend most of my life, and all my precious time, lost in an everyday mirage".
"Song in my Head" is a fun little jam Mercury Retrograde throws in there, just a musical boost that somehow at times sounds reminiscent of something like Huey Lewis and the News. It's high energy then softens and mellows for my personal favorite song and what I think really ties the album together, the final track "Space Girl". It is so smooth and flawless, with a soothing melody that had me swaying back and forth as I closed my eyes and reimagined myself in space, observing the everyday mirage.
The album had me captivated the entire listen and was perfectly stitched together. Each song had it's place and ran beautifully into the next. The music was generally all over the place – I was constantly surprised where it went, but it was never aggressively off the path, just a nice transition that kept me interested, the cleverly rewound synths in the opening of the fourth track, "Be Fine", being a great example. Altogether, a highly recommended listen, and a very much appreciated taste of what a cohesive and innovative jam band can do.
Like Mercury Retrograde on Facebook and keep up to date with their news!