Photo by August J Photography
Written by Elise Olmstead
Thank you everyone who attended Mad Tea Party Jam 6, we love you.  Our festival is more than just a festival, it is a family, community, experience.  We want to take a moment to focus on the overwhelmingly amazing parts of the experience this past June 15-18, 2017, which mostly revolve around our incredible family of fans, musicians, and staff.
We could not ask for a better group of people to have in our lives and were so impressed with how our team stepped up to the plate when the opportunity arose.  At one point, after many staff members fell sick, only six people were running that entire festival from gate to backstage, with the help of some very hardworking volunteers and kind attendees.  We even had VIP ticket buyers Mike and Tara Tucker rush to our aid Saturday morning.  The spirits of Mad Tea proved to be unbroken and there was always a valiant team member to not only willingly, but enthusiastically step up to the plate.
Of course we could not have done any of this without Team Kenny… Kenny Holmes is one of the best of the best in this industry–a fearless leader who tackles the most complicated problems with a smile.  Sometimes you need someone to tell you to sit down, shut up, and listen.  Kenny's that guy, and we'd follow him to the end of the Earth.  His team, Phil, Charlotte, and Evan, are some the hardest workers I've ever met–this team is truly killing the game.
The music that took place this year was top-notch, with astonishing production quality.  Welsh Sound and Earthgrooves Lighting (manned by Jim Dewey), created an experience of sound and lights far superior to most small festivals.  We have always been proud of our big-fest production with a small-fest vibe, and this year, I think we passed with flying colors.  And how about that main stage in the stone circle?  It was a great step up from last year's stage.  The entire production crew from James Welsh of Welsh sound, Ben Penigar the Grey Area stage manager, Matt Meade the Cliffside stage manager, Aaron Hagele the late night stage manager, to all of the stagehands, sound board techs, lighting techs, etc, are absolutely impressive in their field.
The bands all brought their A-game and we are so grateful to have musicians such as BIG Something, TAUK, Papadosio, LITZ, and so many others as part of our festival and part of our lives.  Can we talk about the Isaac Teel and Mike Healy drum shed?  That was a truly awe-inspiring piece of musical history.  Never did any of the bands play with any less enthusiasm and determination, and even though we only received 2/3 Papadosio sets, those 2 sets were extraordinarily special and felt tailor-made to our audience.  So thank you Papadosio, for the care you put into your performances.
Our artists led by Bryan Stacy once again created a beautiful, professional gallery, and came together to support each other as we always see them do.  The group of artists that Bryan brings are a mix of recognizable and up-and-coming names from up and down the East Coast, all with the highest caliber of skill and even better personalities.  You could always visit the gallery and be welcomed with smiles and conversation.  Vince DiBiaso created amazing stage decorations and other installations with the help of many talented artists, including Gavin Gonzo, and they travel all the way out from Ohio every year to do so.  It was Dustin Klien's triumphant return to Mad Tea this year, and his projected installations were everything we could have imagined: quirky, beautiful, intriguing.  Of course thank you also to our dear friends and amazing photographers Roger Gupta and August J.
Our VIP Coordinator Corinne Henahan is a rock star, and really poured her heart and soul into the VIP experience this year.  Our hospitality team worked to keep our artists happy over the weekend, thank you Sandee Taylor, hospitality coordinator; Carly Shields (you are such a badass), artist relations; and Noor Natour (Go Team Alice!), artist/guest check in.  Thank you always to Zack Szabo for single-handedly manning the battlestation we call the front gate.  You're a beast.  Jamie Danko you are also nothing less than an festival extraordinaire and we were glad to have you on our staff. Aaron Frazier, our volunteer coordinator, does a job that is impossible already, and still gets the job done when curveballs are thrown.  Your hard work and compassionate touch does not go unnoticed! Stevie Nutter, my assistant, you're my best friend and incredibly sharp, I couldn't do any of this without you. I want to give a special thanks to our bookkeeper and generally amazing woman, Maura Mullen, who stuck by my side all weekend through thick and thin, rain and shine.
One of the hugest accolades of the weekend goes to our workshop leaders and coordinators.  Shannon Shine and Chris "Selo" Selomon of Project Bring Me To Life, brought an amazing schedule of workshops to heal your body, mind, and soul.  I saw so much participation from the attendees, so attendees, I also ask you to pat yourself on the back.  Workshops are a way for us to come together in a unique, constructive way, and take away knowledge and self-confidence at the end of the weekend.  We couldn't be more proud of the workshop experience that PBM2L brought to Mad Tea Party.
Besides our staff, the attendees shined so bright.  As we drove around to check on everyone and "be with our people" as much as possible, we saw so much light, love and happiness.  Thank you everyone who took the time to wish us a happy anniversary, thank you for taking the time to remind each other that you love them and come to their aid.  Thank you for bringing your personal intentions of creativity, love, and that weird wackiness that makes Mad Tea what it is.  Special thank you to Mike "The Wizard" who coordinated a notebook full of notes to us, Taco and Elise, filled with care from so many attendees.  We were brought to tears by this act of unselfish love in even the most trying of times.
There were still so many beautiful moments shared and we are at the same time humbled and proud to be in this community.  We will push through this Mad Tea Party Jam family, and are overwhelmed with your loyal support.  Together this will make us stronger. Thank you and we love you endlessly.
Elise's speech from Saturday night: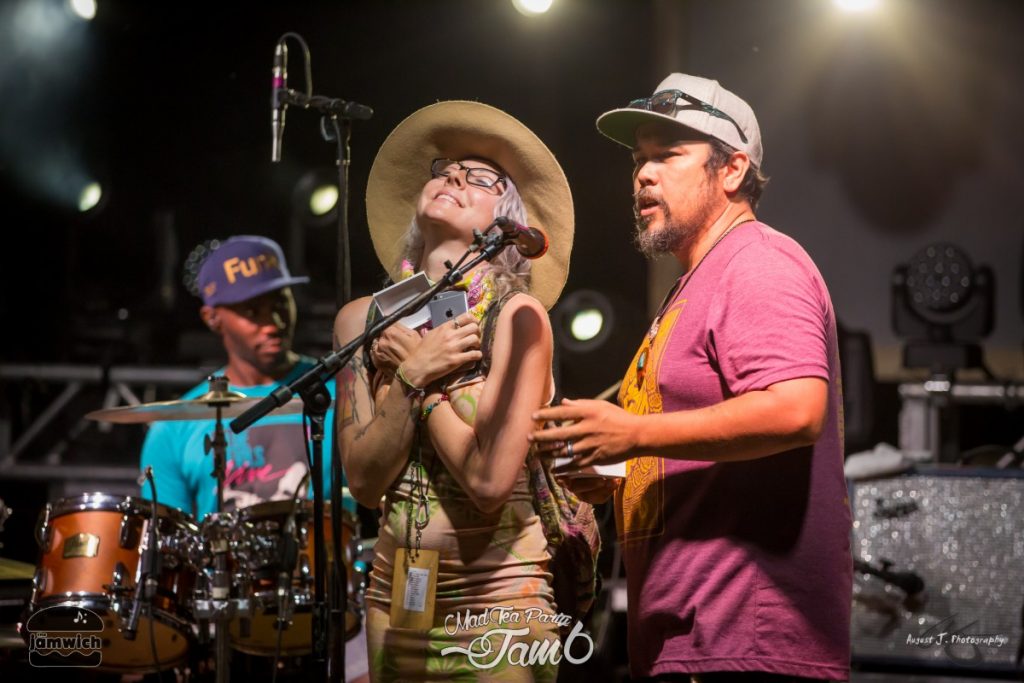 It's been quite a week y'all.
My heart has swelled and stretched so much…but it has never broken.
I've discovered that the times of crushing chaos, the most heart wrenching times are often the most beautiful.
Because only after a storm so sever does the sky look such a perfect blue.
I've been with Taco for 10 years now, married for 7, and we've never spent a night apart.
Through highs and lows he remains by one and only true love.
He embodies the vows "in sickness and in health til death do us part" and through carrying me and our family, he still takes the time to care deeply for everyone he meets, and so very much for all of you.
Happy Anniversary baby.
I want you all to know tonight, to not ever be sad if your life is hard, or be jealous if someone else's life seems easier.
You were given obstacles because you were meant for greater things.
No one ever said that following your dreams would be easy.
At the end of the day I believe it's our struggles that make us strong
our pain that makes us powerful
and our love that makes us divine.
I love you.