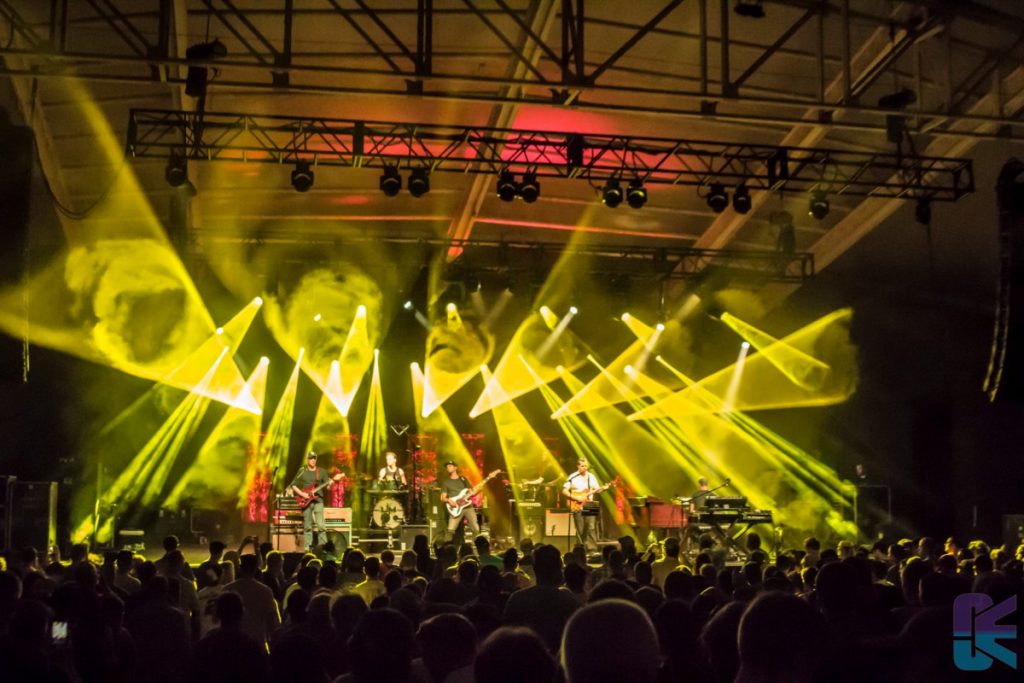 Photos and article by Randy Harris.
When Umphrey's McGee comes to town, it's damn near impossible to say no. The band's annual stop at Baltimore's Pier Six Pavilion arrived a couple months early this year, but Charm City brought the same raging energy as always to the beautiful bayside venue. The threat of rain brought a cool breeze across the stands as the sun peeked through the clouds sending rays of light through the beautiful May evening. Thankfully, the rain held off until the crowd dispersed into the Baltimore streets. I, for one, was ecstatic to have UM in town on the front end of summer. I've come out to see them the past two years at the same venue in July, and both times it's been miserably hot. It turns out that May is the perfect month for an outdoor UM show.
Before the inimitable sextet took the stage, however, Baltimore was graced with an early set from Aqueous. This Buffalo-based quartet is no stranger to Charm City, and they commanded the early crowd's attention as the sun slowly sank over the Bay. By the time Umphrey's took the stage, there was no sunlight left. The band, along with their trusty, unrivaled lighting designer, Jefferson Waful, wasted no time taking advantage of the night. The band blasted through two sets of relentless rock & roll as the Baltimore crowd tirelessly danced the night away. Specific highlights included "Similar Skin," a "Higgins" with a twist of AC/DC's "Thunderstruck," the Beatles' "I Want You (She's So Heavy)" to close out the first set, and "Plunger" > "Deeper" followed by "The Floor" to close out the second set.
Every time I see Umphrey's McGee play, I think to myself, "There's no way this could be any better." And yet, every time I see them play, they get better! It's truly unbelievable how they continue to push the envelope and bring a renewed vigor to the stage every single show. The Umph Train rolls on with Summer Camp Music Festival this weekend, followed by the bulk of what we can only assume will be an outstanding Summer Tour.