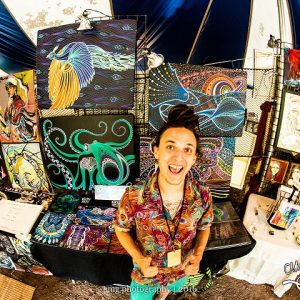 GAVIN GONZO GERUNDO
By Elisha Gud
When did you know that you wanted to be an artist?
-Art has always been a part of my life, it was always something I wanted to do but never knew how to get there. In high school I realized that I had something to say with art, and then going into college I went into design school thinking about how I could do art and not starve. So thats why I started to do design. I learned all of the technical stuff that went into being an artist and then chose to continue doing it as a career.  
Whats your favorite thing about being an artist?
-Having the ability to connect with a total stranger and having an influence on someone you've never talked to before. It's about having the ability to make them think differently than they normally would, thats also one of the main reasons why I got into art.
What do you struggle with most as an artist?
-The biggest thing is staying on top and persevering. The hardest thing is making sure that I stay motivated and keep my creative flow going. Basically working at it all the time but not looking at it as just a job because thats what it is—but because that is what I am passionate about and because it is a job at the same time too. Staying on top of it and just continuing to persevere and have that focus to keep going.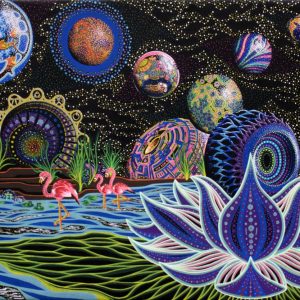 How would you describe your style?
-The easiest way to put it is…line and dots. I use lines to create form, space and shapes and the dots as a pointillism to create light and highlights. It's definitely got some psychedelic elements to it. The biggest thing when it comes down to it and what I am trying to create, is a style that is about flow and movement. Thats what the lines do—they are essentially the movement and the dots are light. It's almost like each little dot is a glimmer of light and color. I started off primarily turning women into animals and called them Gonzo Girls and that was when I first broke into canvas's and from there went on to creating spirit animals, up until recently when I started doing landscapes in my own visual language. For me it's all about zooming out, and sort of transforming my art into another whole other worldly vibe.
What is Gonzo Gear?
-Gonzo Gear is essentially how I got into live painting. I was visiting a friend who had painted his jacket and I thought that it was the coolest thing ever. So I showed up to a Govinda and Strange Mechanics show and started painting a jelly fish on my leather jacket. People kept commenting on it and telling me how much they liked it, so in turn that kind of started my career in live painting. That was the first year I started painting on leather items, people just started bringing me leather jackets, purses, and clothing articles and I just started painting on them. I liked the way the mediums mixed with the paint on the leather and then I started creating my own canvas's. I take old silkscreens and buy sheets of vinyl and stretch them myself essentially creating everything by hand myself.
Who is your favorite artist to collaborate with?
-Vince Dibiaso. He has just been a huge part of me performing as an artist. He has been a huge part of helping me push to become better and we both know a lot of each others strengths and weaknesses as artists and as well as techniques. Vince has pushed me to do stuff I wouldn't normally do as an artist. I helped him with the art installations at Mad Tea Party Jam last year. We showed up a week early and built them from the ground up. It was awesome because it's not something I would normally have done but I did and it and now it's opened up a lot of new doors for me.
What does creating art mean to you?
-Ive always seen making art as the best possible thing you can do. It's almost a noble cause creating a culture. Thats what it is, getting people thinking and creating. I think everyone should create. I am pushing myself further and by live painting so I can inspire others to be creative. When you put conversation, art, and music all together it's like WEEEOOOEEEE!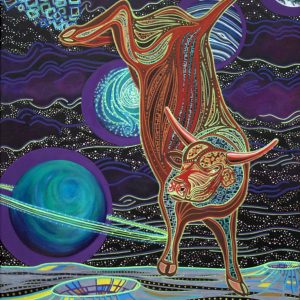 How does music play a part in your art?
-Music gives my pieces energy. It's part of what I love about live painting. There's a movement and flow in music and when I just free flow at a show theres a part of the music that makes the lines into a melody and then the rhythm acts as the dots. Theres no other feeling than filling in an empty space with a bunch of dots. The music definitely plays a part in how my hand moves with my whole body and mind working with the music.
What is your favorite type of music or band to listen to while you are creating?
-It depends a lot on my mood. As far as live painting goes, I lean towards Jamtronica…Dosio is always a good one as well as Govinda. I really like unique instrumentation and synthesized sounds. When I am at home or in the studio I mostly listen to progressively metal stuff—Tool, System of a Down, and Radiohead.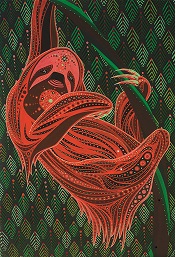 What does the future of 2017 look like for you?
Starting off with Winter Werk Out the first weekend of February and then 10 days of Aqueous tour out West. After that its tour with Papadosio in March. Ill also be doing a lot of festivals—Summer Camp, Resonance, MTPJ, Werk Out. Kinda playing my cards and hoping to get into some west coast festivals. I am also doing a 3 day Art workshop with Chris Dyer at The Chapel of Sacred Mirrors in May.