Matthew Charles Designs:
Made with Love
By Abigail Gomez
The always-stylish Matthew Charles is one of the young artists who are making Winchester, VA a more appealing destination for the arts and culture crowd.  Charles is not simply an artist and jewelry designer, but also a fashion designer, poet, and crystal therapist.  When I asked him what his greatest inspiration is, he replied, "Nature and Earth.  Mother Earth inspires me the most as a jewelry maker.  That, and everyday people who have style."   It seems that he has found a symbiotic relationship with the northern Shenandoah Valley, as his beautiful and meaningful work continues to evolve.
Charles, belying his high level of technique and accomplishment, has never undertaken any formal education in his artistic career.  "I don't really believe in "school" for art… being an artist and having talent is something you're born with."  Even with formal training, "skills don't make you an artist- it's how you resolve issues and what you do to make your art piece beautiful even when you mess up that makes you an artist."  Every art form that he's taken up throughout his life has been self-taught, through trial and error, with not-so-much as a YouTube tutorial for guidance: sewing, jewelry making, soldering, and tattooing- even cooking.  "Every type of art that I do is for people."  Matthew Charles brings aesthetically pleasing combinations of meaningful metals and stones together to create something beautiful for his customers.
Charles' unique voice in jewelry creation and design is not simply for the sake of fashion and pleasing the eye.  Each piece of jewelry is in fact steeped with inspiration, meaning, and purpose.  He pulls from his seemingly endless collection of beads and gemstones (organized by chakra, of course), and incorporates various metals into his completely original hand made jewelry.  And almost every piece of jewelry incorporates a recycled element, whether it's rusted steel from abandoned structures or a piece of brass.   I asked him why the recycled elements were compulsory (as I find it a familiar and brilliant inclusion in contemporary art), and he explained: "I like to think I create jewelry in the image of the Earth I see.  Most of the things I find beautiful have a run down industrial element, where humans have made their impact.  I like the showing the beauty of the combinations of the natural vs. the man made, the organic vs. the industrial, the new vs. the old, the feminine vs. the masculine.  I believe my art is in a small way balancing the human impact on the earth.  My pieces bring balance."
Enthralled, I wanted to hear more.  "Tell me about your creative process…"
"My process is natural and free.  I don't stress about what or how to create- I rarely sketch out ideas ahead of time.  I have an abundance of materials at my disposal, as I never know what will speak to me.  I like to begin by selecting a material that has meaning and purpose (Howelite is a stone that fosters awareness, balance, and calming effects, for example).  I choose stones that will support the meaning and purpose that I'm trying to create, as well as sustain a strong aesthetic appeal.  I usually create the pendant before the chain.  I use many different techniques, including riveting, etching, soldering, bead weaving, upcycling, chain mail, and wirework…  Every time I sit down, I usually end up with a different result than I had originally intended.  It all just depends on who I am at that moment.My art is like putting together a puzzle, with no instructions.  I enjoy the process of figuring out how every element will come together.I think that is the most beautiful part of art."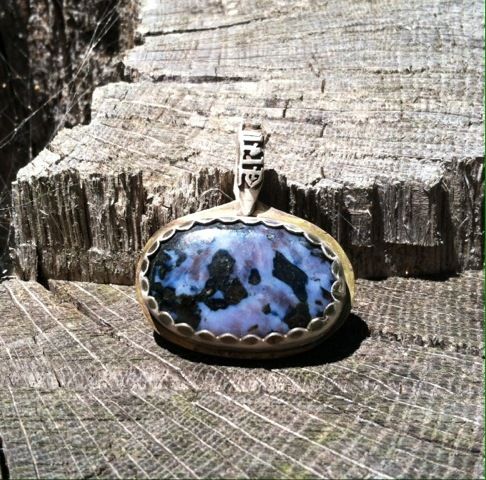 When I ask him if music ever plays a role in his creative process, he laughs.  "23 hours a day!" is his quick reply.  "Music (of every genre) helps with anxiety, stress, and allows me to create my own world in my head.  I often work with my headphones on.  I find music very necessary when I make jewelry.  I have my own groove- and the music I pick matches my mood.  I listen to everything from rap to bluegrass, metal, pop, hip-hop and country.  I usually find Lorde very calming, and if I want to work with a bright, colorful palette I'll play electronica.  First thing in the morning, to stimulate motivation, I put on music and dance!  It takes away the everyday and helps me focus on my creative energy."
Charles manages to create unique and individualized pieces of jewelry, all of which capture at least a small sliver of his soul.  Work is so personal for artists, and I wonder if he ever has a hard time selling any of his pieces.  His answer is quite amusing, and frank: "I have the belief that certain jewelry belongs with certain people.  If as a customer you're not in love or connected with (the piece of jewelry), then I'd rather keep it and not make the money…" Genuine thought and concern accompany this man's desire to share the beauty he finds in the world: beauty with a purpose.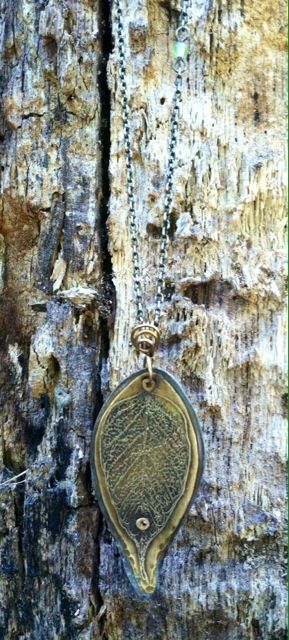 As the conversation draws to an end, Charles is smiling, charmingly introspective.  I inquire about the reverie, to which he replies, "I haven't yet experienced my dream moment: walking down the street and seeing strangers wearing my jewelry…"  I am quite convinced that dream will be coming true, Matthew Charles, all in good time.Matthew Charles, also known as the Brass Alchemist, has been recently honored after being selected by a subsection of the Wounded Warriors Project to provide custom pendants for recipients who complete a specific course of training.Charles currently sells his original jewelry at the Purple Fern in Winchester, VA, and at the monthly W.A.M. (Winchester Art Market).  He also attends art shows such as the Boundless Bazaar in Winchester, and other festivals in the area.He has an Etsy shop online, and takes custom and wholesale orders.
For inquiries about Original Work, Custom Orders, Crystal Therapy, Sustainable Upcycling, Events or Wholesale Orders, please contact Matthew Charles at:
BrassAlchemist.MC@gmail.com
BrassAlchemist.com
Facebook.com/MaChDePr
Etsy.com/shop/BrassAlchemist?ref=shop_sugg