Luna Light Music and Art Festival Review
Oct. 1-4, 2015, Darlington, MD
written by Cait Deane
photos by Roger Gupta
Luna Light was a fantastic festival and a superb close to the summer. Despite a pending Hurricane- Luna Light still went on- and pulled out all the stops to make it an unforgettable weekend!
Immediately as you pull into the property, you can see how hard the staff had been working to keep things running as smooth as possible. Hay was spread across muddy sections of the venue and plywood was placed on walking paths to keep things solid. Individuals working the front gate greeted incoming traffic with smiles and optimism, undeterred by the rain.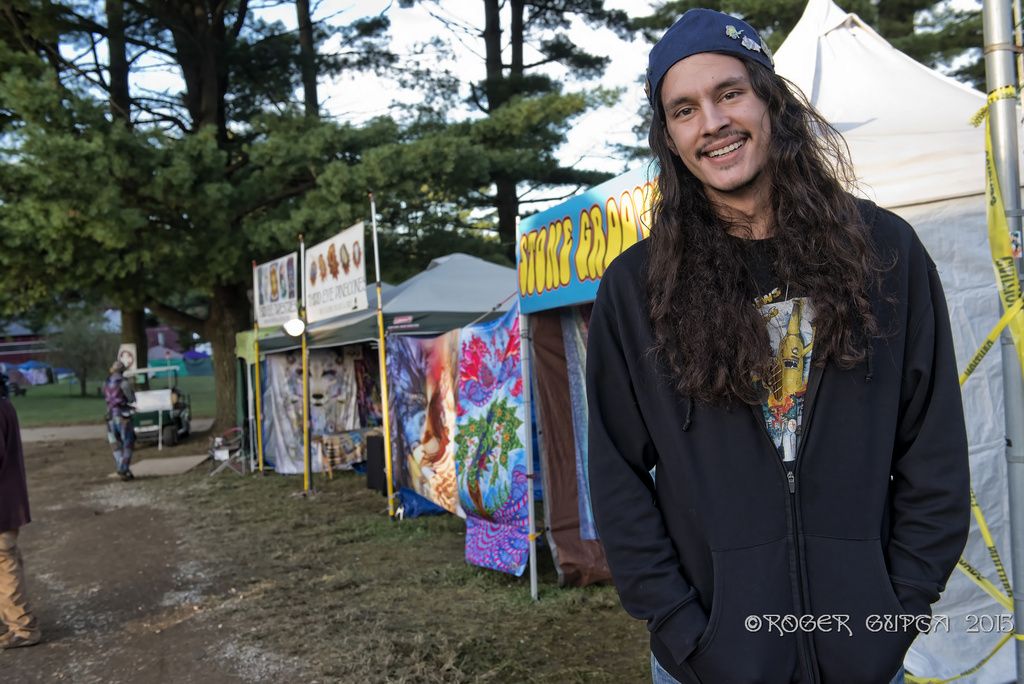 The venue was a very short walk from the parking lot and your vehicle was accessible at all times, making it convenient to keep all your belongings dry from the rain!
One of my absolute favorite things about this event was the variety of workshops that was offered, from Mastro's non-toxic DIY graffiti, to yoga and medicine bag making- there was an outlet for every interest. I attended a Crystal Healing and essential oils workshop lead by the talented and kind Shanna Marie. Her wonderful workshop set up positive intentions for a blissful weekend. Through crystal meditation and a quick lesson on essential oils and chakras, she helped rebalance our energy and left us feeling absolutely radiant!
I also attended a super-fabulous "SuperfoodZ & SuperherbZ Sampling" lecture lead by Radically Enthusiastic Naturopath, Dr.Ren. (Some of you might remember her as the MC from Farmfest this past year) It was truly a treasure to attend her holistic cooking and living lecture. Not only did she teach us about healthy and natural alternatives for snacks (like black kernel popcorn with a pinch of pink salt), she also cooked up and served delicious bean pasta and brewed beverages for us like chaga tea & coffee. Her energy was unfading and she was ready with an answer for every question the audience had. (She truly is America's Holistic Sweetheart!) All of these workshops were held in a wonderful (and dry!) pavilion on the backside of the property- providing a quiet and open place to learn.
As efficiently as ever, three stages were combined to make two fantastic indoor music halls so that the music could carry on in the rainy weather. I found myself spending most of my time in the main stage- a barn transformed into a dance hall. The barn had a sort of supercharged prom vibe to it with giant inflatable decorations hanging from the ceiling and lights that extended into the audience- but it was very fitting for the festival's overall intimate feel. Lining the walls of the barn were ultra-talented artist painting dreamscapes with tons of diversity from canvas to canvas. Adam Psybe, Stephen Kruse, and Jake Amazon worked on a large-scale collaborative painting in the center of it all- and over the weekend their image transformed from colorful splendor to a view of an otherworldly landscape.
The rain really weeded out a lot of foot traffic- making this festival especially unique in the sense of getting to see stellar performers like TAUK in a crowd of about 50 other people- what a rare private opportunity!
There was just too much greatness going on at all times- which made it really hard to choose between going to workshops, sticking around for all the music, and exploring the beautiful grounds. Friday I had to sacrifice seeing Kaminanda to attend some fantastic workshops, but still got to see him later dancing his heart out in the crowd. Dopapod's Friday set was killer- attendees flocked to the barn stage to shake off the chill of the rain and groove to their set. Other Friday performances included Michal Menert & The Pretty Fantastics, Desert Dwellers, and Ozric Tentacles (whose performance was the whole reason a few festival friends told me they braved the rain.)
Saturday was much less rainy than Friday- and a bit warmer too! Tauk played their first set of the weekend and it was spirited! I always love watching this band play and seeing the interaction of the crowd dancing during the day just as hard as they would to an evening set. Their drummer, Isaac Teel, has really impressive chops and I love how much his style contributes to the overall power of the band's sound.  The Motet played a funky set- it was only my second time seeing them live (and I loved it!), but you could tell that the dance floor was packed full of big-time fans, who were busting out some incredible moves. One gentleman even pulled me aside to tell me that their performance was the highlight of his festival.
Blockhead played after The Motet. I had never seen him before, but was informed that he worked closely with Aesop Rock, a favorite artist of mine, so I was anxious to see him play. He did not disappoint, either! Making it to my list of favorite festival sets, his performance had everyone going wild. He played many classic tunes chopped up with his refreshing beats that had a rather diverse group of people all singing along and bouncing on the floor.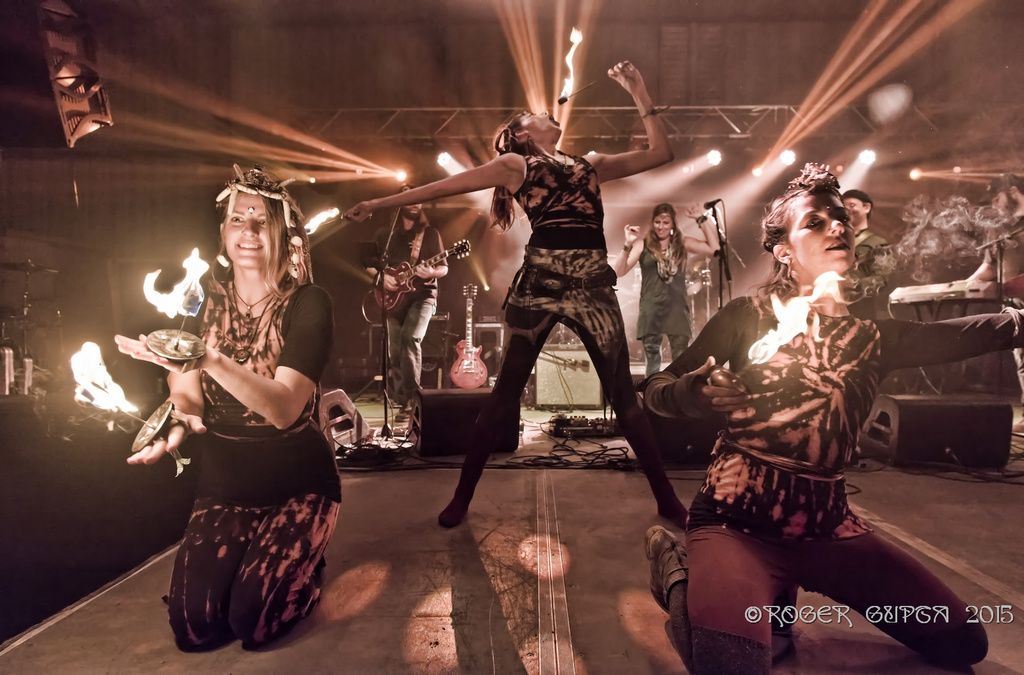 Dopapod's second set was just as good, if not better than their first. I watched from front row as they sent the listeners down a tantalizing musical journey. These guys always kill it- Eli played a keyboard solo that really rocked.
Sunday's line-up was ridiculous. In the best way- it was jam-packed with awesome acts including Dixon's Violin, Tauk, Ott, Zoogma, Keller Williams and the Keels, Particle, and the headliner: Papadosio.
Dixon is a man on a mission- he creates deep and beautiful songs on the spot as he performs his set. Dixon is one part musician and one part inspiration- I love how he incorporates the story of his own journey into his sets. I painted along to his music because I find it so creatively powerful- others danced and hula hooped, while some meditated on the floor, soaking in his sound. Ott filled the barn and had a lot of fun with his set. Every time you see him perform it's a great experience, between the hype of the crowd and the vitality of his music- you can't stop moving to his sound.
I had seen both Keller Williams and The Keels perform separately before, but they are a force to be reckoned with when put together! Keller is such a spirited performer and The Keels have wonderful chemistry, so the three of them were producing some songs that were really unique. There was a 'sing-along' section of his set where he played a few covers of some fan favorites like Pink Floyd's "Brick in the Wall." Papadosio's set was pushed back to midnight as a result of trying to get three stages worth of music out of two- but I think it just built up the anticipation to see them perform. Having just released a new album, they threw down some old songs, but also performed some fresh ones! I loved the new tracks and they added a delightful variety to the set.
The grounds were wonderful- an old campground with a lovely little pond and an elegant bridge. The accommodations were excellent- cabins were offered for an upcharge to keep campers dry and happy. The staff worked incredibly hard all weekend and went out of their way to keep things pleasant for attendees. Every performer, musician, teacher, and every artist gave it their all. And each face passing me in the barn or on the road was smiling. There was so much magic here. It just goes to show how fantastic the people in our scene are. Luna Light- I'll see you again next year- Rain or Shine!
For more info about Dr. Ren or Shanna Marie's workshops/ lectures: