Issue 72 of The Jamwich is our brightest, most colorful issue yet and is bursting at the seams with festival love!  This issue features a special I <3 Small Festivals Guide with your exclusive guide to the small and mid-size festivals on the East Coast and Mid-Atlantic in 2018.
Artist of the Month is Chance Losher aka Professor Rainbow — a nickname that becomes completely obvious once you see his art!  Want to know how he gets his pieces so bright?  You'll have to read the article to find out.
Featured Musician is psychedelic funk band LITZ who has been through a lot of changes since we last talked to them — including member changes and a live album release!  Get some insights into what's been going on for them and how bright their future is looking.
The April issue also includes fan quotes about their love for festivals, album reviews from bands like Rubix Wheel, Surprise Attack, Escaper, and more, Spotlight on Festival vendor Sunshine Stell, plus hundreds of shows and festivals to go see live music!!
At the Jamwich we believe in supporting your community — which is why are printed LOCALLY in Martinsburg, WV!
Buy your copy of the April issue
Are you into supporting your community like we are?  Join our I <3 Small Festivals Club and show your support for local and grassroots events.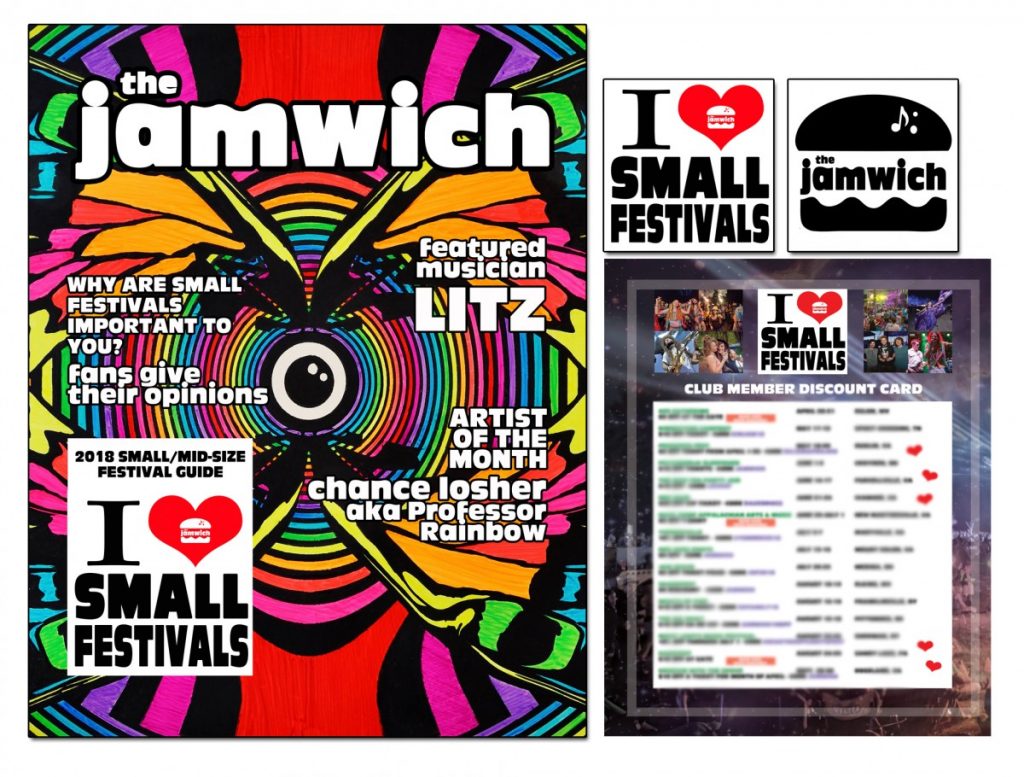 The I <3 Small Festivals Club includes:
April Issue of The Jamwich
Exclusive Sticker Pack (2)
I <3 Small Festivals Club Member Discount Card
Buy your I <3 Small Festivals Club Membership
Subscribers receive their membership for free!