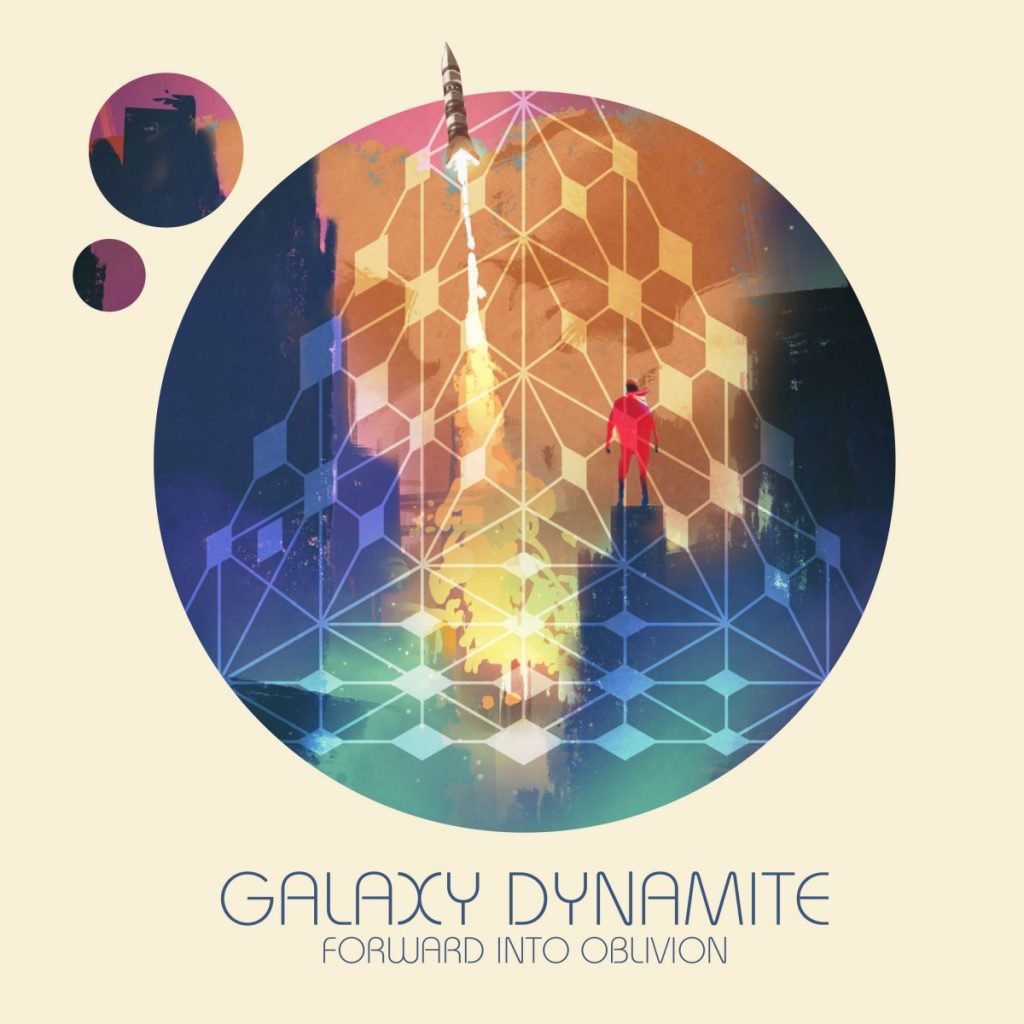 Album Review: Galaxy Dynamite, Forward Into Oblivion
by Elise Olmstead
Galaxy Dynamite, psychedelic electro-jam band from Norfolk, recently released their epic concept album "Forward Into Oblivion," and it is a triumphant return from their short hiatus as a band.  With all new members except for lead and creator of the album's concept, Mike Mahgerefteh, the band has re-emerged with a polished sound, focus, and direction.  New members EJ Toudt (bass guitar, vocals) and Eric Tuthill (guitar, synth, vocals) join Mike on drums and samples to complete the brand new Galaxy Dynamite.
The term "concept album" refers to an underlying story or theme behind the songs on the collection.  The story behind Forward Into Oblivion is chronological in nature, and tells the story of StarFire Corporation, The Bomb Squad, and Galaxy Dynamite, a "material capable of tearing apart the very fabric of our entire existence."  My favorite band in high school was Coheed and Cambria, a band that Mike said inspired him to create a concept album with coinciding graphic novels/comics.  After reading a little bit of the StarFire story, I see some similar themes as the Co & Ca story, but their musical sound is worlds apart.
This album is the first that I've heard to have lyrics, in fact 5 songs include lyrics to help along the story.  The vocals are somewhat understated to help keep the spotlight on the space-y instrumentals.  Many songs have a Papadosio type sound, I can hear a little bit of Mike Healy influence in Mike M's drums, and the beginning of "Horizons" reminds me of the beginning of "Hippie Babysitter."  The song also includes some gnarly guitar shredding, which I was elated to hear.  They definitely stay true to their "jamtronica" roots while adding much more instrumental and musical prowess.   Some songs, like "The Perfect Cure," are more atmospheric, while "10,000 Villages" has a frantic drum & bass beat, and "Shiny and New" has a funky groove.  All of the songs flow well into each other and make for a beautiful, cohesive album both musically and lyrically.
I was delighted by this album and it only leaves me wanting more!  The story will intrigue you, and if you're lucky, you can attend one of their shows where they play the rock opera in its entirety and hand out pamphlets of the storyboard.  In the meantime, give Forward Into Oblivion a listen on Spotify or buy your own copy of the album.