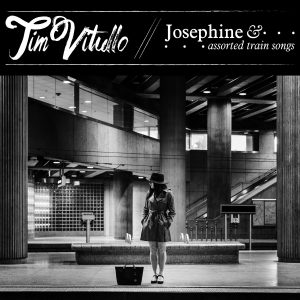 Tim Vitullo Josephine & Assorted Train Songs
Written by Taco Olmstead
There was a time when pop sensibilities, good music and songwriting merged together, that time was the larger part of the decade known as the Seventies! While the following decades have occasionally alluded to this chemistry, the recipe has for the most part eluded us. The latest album from Tim Vitullo out of Pittsburgh, Pa. is rife with musical influence from what is arguably one of the greatest decades of rock.
Straight from the rip, the album releases a full sound reminiscent of the funk and soul sounds that I grew up with. From there the listener easily settles into the albums singer/songwriter sensibilities of James Taylor and Paul Simon while still retaining a rock music edged steeped in rhythm and blues. Even the slow funk jam, "Letters", envelopes you in the space it provides somewhere between romance and the melancholy emotions of lost time and disappointment. There is a softness to the sound that captures a bygone era of both innocence and disillusionment. The point is even better reflected in "a different kind of blue", another slow paced track, further proving the roots of rock music are fully intertwined in rhythm and blues, evidenced by the sultry background vocals steadily seducing the listener throughout the album.
Don't think for a second however that this album is a sleepy Sunday afternoon waltz, this album navigates the musical waters of funk and soul quite masterfully. The album slides back and forth with a soulful shuffle of ebb and flow climaxing in crescendos of horns and an effectively clean guitar tone further emphasizing that Tim Vitullo not only knows how to write and produce a great song, but wants to bring an authentic sound to the table and really rock it out. The album is incredibly well produced and full of so many complimentary flavors, playing gleefully off the strengths and weaknesses of each in a masterful manner. Be sure to take a chance on this band when they come through town as I'm sure that the sounds these guys delight in will move the dancefloor in the best of ways!